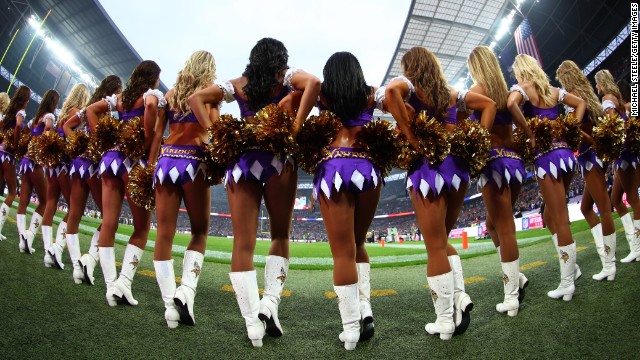 The Minnesota Vikings cheerleading squad, MVC for short, take to the field at London's Wembley Stadium. The Vikings played the Pittsburgh Steelers as part of the NFL's continuing International Series.
While the NFL muscle men go to war on the pitch, women wearing skimpy outfits and shaking brightly colored pom-poms strut their stuff with intricately choreographed dance routines.
Some question whether bumping, grinding, and shaking your backside should have a place in professional sport.
Kaylee Munson is a 25-year-old cheerleader in her fifth year as a member of the MVC. And when she's not working on her cheers, she's a school nurse.
Putting together a series of complicated dance moves is no mean feat given the footwear some cheerleaders wear.
Flexibility, grace, strength, timing and the ability to keep smiling: If you want to be a cheerleader you need to be good at multitasking.
Is it a bird or is a plane? No it is the Baltimore Ravens cheerleaders performing during the second half of the game against the Houston Texans.
As every cheerleader knows, it is important to accessorize. Where would any self-respecting cheerleader be without her pompoms?
Twenty-six of the 32 NFL teams, including the Arizona Cardinals, pictured here, have a cheerleading squad.
Here Chiefs cheerleader Susie rides Warpaint in between quarters as the Kansas City Chiefs take on the Dallas Cowboys at the Arrowhead Stadium.
If you have a bob haircut does that rule you out of being a cheerleader?
Cheerleading goes global. Here cheerleaders entertain the Selhurst Park crowd at the English Premier League match between Crystal Palace and Swansea City.
Over in Italy, Napoli's cheerleaders have had plenty to cheer about this season. Rafa Benitez's team have made a strong start in Serie A and are doing well in the Champions League.
The Dallas Cowboy cheerleaders have come a long way since the 1970s.
Cheerleaders: Entertainment or titillation?
Cheerleaders: Entertainment or titillation?
Cheerleaders: Entertainment or titillation?
Cheerleaders: Entertainment or titillation?
Cheerleaders: Entertainment or titillation?
Cheerleaders: Entertainment or titillation?
Cheerleaders: Entertainment or titillation?
Cheerleaders: Entertainment or titillation?
Cheerleaders: Entertainment or titillation?
Cheerleaders: Entertainment or titillation?
Cheerleaders: Entertainment or titillation?
Cheerleaders: Entertainment or titillation?
Cheerleaders: Entertainment or titillation?
Cheerleaders: Entertainment or titillation?
STORY HIGHLIGHTS
Cheerleaders have been involved in the NFL since 1954
They were first introduced as part of the Baltimore Colts marching band
The Minnesota Vikings are one of 26 NFL teams with cheerleading squads
Kaylee and Missy have both been Vikings cheerleaders for the last five years
(CNN) -- Bright eyes, sparkling white teeth, big hair and barely covered breasts, these are the women whose gyrating hips bring a hint of glamor to National Football League fields from New England to California.
The antithesis of the man-mountains they cheer on from the side lines, cheerleaders are the apple pie served up alongside the rib-eye steak of the NFL.
"It's entertainment, it's Hollywood, its spectacle," Joanne Gerstner, a past president of the Association for Women in Sports Media, told CNN.
The stop-start nature of American Football -- there are many breaks in play with games lasting up to three hours -- provides the opportunity for these pompom-wielding women to help keep fans' eyes fixed on the field.
"I think it's everyone's dream, if you're a dancer, to pursue that passion at a professional level," Missy Mooty, a 26-year-old member of the Minnesota Vikings cheerleading squad, or MVC, told CNN ahead of a game against the Pittsburgh Steelers at Wembley in October.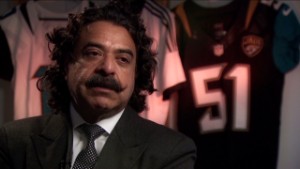 Moving the 2022 Qatar World Cup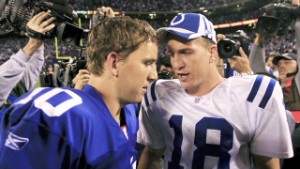 NFL sibling rivalry: Manning vs. Manning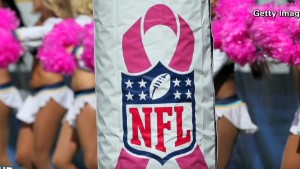 NFL's pink sales under scrutiny
"This is the time of my life that it worked out, it happened to be a dream that came true so it was a great next step in my dance career."
Blog: Redskins -- racist or sporting exception?
Mooty and fellow MVC member Kaylee Munson are paid by the Vikings, but not enough to make a living, meaning cheerleading is combined with a career, full-time studies or balanced with family responsibilities.
"We like to say it's a part-time job, full-time commitment," said Munson, who works as a nurse in schools, teaching kids about healthy living.
Cheerleading first came to the NFL in 1954, when they were premiered by the Baltimore Colts as part of the team's marching band.
The spectacle snowballed and now most self-respecting NFL franchises wouldn't be seen dead without cheerleaders -- 26 of the 32 current NFL franchises have squads.
Munson and Mooty have been dancing all their lives, taking the well-trodden path into the NFL through high-school and college dancing or by competing with a studio.
"I had always danced growing up, so I thought maybe I would try out for the Vikings to expand on my dance career," said Munson. "So I gave it a shot, I tried out and made it my first year which was very exciting."
The skimpy attire a cheerleader is required to wear is water off a duck's back for two women with dancing backgrounds who work hard to sculpt and tone their bodies.
"In the culture of the dance world, that's just kind of the uniform," said Mooty. "We need to be able to move and our bodies, our lines, need to be defined ... (the uniform) can be very sporty and be very flattering."
"Of course, my grandma just loves our costume," adds Munson. "She thinks it's the cutest darn thing ever and loves the sparkles on it. Everyone has a different point of view."
Blog: Why the clocks never go back in U.S. sport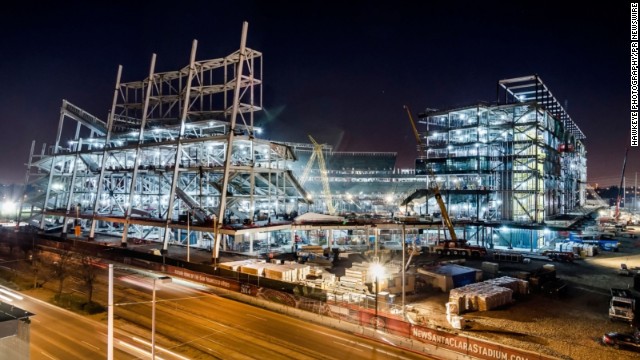 Levi's Stadium, future home of the San Francisco 49ers, will open next year in Santa Clara, California, and is expected to offer speedy Wi-Fi and Web-based TV throughout. The stadium will host Super Bowl L in 2016.
In May 2012, NFL Commissioner Roger Goodell announced a plan to equip all 31 league venues with Wi-Fi, which could help ease network congestion for phone-toting fans. But less than half will be Wi-Fi enabled at the start of the 2013 season.
In 2012, the New England Patriots unveiled a stadium-wide Wi-Fi sytem built by Enterasys Networks at Gillette Stadium in Foxboro, Massachusetts.
Verizon installed a new antenna system and AT&T updated its tower this year to improve wireless services at FirstEnergy Stadium, home of the Cleveland Browns.
This season the Jacksonville Jaguars will unveil a fantasy football lounge at EverBank Field.The lounge will feature high-density Wi-Fi, more than 20 TV screens and Xbox gaming consoles among other amenities.
AT&T Stadium, home of the Dallas Cowboys, is Wi-Fi enabled and is home to high-definition LED video displays so large they have twice been struck by balls in play.
MetLife Stadium in East Rutherford, New Jersey is Wi-Fi enabled and will host Super Bowl XLVIII in February.
Reliant Stadium in Houston, Texas, will host Super Bowl LI in 2017. It does not currently offer Wi-Fi but has been negotiating with Verizon to bring Wi-Fi throughout the stadium.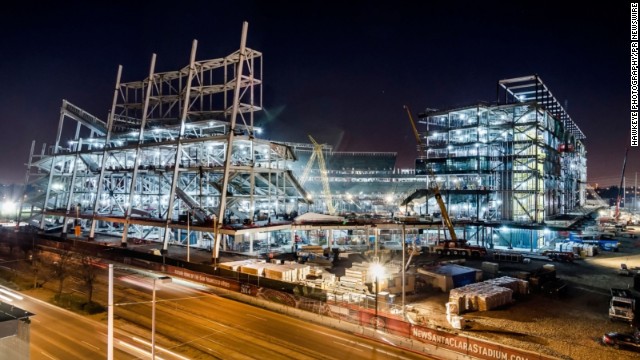 NFL stadiums going high-tech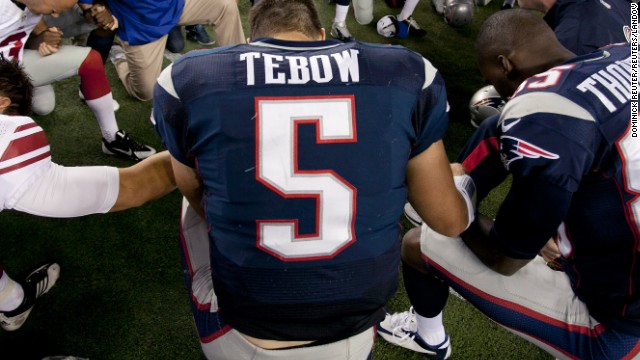 Backup quarterback Tim Tebow prays with his teammates and members of the New York Giants after their NFL preseason game in Foxborough, Massachusetts, on August 29. According to NFL.com, Tebow was released by the New England Patriots on Saturday, August 31. Critics have said the former Heisman Trophy winner doesn't throw well enough to be an NFL quarterback.
Tim Tebow practices with the New England Patriots during a minicamp at Gillette Stadium in Foxborough, Massachusetts, on Tuesday, June 11, the same day the Patriots announced they had signed the polarizing quarterback.
Tebow was released by the New York Jets on April 29, after one season with the team.
Tebow warms up before the Jets' game against the Tennessee Titans in December in Nashville.
Actress Jessica Biel and Tebow present an award during the 2012 ESPY Awards in Los Angeles.
Tebow, then playing for the Denver Broncos, runs the ball against Mark Anderson, left, and Brandon Deaderick of the New England Patriots during an AFC divisional playoff game in January 2012 in Foxborough, Massachusetts.
Bronco quarterback Tebow celebrates after running the ball in the end zone for a touchdown in the second quarter against the Pittsburgh Steelers during the AFC wild card playoff game in January 2012 in Denver. The Broncos defeated the Steelers in overtime 23-29.
Tebow scrambles to pass the ball to Demaryius Thomas to score an 80-yard touchdown in overtime to defeat the Steelers in January 2012.
Tebow prays during the final minute of a game against the New York Jets in November 2011 in Denver. The pose, now famous, has come to be known as "Tebowing."
Tebow celebrates his first NFL touchdown run in the first half against the Jets in October 2010 in Denver.
Tebow hugs Florida Gators head coach Urban Meyer after scoring a touchdown against the Cincinnati Bearcats during the Sugar Bowl in New Orleans on January 1, 2010. In what was Tebow's last college game, he threw for a career high 482 yards and ran for another 51 yards, accounting for four touchdowns. Florida defeated Cincinnati 51-24.
President Barack Obama shakes hands with Tebow during a ceremony at the White House honoring the Gators for their National Championship title on April 23, 2009.
Tebow celebrates with teammate Carl Johnson, No. 57, after throwing for a touchdown in the 2009 BCS National Championship game against the Oklahoma Sooners. The Gators won 24-14.
During the 2007 BCS National Championship, Tebow scores a touchdown on a 1-yard run over Donald Washington of the Ohio State Buckeyes. Florida defeated Ohio State 41-14.
Tebow speaks after he was presented with the Heisman trophy in New York on December 8, 2007. He was the first sophomore to win the Heisman.
Fans greet Tebow after the Gators defeated the Southern Miss Golden Eagles at Ben Hill Griffin Stadium in Gainesville, Florida, on September 2, 2006. He rushed for a touchdown in the first play of his college career.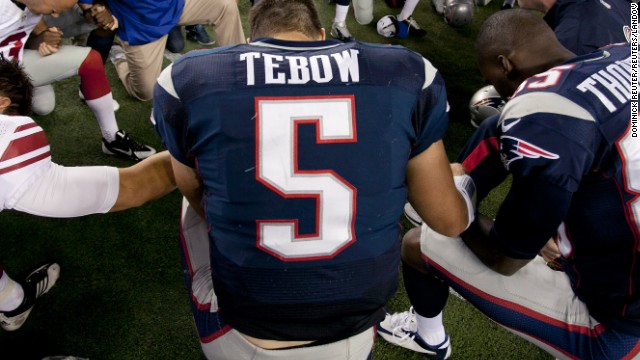 Photos: Tim Tebow -- from NFL to college days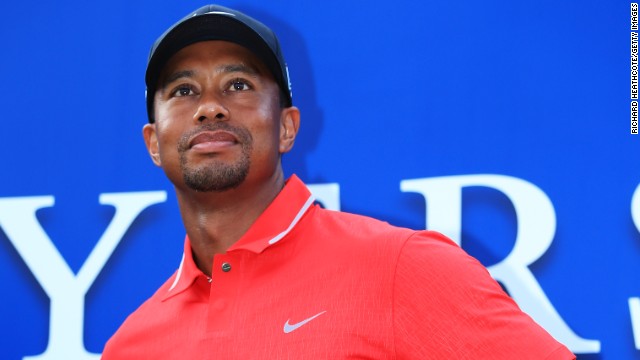 Golf's world No. 1 Tiger Woods has reclaimed his position as the world's highest-earning athlete, according to Forbes. The 14-time major winner picked up $13.1 million in salary/winnings in the 12 months to June 1, as well as $65 million from endorsements with companies such as Nike. Woods is thought to be close to resigning with the American sportswear giant.
The previous No. 1 Roger Federer pocketed $6.5 million from on-court success over the past 12 months. The tennis star's endorsements, which include deals with Nike, Rolex, Wilson and Credit Suisse, earned the 17-time grand slam winner $65 million.
Kobe Bryant of the Los Angeles Lakers is the highest-paid player in the NBA. His salary of $27.85 million is $7 million higher than any other player, and his jersey was the biggest seller overseas during the 2011-12 season.
Miami Heat's LeBron James is the toast of the NBA when it comes to endorsements, boasting deals with companies such as Nike, McDonald's, Coca Cola and Samsung earning him $42 million of his $59.8 million total.
Quarterback Drew Brees cashed in last July by signing a new five-year contract with the NFL's New Orleans Saints worth $100 million. Brees' new deal also came with a $37 million signing bonus.
Aaron Rodgers of the Green Bay Packers is the highest annual earner in the NFL. His five-year deal is worth $110 million.
Four-time major winner Phil Mickelson collected $44 million in endorsements over the last year, including deals with Callaway, Barclays and KPMG.
David Beckham recently called time on his playing career, but he is still the highest-earning footballer on the planet. The $5.2 million salary he received during his spell with Paris Saint-Germain, his final club, was donated to charity. The former England captain recently launched a clothing line with H & M.
Real Madrid's Cristiano Ronaldo earns half of his money from endorsements. This is thought to have prompted talks of a new contract with the Spanish club, with both parties unable to agree over Ronaldo's image rights. The Portuguese star currently splits his image rights 60-40, according to Forbes.
Barcelona star Lionel Messi is used to finishing top of the pile. But the four-time FIFA Ballon d'Or winner is the third-highest-earning footballer, with Adidas launching a signature line for the Argentine earlier this year.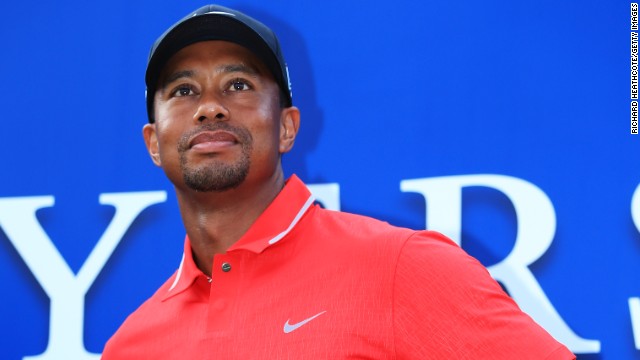 Tiger tops highest-paid athlete list
Many cheerleaders also pride themselves on the work they do with their local communities, while some, like the New Orleans Saints demand the women have public speaking skills as well as dance technique.
But a harsher view of the cheerleading industry is that women dancing on the fringes of competitive sport is an echo from an age of sexism and misogyny.
"When the whole essence of your job is basically hanging out in a tiny bikini and a bandeau top, it kind of undercuts the rest of your argument that you are a well-rounded person," said Gerstner, who is also professor of media & sports at the University of Michigan.
A video released by the Miami Dolphins cheerleading squad showing women in bikinis dancing to Robin Thicke's blurred lines with the team's mascot "TD" arguably supports Gerstner's view.
"It's almost like in Paris, having the dancing girls doing the cancan while the guillotine is going down," added Gerstner, who views cheerleading as accessorizing women.
Mooty and Munson remain undeterred and as cheerleading enters its seventh decade in the NFL, it shows no signs of kicking off its cowboy boots and calling it a day.
"Cheerleading has a long tradition in the majority of American sports at both professional and amateur levels," NFL head of communications David Tossell told CNN.
"Cheerleaders are part of American football culture from youth leagues to the NFL and are part of the game day experience for our fans."
The question of whether that culture is one that degrades women is one which hangs over cheerleaders like Mooty and Munson.
Blog: The naked truth -- how close is too close?
Many negative stereotypes surround the cheerleaders, but Mooty enjoys challenging people's preconceptions.
"I think that's a big challenge of ours to overcome," she said. "We take a lot of pride in our uniforms and we like to use them to represent the team. It's part of our team spirit and part of the experience.
"I feel that if we offer a classy and poised portrayal, then hopefully that is the way that it is received. Like anything, it's in the eye of the beholder."
While the integrity of individuals like Mooty and Munson is unquestionable, Gerstner still feels cheerleading encourages people to judge women purely on their appearance.
"They might be intelligent, grounded amazing women but we're solely left to judge them by the outside packaging, which is getting skimpier and skimpier as cheerleading evolves in the United States.
"If cheerleaders are necessary, why are there no cheerleaders for any women's sports?"