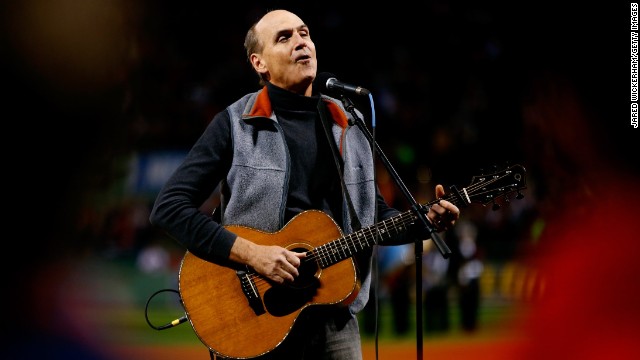 At the World Series game on October 24, it was James Taylor who had the save of the night. The singer was there to lead the stadium in the national anthem, but instead of "The Star-Spangled Banner," he began singing "America the Beautiful." He's not the only star who's been caught in an awkward patriotic moment:
In a 2012 interview
, Barr told CNN's Piers Morgan it was "a huge regret that was hard to come back from."
Comedian Roseanne Barr's disastrous rendition of the national anthem during a San Diego Padres game in July 1990 drew almost unanimous boos.
But Whitney Houston hit the right notes at Super Bowl XXV in January 1991, stirring Americans' patriotic feelings during the Persian Gulf War. Her version of "The Star-Spangled Banner" reached the Billboard chart's Top 20 that year.
a rendition
on Inauguration Day in January. The singer later told reporters "
she decided to sing along with my prerecorded track
," a decision she made in part because she didn't have time to rehearse with the U.S. Marine Band and had had "no proper sound check." But she wowed any doubters in her rehearsals and halftime show at the Super Bowl in February.
Beyoncé wows the nation with
memorable but untraditional version
during the 1983 NBA All-Star Game.
Marvin Gaye, pictured in 1984, sang a
Bryan later explained
. "I just wanted to do my best. I promise it was from the heart. If I offended anyone with my approach I sincerely apologize. Anytime I sing the anthem it is an honor and my heart beats out of my chest."
Luke Bryan was so nervous about becoming one of the stars famous for messing up the national anthem, he wrote a few lyrics on his palm before singing "The Star-Spangled Banner" at a baseball game in July 2012 -- and was swiftly called out for it. "I had a few key words written down to ensure myself that I wouldn't mess up,"
Photos: Highs and lows of the national anthem
Highs and lows of the national anthem
Highs and lows of the national anthem
Highs and lows of the national anthem
Highs and lows of the national anthem
Highs and lows of the national anthem
Highs and lows of the national anthem
Photos: Highs and lows of the national anthem
Highs and lows of the national anthem