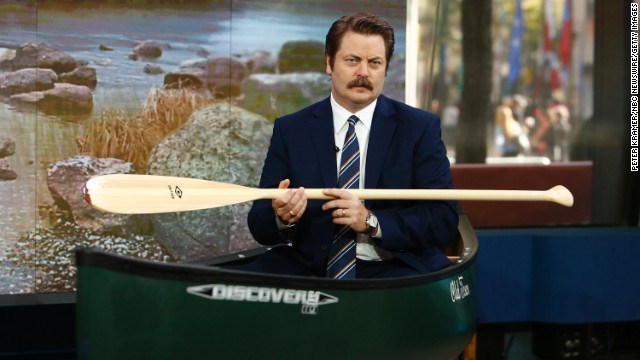 When they're not working their day jobs, many celebrities like to get away from performing by doing something else. Sometimes it's a creative outlet; other times, it's a full-fledged business. For example, when he's not appearing on "Parks and Recreation," Nick Offerman is an accomplished woodworker -- he even has
a collective
devoted to the craft. Here are 24 more moonlighting stars:
Jay-Z is as famed for his business acumen as his rapping skills. He co-founded the Rocawear fashion empire, is
Goop
, a weekly lifestyle newsletter, and has also written two cookbooks.
In 2008, Gwyneth Paltrow launched
Steve Martin escapes from acting in movies by performing as a bluegrass musician. He plays banjo -- sometimes with the Steep Canyon Rangers -- and even created the Steve Martin Prize for Excellence in Banjo and Bluegrass.
Brad Pitt and Angelina Jolie are vintners, having produced a rosé from their 150 acres of vineyards at the Chateau Miraval in the south of France.
Francis Ford Coppola Winery
in Geyserville, California, has produced several highly rated vintages.
Director Francis Ford Coppola is also a winemaker. His
Aunt Luddy's White Trash is a snack sold at Walton's Fancy and Staple, a gourmet deli and bakery in Austin, Texas, owned by actress Sandra Bullock.
he wrote recently in The Wall Street Journal
. Here, Bennett presents a watercolor painting he did of Duke Ellington to the National Portrait Gallery in Washington in 2009.
Before he was a singer, Tony Bennett was a painter. He still is, and a successful one, too: His paintings sell for $10,000 or more. "When I'm not painting, I often go up to the Metropolitan Museum of Art on Fifth Avenue for inspiration, to see how the greats solved problems,"
Hybird
in New York in spring 2013.
Part of Questlove's status as an industry legend is his insanely busy schedule. Lately, the DJ/drummer/author/producer has added restaurateur to his resume. The Roots band member opened
Kiss guitarist Paul Stanley also paints. Stanley, who attended New York's High School of Music and Art, became serious about his painting in the last decade or so.
Marilyn Manson, another painter, opens an exhibition of his work at a Cologne, Germany, gallery in 2007.
Rapper 2 Chainz loves food, and he recently shared recipes from his tour bus in a cookbook called "#Meal Time."
As if he didn't have enough on his plate, what with singing and acting, Justin Timberlake also owns Myspace, one of the first breakout social networks. He bought a chunk in 2011 and took a larger role after News Corp. sold the site in 2012. Myspace relaunched in June.
Ashton Kutcher is also active in the tech world. He was an early investor in Skype and continues to back startups through his venture capital firm, A-Grade Investments.
CafeMom site
, ranked as one of the 1,000 most-trafficked sites in the world, according to the monitoring organization Alexa. Shue also created
Do Something
, a national nonprofit group.
"Melrose Place" actor Andrew Shue has also made a name for himself in tech. He's one of the creators of the
Sometimes the question about James Franco is whether he's an actor or is merely playing one, because he does many other things. He's written books -- his new one is called "Actors Anonymous" -- he's sung, and he's taught at New York University, Columbia and UCLA.
Begley's Best
, that produces what it calls environmentally friendly products.
Ed Begley Jr. is not only an environmentalist, he has a company,
is the founder of the brand
BioWillie Biodiesel
, a petroleum alternative made from vegetable oil and waste fats. It's been used to power the country star's tour bus.
Willie Nelson
haven't lost their touch: a property they bought for $7 million reportedly sold for
$24 million in August 2013
.
Jeremy Renner, right, might now be an Oscar-nominated actor, but before he hit it big he was a hugely successful house flipper. He and actor Kristoffer Winters
Alyssa Milano is a huge baseball fan and doesn't mind if everybody knows. She's written a book about her love for the sport, "Safe at Home," and has contributed columns and interviews to variety of media.
Drew Carey has a particular interest in Major League Soccer's Seattle Sounders. He owns a share of the team.
Roseanne Barr owns a 40-acre macadamia nut farm in Hawaii. It was the centerpiece of her reality show, "Roseanne's Nuts."
Moonlighting celebrities
Moonlighting celebrities
Moonlighting celebrities
Moonlighting celebrities
Moonlighting celebrities
Moonlighting celebrities
Moonlighting celebrities
Moonlighting celebrities
Moonlighting celebrities
Moonlighting celebrities
Moonlighting celebrities
Moonlighting celebrities
Moonlighting celebrities
Moonlighting celebrities
Moonlighting celebrities
Moonlighting celebrities
Moonlighting celebrities
Moonlighting celebrities
Moonlighting celebrities
Moonlighting celebrities
Moonlighting celebrities
Moonlighting celebrities
Moonlighting celebrities
Moonlighting celebrities
Moonlighting celebrities