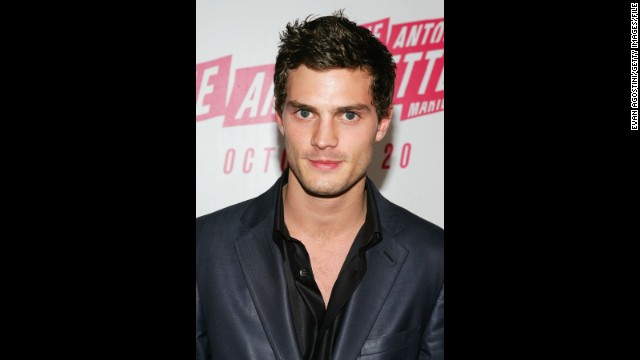 Is anyone else feeling "Fifty Shades" of confusion? First, there was the never-ending hunt for the perfect Christian Grey. Then, when the project found him in Charlie Hunnam, the actor dropped out. And now, this Jamie Dornan has been thrown into the mix. If you're feeling lost, consider this your "Fifty Shades 101."
whose fan fiction for "Twilight,"
another franchise with book beginnings and a rabid fanbase, inspired a publishing goldmine.
First, we have to start with the book. The reason there's even a movie being made is because of author E.L. James,
"Fifty Shades" is actually comprised of three books: "Fifty Shades of Grey," "Fifty Shades Darker" and "Fifty Shades Freed." Universal acquired the rights to the entire trilogy in March 2012.
In order to pull off this steamy story of a naïve college student, Anastasia Steele, who gets involved with an older, wealthy man with "singular erotic tastes," the "Fifty Shades" movie needed to not only find good actors, but also actors who could satisfy fans' desires and be OK with BDSM-themed sex scenes.
Did we forget to mention that? Yes, part of the titillation surrounding James' work is the bondage, discipline, sadism and masochism to be found in its pages. Kelly Marcel, who's worked on the canceled series "Terra Nova" and also penned the script for "Saving Mr. Banks," is in charge of the screenplay for "Fifty Shades."
According to the Hollywood Reporter
, the creative team on the project has brought on "Notes on a Scandal" scribe Patrick Marber for a "polish."
Marcel once said that she was envisioning a "raunchy," "NC-17" script, but whatever was turned in might not have passed muster.
But even after Marcel was tapped to write the adaptation in October 2012, there was no casting announcement in sight. And there wouldn't be for a long, long while. In fact, the movie's release date -- August 1, 2014 -- and its director, Sam Taylor-Johnson, were both announced well ahead of any word on lead players.
So while Universal kept searching for its Anastasia and Christian, fans sweated over who should be cast. Ryan Gosling, being the Hollywood darling that he is, would be an obvious choice -- the husband of E.L. James'
Garrett Hedlund was another reported strong contender, but he, too, is said to have passed on the project.
"White Collar" actor Matt Bomer was also a top choice for the "Fifty Shades" fans.
When it came to the dream actresses to portray Anastasia Steele, the "Fifty Shades" fandom mentioned stars like Alexis Bledel, pictured, Felicity Jones and Elizabeth Olsen.
Armie Hammer
and
Emma Watson
openly guffawed at the idea of being cast in the project.
The lengthy casting period gave ample opportunity for several rumors to start about who was being considered -- and who was passing. Actors like
Which brings us to early September 2013, when Universal finally revealed that it had
tangible chemistry be damned
. The official cause was his TV schedule, but there were whispers about whether the pressure and attention from the casting where simply too much for Hunnam.
And then, "Sons of Anarchy" actor Hunnam made a surprising move and backed out of the role of Grey just weeks before production was supposed to start,
Fifty Shades of casting
Fifty Shades of casting
Fifty Shades of casting
Fifty Shades of casting
Fifty Shades of casting
Fifty Shades of casting
Fifty Shades of casting
Fifty Shades of casting
Fifty Shades of casting
Fifty Shades of casting
Fifty Shades of casting
Fifty Shades of casting
Fifty Shades of casting
Fifty Shades of casting
Fifty Shades of casting
Fifty Shades of casting