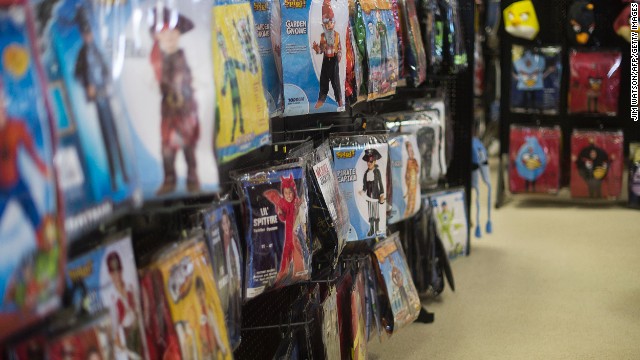 It's that time of the year when folks are gearing up to play dress up for Halloween. If you still haven't chosen a costume, there are plenty of pop culture options out there for you.
Get ready to see a few Miley Cyrus clones on fright night, possibly dressed in this "Twerkin Teddy."
What would a Miley Cyrus look be without the corresponding Robin Thicke look to be twerked on?
The show may be over, but that doesn't mean you can't dress up like your favorite meth dealer, Walter White from "Breaking Bad."
Rick Grimes ....
... Or decomposing zombie from the hit AMC show "The Walking Dead?" Take your pick.
If you have the body for it, ladies (and possibly some gents) you could always adopt Katy Perry's California Gurl look.
Winter is indeed coming, so get ready with the "Game of Thrones" Khaleesi Blue Warrior Princess costume.
This costume of "Glee's" coach we love to hate, Sue Sylvester, from Rubie's Costume Company includes a replica of her infamous track suit and wig.
You will have to supply the sparkling personality if you decide to go as Kenny Powers from "Eastbound & Down."
Unfortunately, this Lady Gaga costume does not come with accompanying little monsters.
Plenty of adults also love the animated film "Despicable Me 2" so why not be a Minion?
Dress like a star for Halloween
Dress like a star for Halloween
Dress like a star for Halloween
Dress like a star for Halloween
Dress like a star for Halloween
Dress like a star for Halloween
Dress like a star for Halloween
Dress like a star for Halloween
Dress like a star for Halloween
Dress like a star for Halloween
Dress like a star for Halloween
Dress like a star for Halloween