STORY HIGHLIGHTS
Cristiano Ronaldo scores twice as Real Madrid beats Juventus
Zlatan Ibrahimovic hits four as Paris Saint-Germain trounces Anderlecht
Bayern Munich cruises past Plzen
Manchester United sneaks past Real Sociedad
(CNN) -- Cristiano Ronaldo warmed up for Saturday's El Clasico by firing Real Madrid to victory over Juventus in the European Champions League.
Ronaldo scored twice as Real defeated the Italian champion 2-1 at the Bernabeu to make it three wins out of three in Group B.
The Portuguese star has now scored seven goals in this season's competition, netting either side of a Fernando Llorente strike to seal the points.
Read: Reinvigorating the 'Old Lady'
"We have taken a very important step towards securing qualification," Real captain Iker Casillas told reporters.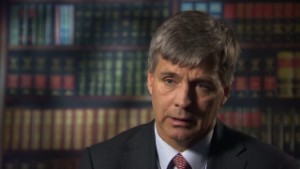 Did FIFA make a mistake on Qatar?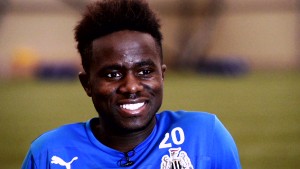 From civil war to the football pitch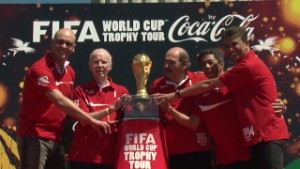 The business behind the World Cup
"It wasn't easy but we have taken the first step, getting nine points from three matches. We have to go to Turin now and at least avoid defeat."
Juventus now finds itself in danger of being eliminated at the Group Stage after taking just two points from its opening three games.
Its case was not helped by Turkish side Galatasaray, which defeated FC Copenhagen 3-1 to move up to second in the group.
Real, which is currently third in La Liga, will now travel to Barcelona with the mission of inflicting a first league defeat of the season on its arch rival.
Coach Carlo Ancelotti could even give $138 million signing Gareth Bale a place in the team after the Wales international made a cameo appearance as a substitute following his recovery from a thigh injury.
"He came on when the match has lost its intensity," Ancelotti said at a news conference.
"That didn't help him play better but it was important for him to get some time on the pitch," added the Italian. "I think now he is ready to start a match."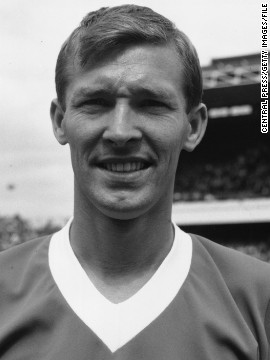 As a player, Alex Ferguson enjoyed a moderately successful career. A prolific striker, he scored 170 goals in 317 appearances including 25 goals in 41 appearances for Glasgow Rangers.
Ferguson was appointed manager of Aberdeen in 1978. In addition to three Scottish First Division titles, Ferguson guided the club to an impressive triumph over Real Madrid in the 1983 European Cup Winners' Cup.
Ferguson was assistant to Scotland coach Jock Stein during the qualifying campaign for the 1986 World Cup. Scotland secured a 1-1 draw against Wales in their final game to reach the tournament, but Stein collapsed and died following the final whistle in Cardiff.
A late winner from substitute Mark Robbins in an FA Cup replay against Nottingham Forest in January 1990 allegedly spared Ferguson the sack. United went on to beat Crystal Palace at the second attempt in the final, giving Ferguson his first trophy at Old Trafford.
The Scot originally planned to retire from management at the end of the 2001-02 season. But, after helping the team recover from a slip in form which saw them drop as low as ninth in the Premier League table, Ferguson reversed his decision in February 2002 and signed a new three-year contract.
A boot flew into the face of Manchester United's star midfielder David Beckham after Ferguson lost his temper following a 2-0 FA Cup defeat to Arsenal in February 2003. Beckham had to be held back following the incident and he joined Real Madrid ahead of the following season.
Ferguson's finest hour arrived in Barcelona in May 1999, when his United team came from 1-0 down in the 90th minute to beat Bayern Munich 2-1 in the European Champions League final. The win completed an historic treble of titles won during the 1998-99 season, which included the Premier League title and the FA Cup.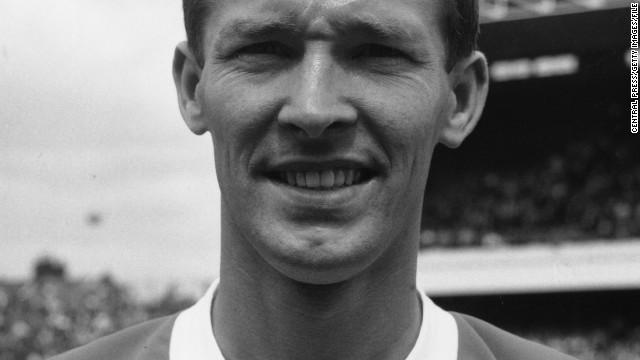 The seven moments which define Alex Ferguson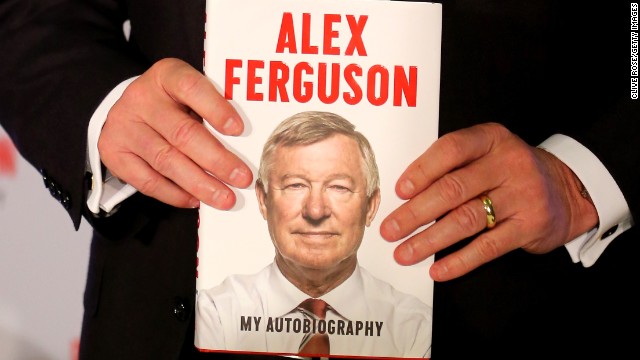 Just what did former Manchester United manager Alex Ferguson think about Wayne Rooney, Roy Keane, David Beckham and Cristiano Ronaldo? Read on......
England striker Wayne Rooney joined Manchester United from Everton in 2004. "Wayne Rooney is a slow learner and he struggles to stay fit," says Ferguson of the England international in his autobiography.
Roy Keane played for Manchester United between 1993 and 2005, but the Republic of Ireland midfielder fell out spectacularly with the Old Trafford manager after he criticized his teammates on the club's television channel. "What I noticed about him that day as I was arguing with him was that his eyes started to narrow, almost to wee black beads. It was frightening to watch. And I'm from Glasgow," writes Ferguson.
There is no mention of David Beckham's wife Victoria -- Posh Spice -- in the chapter of the book that Ferguson devotes to the player. "The big problem for me ... he fell in love with Victoria and that changed everything," said Ferguson in his press conference to promote the book.
In 2011 Manchester United defender Patrice Evra complained he had been racially abused by Liverpool striker Luis Suarez, who was subsequently handed an eight-match ban by the English Football Association. "Liverpool wore those T-shirts supporting Suarez, which I thought was the most ridiculous thing for a club of Liverpool's stature," writes Ferguson.
"In all the times I'm asked I find it impossible to definitely say which is the better player -- Cristiano Ronaldo or Lionel Messi -- because to relegate either to second place would feel wrong," writes Ferguson.
"Messi has something magical about him when the ball touches his feet," writes Ferguson. "It's as if it's landed on a bed of feathers. His low sense of gravity is devastating."
Ferguson says he was twice asked to manage England. "It wasn't a bed of nails I was ever tempted to lie on," writes the former Manchester United manager.
Sven-Goran Eriksson took charge of the England team between 2001 and 2006. "I remember asking Paul Scholes one day: 'Scholesy, what's Eriksson got?' but Scholesy could shed no light."
Ferguson is full of praise for Chelsea manager Jose Mourinho, who is now in his second spell at Stamford Bridge. "Jose was one of those guys on a surfboard who can stay longer on the wave than anyone else," says the Scot.
Sergio Aguero's stoppage-time goal in a 3-2 win against Queens Park Rangers ensured Manchester City won the 2011-2012 English Premier League title. "We were champions for 30 seconds," writes Ferguson. "When our whistle blew -- against Sunderland -- we were champions. In fairness to our players, they knew they had ballsed it up. There were no excuses."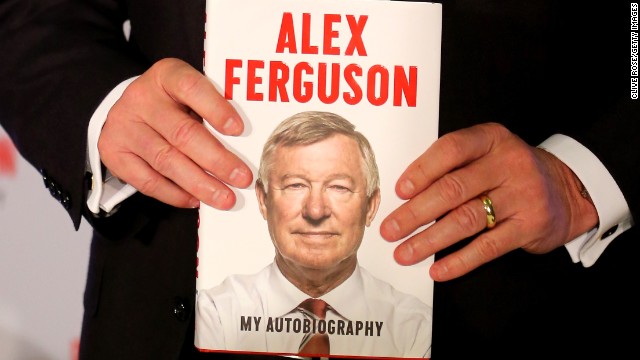 Alex Ferguson's book: 10 things not to miss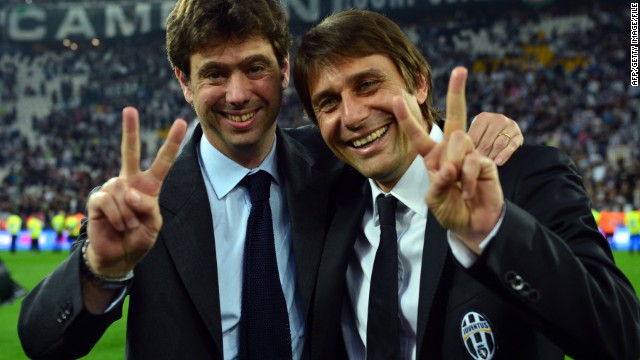 Juventus president Andrea Agnelli (left) celebrates the Old Lady's 2013 Serie A title win with the club's coach Antonio Conte.
The "Bianconeri" won their first Serie A title for nine years in 2011, going through the season unbeaten. It capped their resurgence after the "Calciopoli" match-fixing scandal that saw them stripped of two Serie A titles and demoted to Serie B in 2006.
Juventus acquired Argentina striker Carlos Tevez from Manchester City in June 2013 ahead of the club's bid for a third straight Serie A title. In third place after eight games, Conte's team is desperate to again qualify for the lucrative European Champions League.
The club moved from the dilapidated Stadio delle Alpi to the new Juventus Stadium in 2011. It is smaller, but attendances are up -- as is revenue. Agnelli is hoping other clubs in Serie A with old stadiums will follow Juve's lead.
Juventus Stadium provides better facilities for fans and also a more intimate experience, with supporters being much closer to the action than they were at the cavernous Stadio delle Alpi.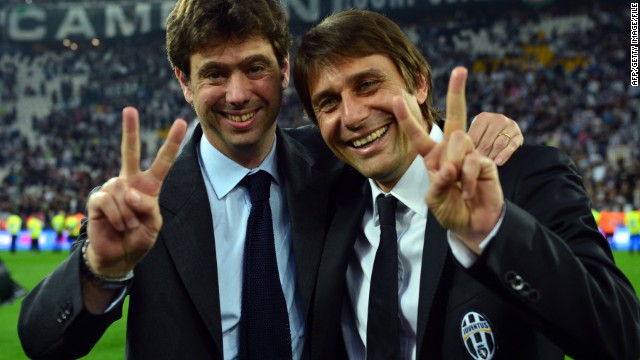 Restoring an Italian classic
Read: Milan turns to Belgian brain power
While Ronaldo stole the show in the Spanish capital, it was Zlatan Ibrahimovic who lit up Brussels with a four-goal salvo.
The Swede, who is set to come up against Ronaldo in the World Cup playoff, scored a hat-trick inside 19 minutes as Paris Saint-Germain crushed Anderlecht 5-0.
Ibrahimovic added a fourth on 62 minutes to take his tally to nine in his past four appearances.
Edinson Cavani added a fifth as PSG underlined its credentials as serious challengers.
"It was a really good game with plenty of positives all over the pitch. It was the perfect match," declared PSG coach Laurent Blanc.
"Ibrahimovic's four goals were exceptional. It is difficult to say which was the best.
"Winning the Champions League would be a dream for all the players and the board. But it is a difficult objective.
"We need to go one step at a time and the first is to win the group."
PSG sit top of Group C with maximum points -- five ahead of Olympiakos which was held to a 1-1 draw at Benfica.
Defending champion Bayern Munich eased to a 5-0 win over Czech side Viktoria Plzen to maintain its perfect start to the competition.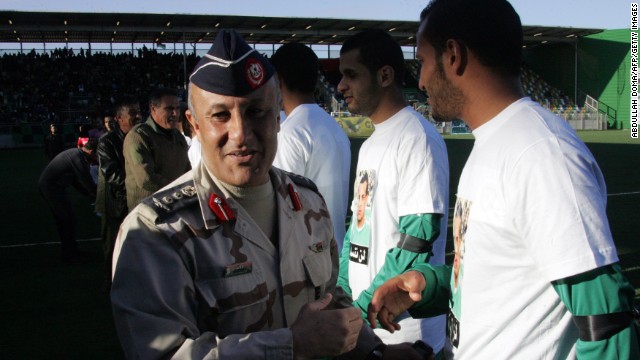 Al-Ahly of Tripoli, the country's biggest club, threatened to leave the Libyan football league after its coach and a player were both shot by snipers. The team is expected to return to action on October 26 according to the club's owner.
Coach Hossam al-Badri was shot at after his team Al-Ahly Tripoli had drawn a league match. The 53-year-old Al-Badri steered Cairo's Al -Ahly to the African Champions League title last November before joining the Libyan club in May.
Former Spain coach Javier Clemente has been given the task of steering Libya to the 2015 Africa Cup of Nations in Morocco. The 63-year-old, who enjoyed six years in charge of the Spanish national team between 1992-98, replaced Abdelhafidh al-Rabich.
Libya hopes to host the 2017 Africa Cup of Nations and is already in the process of constructing a number of new venues. This stadium, which is in the southern suburbs of Tripoli, is expected to be finished in time for the tournament.
Libyan Prime Minister Ali Zeidan was kidnapped and held for several hours by militia gunmen before being released. The incident, which highlights threats posed by militias, is just one of several which have occurred since the revolution two years ago.
The Libyan national team is currently ranked 61st in the world and is hoping to make it through to the 2015 Africa Cup of Nations.
Football in Libya only resumed last month after being brought to a halt in February 2011 by the civil conflict which ousted the dictator Moammar Gadhafi. Fans are now hoping the latest violence won't prevent the national league from continuing.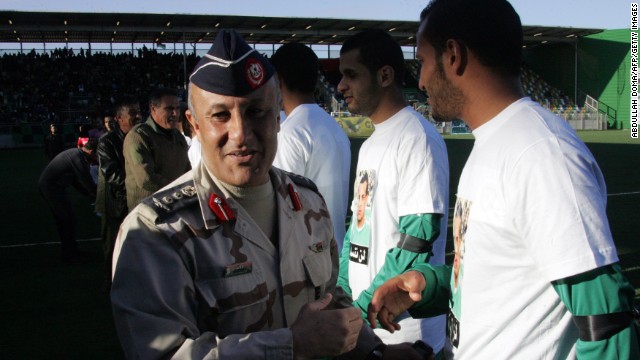 Libya's footballers in the firing line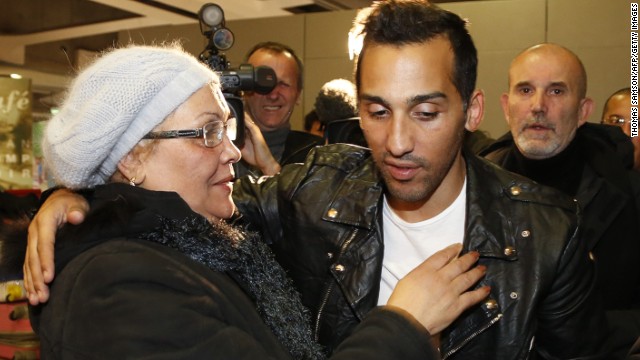 Football player Zahir Belounis (right) is welcomed by his mother as he arrives from Qatar at Paris' Roissy-Charles-de-Gaulle airport on November 28, 2013.
The 33-year-old, here holding one of his two young daughters, had not been able to leave Qatar after he filed a complaint against his club Al-Jaish over a payment dispute.
Belounis had a two-year fight to secure an exit visa, leaving him stranded in the emirate with his wife Johanna and their children.
Belounis (right) held talks with French President Francois Hollande in June and claims he had been told he would receive his exit visa on October 21 -- it came more than a month later.
Qatar has promised a futuristic World Cup -- whichever month it is held in 2022. But at what price?
According to United Nations figures it is estimated that 500 new immigrants arrive in the country every day -- many from the Indian sub-continent and Southeast Asia.
Qatar faces a wait to find out whether the 2022 World Cup will be switched to the nation's winter. "The mistake was to think that we could play this competition easily in the summertime," FIFA president Sepp Blatter said.
The bidding process for the 2018 and 2022 tournaments is being looked at by former New York attorney Michael Garcia, who is head of the investigative arm of FIFA's ethics committee. Garcia will visit all of the countries involved in the process, beginning in London.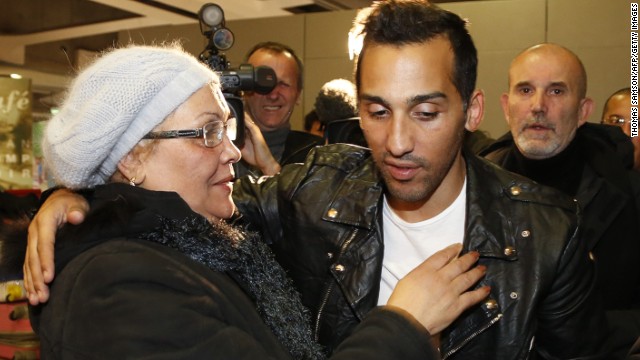 Qatar's stranded migrants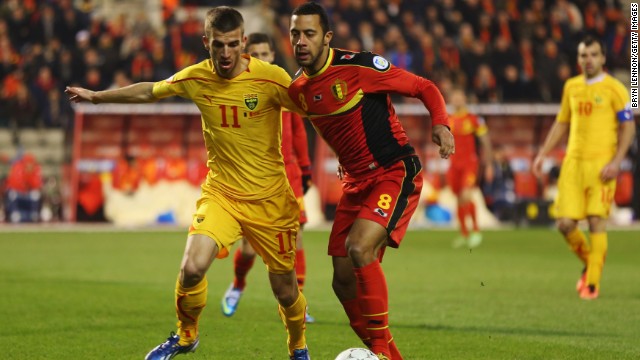 Mousa Dembele (right) is a key part of the Belgium side hoping to qualify for the 2014 World Cup in Brazil.
The Red Devils are unbeaten in World Cup qualifying, having won seven of their eight group games.
Romelu Lukaku is still only 20 but has already won 20 full international caps. Arguably the jewel in Belgium's emerging crop of stars, many observers think he is Chelsea's best striker, though he is spending this season on loan at Everton. Here Lukaku, who was born in Antwerp, celebrates after scoring against Newcastle in the English Premier League.
MIdfielder Marouane Fellaini played for Standard Liege before joining Everton. He left Goodison Park in August to join Manchester United, where he linked up again with former Everton manager David Moyes.
Alongside Fellaini in Belgium's midfield is Chelsea's Eden Hazard. French club Lille was key to Hazard's development and the midfielder spent five years with the Ligue 1 team before joining Chelsea.
Aston Villa striker Christian Benteke is Belgium's first-choice striker. He has scored four league goals this season and is pictured celebrating Villa's surprise 3-1 win over Arsenal on the opening day of the campaign.
Manchester City captain Vincent Kompany also skippers the Belgium national team. He began his professional career with Brussels club Anderlecht.
Kompany made his debut for Belgium in 2004 and has gone on to win over 50 caps for his country.
Napoli forward Dries Mertens (left) is one of the Belgium players to have worked under "brain coach" Michel Bruyninckx in the early stages of his career. The 26-year-old earned a move to Italy after impressing with Dutch club PSV Eindhoven last season.
Before coming to England, Dembele, who is now with Tottenham, played in both Belgium and Holland.
His first EPL club was Fulham, where manager Martin Jol described Dembele as "probably the best player on the ball I've ever seen."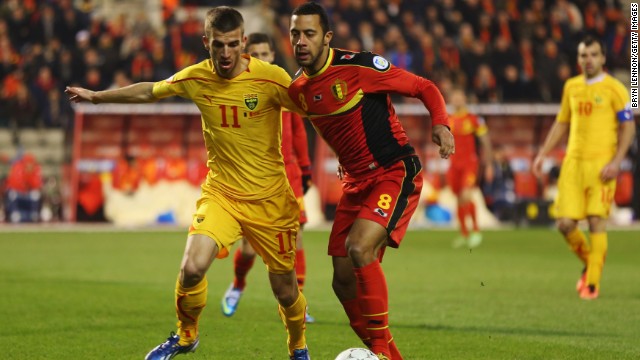 Belgium' s World Cup Red Devils
Franck Ribery scored twice, while there were also goals for David Alaba, Bastian Schweinsteiger and Mario Gotze.
"I am happy with the performance of the players," Bayern boss Pep Guardiola told reporters.
"I believe that in the European matches this season, including the Super Cup win over Chelsea, we have played well but in the Bundesliga it has taken us longer to click into gear and perhaps we need more time."
Bayern has taken nine points from nine and sits top of Group D with Manchester City in second place.
Sergio Aguero scored twice as City won 2-1 at CSKA Moscow in a game which was marred by racist chanting.
City midfielder Yaya Toure was subjected to "monkey chants" by home supporters and the club will now take up the matter with UEFA, the European game's governing body.
Manchester United claimed a vital 1-0 win over Real Sociedad at Old Trafford thanks an own goal by Inigo Martinez.
The home side wasted several other chances to increase their lead while the visiting side struck the crossbar through Antoine Griezmann.
Read: Keane hits back at Ferguson
"I thought we played well tonight. I thought we created opportunities," said United manager David Moyes, whose side was held to a 1-1 draw by Southampton in the Premier League last weekend.
"But while it was 1-0, I still had feelings of Saturday left inside me and while it was 1-0, you know you can always lose a goal from a corner kick or a free-kick.
"But it wouldn't have been right if we hadn't taken all three points tonight."
United is one point clear at the top of Group A following Bayer Leverkusen's 4-0 home win over Shakhtar Donetsk.
Stefan Kiessling scored twice with Simon Rolfes and Sidney Sam also on target for the German side.