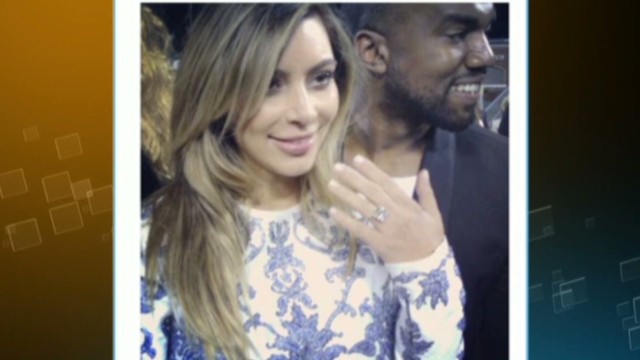 Kanye West's elaborate proposal to Kim Kardashian was pretty kute -- but how does it stack up against these other PDA-filled moments?
In March 2012, a month
before Kanye told the world he "fell in love with Kim" in a new song
, the pair were seen embracing at his Fall/Winter 2012 fashion show in Paris, raising eyebrows about their status.
In April 2012, the pair were seen hitting the streets of New York, eating ice cream and laughing with one another.
Suspicions that the two were an item were going strong in April 2012 after Kanye's profession of love went viral, and their snuggling at a Lakers game in May of that year bolstered the reports.
In July 2012, Kim and Kanye kept one another close as they exited the Valentino Haute-Couture Show during Paris Fashion Week.
When Kim and Kanye took a romantic, rainy stroll in Miami in October 2012, everything seemed PG at first ...
Until cameras revealed just how close they were getting.
We'd love to know what Kanye was whispering in Kim's ear as they clung to one another at the Angel Ball 2012 in New York City on October 22.
Kim and Kanye were all smiles as they cuddled up at one of their favorite haunts: courtside at a basketball game ,this time watching the Denver Nuggets face the Los Angeles Clippers on December 25. By the following Sunday, Kanye spilled the beans that they were
While momager Kris Jenner believes Kim and Kanye are a match made in heaven, we think they're more like two peas in a pod. Notice how often they coordinate their outfits, like they did here at a fashion show in March 2013?
If there were a thought bubble above Kanye's head at the 2013 Met Gala, we'd bet it would say, "say something about my girlfriend's dress. I dare you."
Kim kept a low profile following the arrival of the couple's daughter, North, in June, but toward the end of September she showed off both a new hair color and her post-baby physique in Paris as Kanye stayed close.
Kim and Kanye's kutest PDA moments
Kim and Kanye's kutest PDA moments
Kim and Kanye's kutest PDA moments
Kim and Kanye's kutest PDA moments
Kim and Kanye's kutest PDA moments
Kim and Kanye's kutest PDA moments
Kim and Kanye's kutest PDA moments
Kim and Kanye's kutest PDA moments
Kim and Kanye's kutest PDA moments
Kim and Kanye's kutest PDA moments
Kim and Kanye's kutest PDA moments
Kim and Kanye's kutest PDA moments