STORY HIGHLIGHTS
Apple announced a new iPad, named the iPad Air
Full-sized model is lighter, thinner; it weighs only 1 pound
The new iPad Mini has high-resolution retina display
Microsoft, Nokia also launched new tablets on Tuesday
San Francisco (CNN) -- Thinner. Lighter. Faster. That's what Apple promises in its newest iPad, which also has a new name: the iPad Air.
The company rolled out the fifth generation of its market-leading tablet Tuesday. Among its new features, the iPad will weigh 1 pound, down from 1.4 pounds. It's 20% thinner and 28% lighter than the current fourth-generation iPad.
The iPad Air will have the same 9.7-inch screen as previous iPads and pack the same A7 processing chip that's in the iPhone 5S. That will make it 72 times faster than the original iPad, according to Apple Senior Vice President Phil Schiller.
"This is our biggest leap forward ever with a full-size iPad," Schiller said.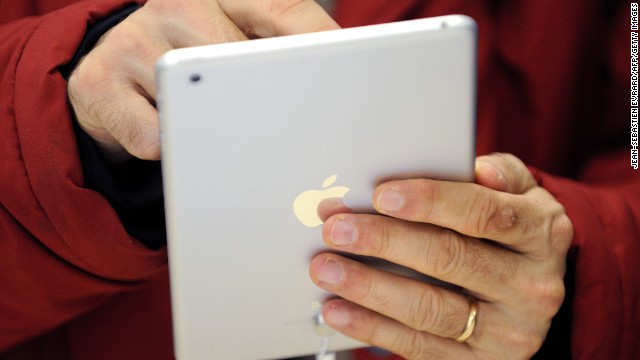 A man uses a iPad Mini, which was released by Apple on November 2, 2012. Here's a look back at the history of the iPad, the tablet computer that Apple first introduced in 2010.
Apple CEO Steve Jobs introduced the first iPad to the world on January 27, 2010, in San Francisco. It created a new market for portable tablet computers, which have changed the way we consume video and other content on the go.
Shoppers line up outside an Apple Store in the SoHo neighborhood of New York to be among the first to buy an iPad on April 3, 2010.
Customers play with iPad 2s at the Apple store in Paris's historic Opera district on March 25, 2011, the day the device went on sale in 25 countries. The second generation of the tablet added two cameras.
The iPad has become a teaching tool in many classrooms. Here it's being used by students in Dubrovnik, Croatia, in 2012.
Apple CEO Tim Cook announced the third generation of the iPad on March 7, 2012 in San Francisco. But instead of labeling it iPad 3, Apple confused some by calling it simply, "the new iPad."
In April 2012 Apple Inc. and five book publishers were accused by the U.S. Justice Department of conspiring to fix prices of digital books to undermine Amazon's dominance of the industry. A judge in July 2013 found Apple guilty of violating antitrust law.
An audience member uses an iPad to photograph a fashion show on May 1, 2012 in Sydney, Australia.
iPads and other tablets have become popular gaming platforms, especially among children. Here a child in London plays with an app from Mattel that allows kids to use Hot Wheels cars and other toys to interact with an iPad.
An Indian trader worships an iPad on Diwali, the Festival of Lights, in New Delhi on November 13, 2012. The worshipping of account books has long been an essential part of Diwali for the business community in India, and in a sign of the times some traders are now worshipping electronic gadgets as well.
Small businesses and other merchants are increasingly using tablets to process mobile payments. This credit and debit card reader, manufactured by SumUp Ltd., is attached to an iPad in Dublin, Ireland.
Technician Grimaldo Romero, left, uses his iPad to help maintain machinery at the World's Finest Chocolate plant in Chicago, Illinois, on March 21, 2013.
A student uses her iPad to take a picture of President Barack Obama as he greets students at a middle school in Mooresville, North Carolina, on June 6, 2013.
Driving instructor Horst Heider uses an iPad during a safety-training class for seniors in Boksee, Germany, on June 20, 2013.
iPads have become helpful tools for people with autism and other disorders. Here speech pathologist Jocelyn Odom in Miami, Florida, helps Carole Shearn, who is 70 and losing the ability to speak due to ALS, on a technology that allows her to record an unlimited number of phrases to use as her voice diminishes. Shearn records the phrases through the MicPro app on her iPad and later will use eye-gaze commands to "speak" them aloud.
At Delta terminals in New York's LaGuardia and JFK Airports, passengers can peruse mounted iPads and even use them to order food or duty-free goods delivered to their seat.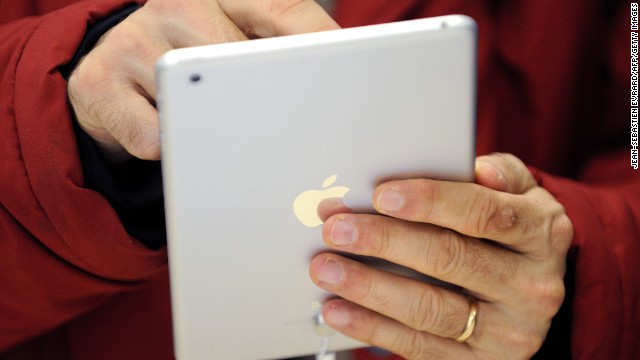 A brief history of the iPad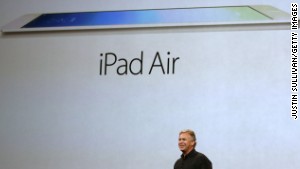 Apple's new iPad Air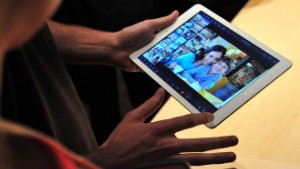 Quest: Apple's new iPad is incremental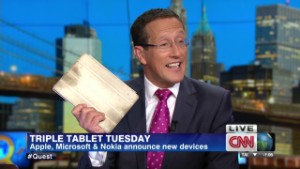 Tuesday means tablets
The iPad Air will go on sale November 1. Prices will start at $499 for a 16GB Wi-Fi-only model and go up to $629 for a 16GB with 4G LTE connectivity.
Schiller also announced a revamped iPad Mini starting at $399. It will be available later in November in silver or space gray and will pack a speedy A7 processor and the same high-resolution "Retina display" as bigger iPads.
Apple passes Coke as world's 'top brand'
The older iPad Mini is still around and will cost $299. And the full-size iPad 2, launched in 2011, is still available for $399.
Apple took another new direction on Tuesday, announcing that the newest version of its Mac operating system, OS X Mavericks, is available now for download and will be free.
Selling Mac software has never been a huge money-maker for Apple, and the price of OS X upgrades had been dropping in the past few years. The move can be seen as a shot at Microsoft, which relies more heavily on revenue from sales of Windows.
New MacBook Pro and MacBook Air laptops also were rolled out and go on sale immediately. They get the usual incremental updates: better graphics, longer battery life, faster flash storage and next-generation Wi-Fi. Apple also announced that both iWork and iLife, their suites of office and creative software, are now free with the purchase of every new Mac.
And the super-powerful Mac Pro, the desktop computer geared toward high-end graphics and video editing, finally got a price point -- $2,999 -- and will be released before the end of this year, according to Apple's Phil Schiller.
The Pro was designed in California and assembled in the U.S. across 20 states. The pieces are probably manufactured out of the country and shipped to the U.S. for the building stage.
Apple's not the only tablet manufacturer with news this week. Microsoft officially launched its Surface 2 and Surface Pro 2 tablets on Tuesday morning, as did Nokia with its own Windows 8 device, the Lumia 2520.
The Surface 2 starts at $449, while the more powerful Surface Pro 2 will start at $899.
The Lumia 2520 costs $499 and is Nokia's first full-sized tablet. It's also Nokia's first big product rollout since it was announced that Microsoft was going to purchase part of the company.
But as rivals catch up to the once-dominant iPad and the marketplace gets flooded with new tablets, it's getting harder for competitors to set themselves apart.
"Tablets are a maturing market; there's not much competitors can do to differentiate at this point," said Sarah Rotman Epps, a senior analyst at Forrester Research.
"Replacement sales are growing much, much faster than new sales worldwide," she added. "You're competing for customers you already have."
At Tuesday's event, Cook took a swipe at competitors with a reference that seemed most aimed at Microsoft's hybrid Surface tablets.
"They chased after netbooks," he said. "Now they're trying to make PCs into tablets and tablets into PCs."
The iPad Air will go on sale Friday, November 1 at Apple retail stores in 42 countries and territories: the U.S., Australia, Austria, Belgium, Bulgaria, Canada, China (Wi-Fi models only), Croatia, Cyprus, Czech Republic, Denmark, Estonia, Finland, France, Germany, Greece, Hong Kong, Hungary, Iceland, Ireland, Italy, Japan, Latvia, Liechtenstein, Lithuania, Luxembourg, Macao (Wi-Fi models only), Macedonia, Montenegro, Netherlands, Norway, Poland, Portugal, Puerto Rico, Romania, Singapore, Slovakia, Slovenia, Spain, Sweden, Switzerland and the UK.
'I'm the original voice of Siri'