STORY HIGHLIGHTS
Triqui Indian boys from Mexico win basketball tournament playing barefoot
The team playing without shoes reflects the poverty in the state of Oaxaca
The boys have been heralded as the "Barefoot Giants of the Mountains"
Tournament in Argentina featured teams from all over Central and South America
Editor's note:
(CNN) -- Despite most of the team being of short stature and playing barefoot, the Triqui Indian boys from Mexico won the championship -- and the hearts of many -- at the International Festival of Mini-Basketball held in Argentina.
Their coach, Sergio Zuniga explains that playing barefoot is a reflection of the poverty in their community in the state of Oaxaca.
"The boys train barefoot, they always walk barefoot. There are no resources to buy shoes," Zuniga commented in an interview with the Basketball Federation of the Province of Cordoba, where the tournament was held.
The seven games against six local teams ended with incredible scores: 86-3 over Celestes; 22-6 against Cordoba University; 72-16 against Central; 82-18 over Hindu; 44-12 against Monteeis and 40-16 over Regatas de Mendoza.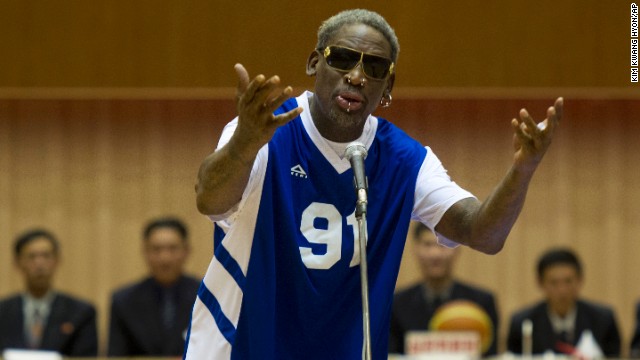 Dennis Rodman sings "Happy Birthday" to North Korean leader Kim Jong Un before an exhibition basketball game in Pyongyang, North Korea, on Wednesday, January 8. In his latest round of "basketball diplomacy," Rodman made his fourth visit to North Korea, one of the world's most totalitarian states, to participate in a basketball game between North Korea and a team of former NBA players.
Rodman bows to Kim, seated above in the stands, before the basketball game on January 8.
Rodman stands up after he and fellow former NBA players completed a television interview at a hotel in Pyongyang on Tuesday, January 7.
Son Kwang Ho, vice minister of North Korea's Sports Ministry, greets former NBA star Dennis Rodman at the airport in Pyongyang on Monday, January 6.
Rodman plays one-on-one with a North Korean player during a basketball practice session in Pyongyang on Friday, December 20, 2013. During the session, Rodman selected the members of the North Korean team who will play in Pyongyang against visiting NBA stars on January 8, the birthday of North Korean leader Kim Jong Un.
Rodman holds a cigar as he speaks to North Korean basketball players during a practice session in Pyongyang on December 20.
Rodman attracts notice as he enters the Koryo Hotel in Pyongyang on Thursday, December 19.
Rodman arrives at Beijing's airport before his flight to North Korea on December 19.
Rodman shows photos of himself with North Korean leader Kim Jong Un while talking to journalists at the Beijing airport on September 7 after his second trip to the reclusive, nuclear-armed nation. Rodman returned from the communist country announcing he will put together a "basketball diplomacy" event with players from North Korea. But he put a damper on any speculation he might have been trying to free imprisoned American Kenneth Bae.
Rodman shows a photo of himself with North Korean leader Kim Jong Un as he arrives at the Beijing airport on September 7. At a news conference Monday, September 9, he called Kim a "very good guy."
Rodman faces questions about detained American Bae at the Beijing airport on September 7. "It is not my job to talk about Kenneth Bae," he told reporters.
Rodman arrives at North Korea's Pyongyang airport on Tuesday, September 3. In a later interview with the British newspaper The Guardian, the ex-basketball star leaked the purported name of Kim's baby daughter.
Son Kwang Ho, vice chairman of North Korea's Olympic Committee, greets Rodman at the Pyongyang airport on September 3.
The retired NBA star faced criticism over his February visit to see the ruler of the repressive state. That trip came during a period of escalating tensions on the Korean Peninsula.
Airport staff take pictures of the former NBA star at a check-in counter at China's Beijing Capital International Airport on September 3 while he was heading to North Korea.
On an earlier visit, Rodman and Kim watch a basketball game together in this image released by HBO for an episode of the documentary series "Vice" which aired in June.
Rodman walks by the base of the Tower of the Juche Idea in Pyongyang in March 2013, in this image released by the Korean Central News Agency.
Rodman and Kim share a toast in North Korea in February.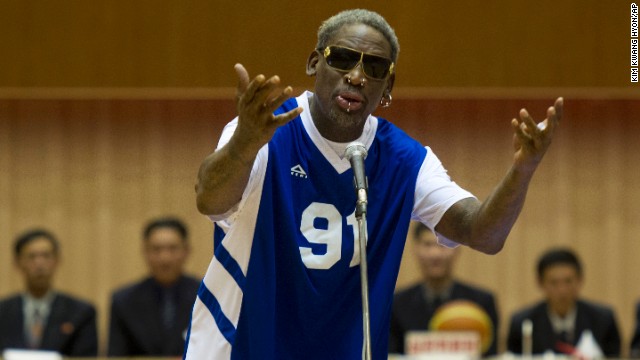 Photos: Dennis Rodman in N. Korea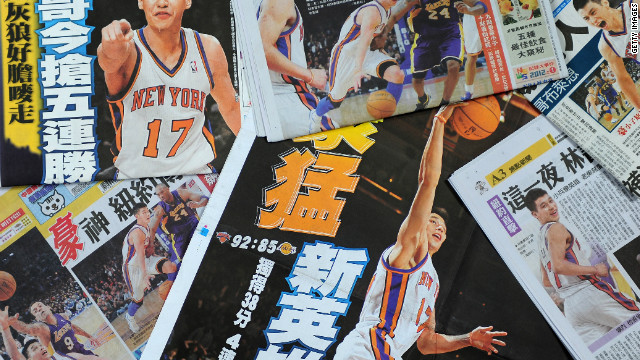 Jeremy Lin was the first U.S.-born NBA player of Chinese or Taiwanese descent, and his rise to stardom received international media coverage.
Boxer Floyd Mayweather, pictured center at an NBA game, criticized the hype surrounding Lin. He said the attention was based on Lin's ethnic background, rather than his ability.
The rise of Lin has attracted new fans to the NBA; one female fan expressed her commitment to the record-breaking point guard.
Lin's jersey flew of the shelves, as the then-23-year-old player delighted fans in the United States and Asia with his performance.
At one point, LIn outplayed Los Angeles Lakers star Kobe Bryant in the New York Knicks' 92-85 win. The win extended the Knicks' historic 2012 winning streak.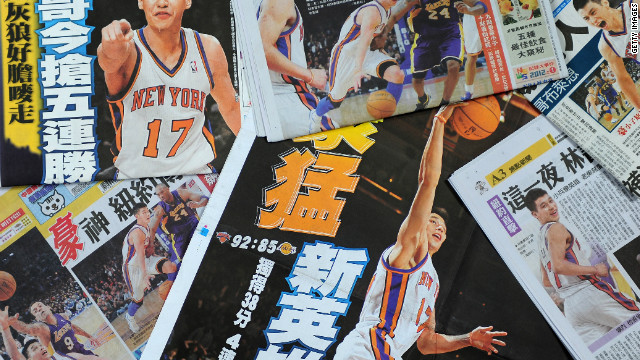 Jeremy Lin: NBA's new sensation
The National Sports and Physical Culture Commission of Mexico named the team as the "Barefoot Giants of the Mountains."
Blog: New era for women's basketball in the U.S.?
54 teams from various Argentine provinces and countries such as Mexico, Bolivia, Brazil, Chile, Ecuador, Uruguay and Venezuela, participated in the tournament. A total of 8,000 kids were part of the championship held from October 11th to 14th.
Last year, the youth championship (which started in 2010 in Ecuador) was held in La Vega, Dominican Republic. About 400 kids participated in the event. Mexico, Guatemala, Ecuador and delegations from 20 Dominican provinces were part of the championship.
Education first
The Triqui children-training program began its operations in 2009 with 500 kids. Nowadays, it trains around 2,500 children with focuses on: psychology, leadership and "laughter therapy," according to coach Zuniga.
"The main idea was to help these children through sports, to give them a different opportunity: go to school, play basketball, to get away from the mountains, to see other parts of the world," he said.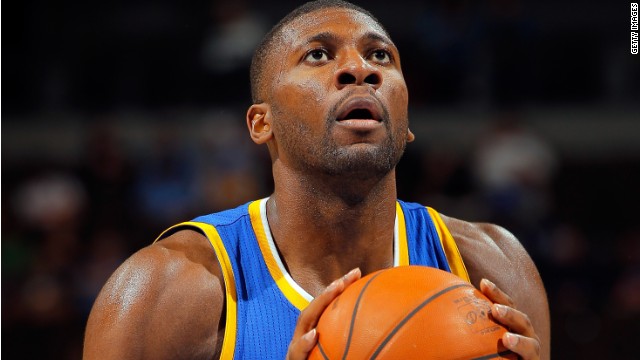 Golden State Warriors star Festus Ezeli moved to America in 2004 from his native Nigeria, and signed to the Warriors as a center in 2012.
Cameroonian Luc Mbah a Moute entered the NBA Draft in 2008, where he was selected by the Milwaulkee Bucks. He was traded to the Sacramento Kings in June 2013.
Tanzanian Hasheem "The Dream" Thabeet is a giant, measuring 7ft 3in. He plays with Oklahoma City Thunder.
Luol Deng is British citizen who was born in Sudan. He has been with the Chicago Bulls since 2004.
Desagana Diop, a Senegalese center, was the 8th pick in the 2001 NBA Draft. He has played for the Charlotte Bobcats since 2009.
Born in the Democratic Republic of the Cong, 21-year-old Bismack Biyombo began his professional basketball career in Spain and in 2011 he was drafted to the NBA and traded to the Charlotte Bobcats.
Born in the Republic of Congo, power forward Serge Ibaka played in the Spanish league before joining the Oklahoma City Thunder in 2009. Ibaka won an Olympic silver medal representing Spain in the 2012 Olympics.
Sudanese Manute Bol played in the NBA from 1985 to 1995. At 7ft 7in, Bol was one of the NBA's tallest ever players. during his NBA career he played for the likes of Miami Heat and the Golden State Warriors. Bol died in 2010 from acute kidney failure.
Referred to as one of the greatest shot blockers of all time, Dikembe Mutombo, from DR Congo, played for six NBA teams between 1991-2009. His longest stints were at the Denver Nuggets and the Houston Rockets.
Hakeem Olajuwon joined the Houston Rockets in 1984, and led them to consecutive NBA championships in 1994 and 1995. The Nigerian-born center ended his career at the Toronto Raptors, retiring in 2002.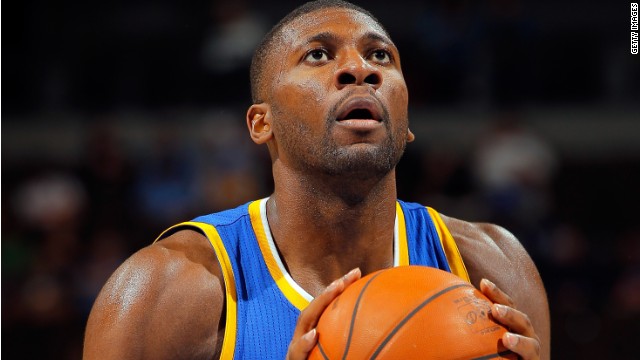 NBA's African stars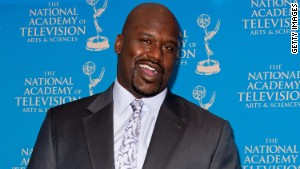 The new king of 'Shaq-ramento'
The most important factor that determines who participates in the tournament (or who gets to be in the team) is to have good grades. "If they don't have a 8.5 grade --out of 10-- (in elementary school,) they don't train or play."
"With education as the motivator, the kids are going back to school, which is the project's main goal: give these kids an education through basketball. Away from the sports, the most important results are those reached at school."
According to Zuniga, the academy's success inspired other Mexican states to adopt the Triqui community model. Similarly other countries such as Peru, Bolivia and some Hispanic communities in the United States have expressed interest in the program.
Winning attitude
The Triqui kids were inspired after the Mexican team reigned at the 2013 FIBA Americas Championship held in Caracas, Venezuela in September.
"We can also do it. If they did it, we can also win, we can qualify and be world champions," said Rigoberto Lopez, 11, a member of the Triqui kids team, to CNN en Espanol before traveling to Argentina.
Silverio Cruz, 9, another member of the Triqui basketball team, said the most important element in the game is to have the "mentality of a champion."
Before leaving Argentina, the kids also defeated the Gorriones de Argentina 3-1 in a soccer match.
The team's next goal is to participate in the 2014 Barcelona Cup Basketball Tournament. In the meantime, they will keep working hard and will continue their journey to achieve their goals.
"It's beautiful to see that all their cons became their weapons. Hunger, poverty, motivated them to show themselves as they are. It's something we lack in Mexico: character, strength, inner strength. They are setting an example, even to me, that yes, you can do it," said Zuniga.