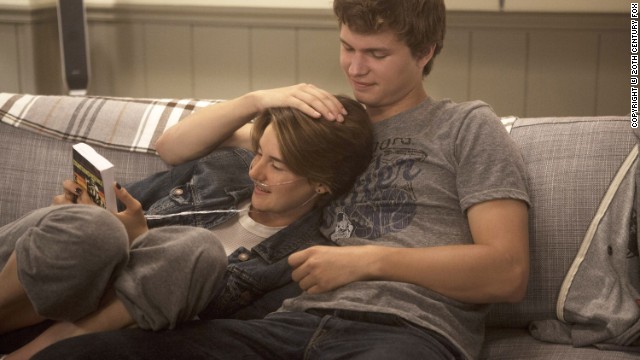 Film adaptations of YA books allow us to linger in our favorite stories a little bit longer. The hotly anticipated film version of John Green's "The Fault in Our Stars" starring Shailene Woodley and Ansel Elgort reaches theaters on June 6, 2014. Here are some of the other titles that went from best-seller to box office.
Stephen Chbosky wrote "The Perks of Being a Wallflower" and then adapted it into a successful film in 2012, starring Ezra Miller, Emma Watson and Logan Lerman.
All seven of J.K. Rowling's books made the leap from page to screen, beginning with the first one in 2001 and wrapping up in 2011. It's been a trend to split the last book in a series into two films, with the "Twilight" and "Hunger Games" franchises following suit. The success of the "Harry Potter" films also led to adaptations of "Lemony Snicket's A Series of Unfortunate Events," "Inkheart" and "The Spiderwick Chronicles," none of which replicated the success of "Potter." Pictured: Matthew Lewis, Emma Watson, Rupert Grint and Daniel Radcliffe.
Author Stephenie Meyer signed on as producer for the last two films of her "Twilight" saga, as well as the adaptation of her novel "The Host." "Twilight" was also the first franchise to spark Summit Entertainment's interest in adapting young adult novels for the screen. Another vampire adaptation, "Cirque de Freak: The Vampire's Assistant," didn't inspire the same viewership, although L.J. Smith's "The Vampire Diaries" has found success on the small screen. Pictured: Kristen Stewart, Mackenzie Foy, Robert Pattinson and Taylor Lautner.
Katniss Everdeen," Stephen Chbosky said. Also pictured: Josh Hutcherson as Peeta Mellark.
"Catching Fire," the second installment of blockbuster franchise "The Hunger Games," hits theaters in November. "Mockingjay Part I" and "Mockingjay Part II" will follow in 2014 and 2015. "Fans know what they love about a book or who they want to play a character and if a piece is well cast, like 'The Hunger Games,' the fans are very satisfied and it feels right. Jennifer Lawrence is
The first "Percy Jackson" adaptation, based on Rick Riordan's popular series, came out in 2010 and fans were struck by serious deviations from the original plot and even the hair color change for a main character, Annabeth. "Percy Jackson: Sea of Monsters" continued the franchise in summer 2013 and gave Annabeth (played by Alexandra Daddario) back her original blond hair. Also pictured: Logan Lerman as Percy Jackson.
Meg Cabot's popular "The Princess Diaries" series made the leap to the silver screen in 2001, a year after the first book published. After two films, the second of which deviated sharply from the books, Disney didn't pursue any more of the series. The bestselling books detailing the life of Mia Thermopolis (played by Anne Hathaway in the films), however, grew to include 17 titles.
The first of Christopher Paolini's successful Inheritance Cycle series, "Eragon" was adapted in 2006 during the fantasy boom, inspired by "Harry Potter." But the film, starring Ed Speleers, didn't reach the expectations of fans who adored the books. None of the other books have been adapted.
C.S. Lewis' famous series hit the big screen with "The Lion, The Witch and the Wardrobe" in 2005. The franchise continued with "Prince Caspian" in 2008 and "The Voyage of the Dawn Treader" (pictured) in 2010. "The Silver Chair" has been announced, but there is no release date yet. Fans had mixed reactions to the films so far. The first movie grossed $291 million, while the third only netted $104 million. Pictured: Will Poulter, Skandar Keynes, Georgie Henley and Ben Barnes.
Also part of the "Narnia" and "Harry Potter" fantasy boom, the first of Philip Pullman's "His Dark Materials" series hit the screen in 2007. It was full of star power, with Daniel Craig, Nicole Kidman and newcomer Dakota Blue Richards as young Lyra, as well as plenty of CGI. But the series has yet to continue on the big screen.
This retelling of "Beauty and the Beast" starring Vanessa Hudgens was connected to Alex Flinn's book by name and little else, according to fans. But it allowed actor Alex Pettyfer to continue his string of young adult film projects in 2011. Pettyfer previously starred in "Alex Rider: Operation Stormbreaker."
Pittacus Lore's (pseudonym of James Frey and Jobie Hughes) science fiction series seemed like the perfect material for a film in 2011. But the sequel was shelved. However, Alex Pettyfer strikes again.
Margaret Stohl and Kami Garcia's bestselling series opener "Beautiful Creatures," starring Alden Ehrenreich and Alice Englert, didn't fare well at the box office, but the books have sold millions of copies and the fan base continues to grow. A spinoff series of books, "Dangerous Creatures," is also in the works, thanks to 4 million new readers after the movie's debut in February 2013.
After a lackluster release for the adaptation of the first book in Cassandra Clare's "Mortal Instruments" series, production for the second film was put on hold. Constantin Film released a statement saying it wanted "more time to reposition the film in the current market place." But one thing fans did seem to like? Casting, with Jemima West as Isabelle, Robert Sheehan as Simon, Lily Collins as Clary, Kevin Zegers as Alec and Jamie Campbell Bower as Jace.
Orson Scott Card's novel "Ender's Game," which began as a short story in 1977, finally made the jump to the big screen in November 2013, starring Asa Butterfield as Ender and Hailee Steinfeld as Petra.
The film adaptation of Markus Zusak's award-winning novel "The Book Thief" brings to life young Liesel's struggle to steal books and share them with the Jewish refugee in her home against the backdrop of WWII Germany. Sophie Nelisse plays Liesel Meminger in this story, narrated by Death. It reached the big screen in November 2013.
An adaptation of Veronica Roth's bestselling first novel in her "Divergent" trilogy hit theaters in 2014, starring Shailene Woodley as protagonist Tris Prior and Zoe Kravitz as Christina.
The first novel in James Dashner's dystopian sci-fi trilogy "The Maze Runner" is also expected to light up the big screen in 2014. Dylan O'Brien plays the young hero Thomas in a post-apocalyptic world.
The beginning of Richelle Mead's popular "Vampire Academy" six-book series will debut in theaters February 2014. The story follows Lissa Dragomir (Lucy Fry), a vampire princess, and her bodyguard Rose Hathaway (Zoey Deutch, pictured here with Cameron Monaghan as Mason Ashford), at a boarding school for vampires and the half-human teens trained to protect them.
Young adult at the movies
"The Perks of Being a Wallflower"
The "Harry Potter" series
The "Twilight" series
The "Hunger Games" trilogy
The "Percy Jackson" series
"The Princess Diaries"
"Eragon"
"The Chronicles of Narnia"
"The Golden Compass"
"Beastly"
"I Am Number Four"
"Beautiful Creatures"
"The Mortal Instruments: City of Bones"
Coming up: "Ender's Game"
"The Book Thief"
"Divergent"
"The Maze Runner"
"Vampire Academy"
STORY HIGHLIGHTS
Young adult best-sellers have become some of the highest grossing films of all time
Adaptations work best when they preserve the spirit, not every page, of a book
A successful franchise can lead to others being marketed same way; that's wrong, authors say
(CNN) -- "Hunger Games" heroine Katniss Everdeen returns to the big screen this weekend with the second installment in the young adult fantasy trilogy, "Catching Fire."
For months, bloggers have been anticipating Sam Claflin's portrayal of Finnick Odair and buzzing about how Katniss' face-off with President Snow and the Victory Tour will translate to the screen.
Young adult book-to-film adaptations are a steady draw for viewers: J.K. Rowling has signed on for yet more Harry Potter films, and a new class of YA novels is set to be adapted to the screen starting in 2014: Veronica Roth's "Divergent," John Green's "The Fault in Our Stars," James Dashner's "The Maze Runner" and Gayle Forman's "If I Stay," to name a few.
With loyal, built-in fan bases for these best-selling books, the hype comes as no surprise. After all, the idea behind movie adaptations, besides franchise-building, is to give readers a new opportunity to walk through their favorite world.
"It's a chance to fall in love with the characters all over again when readers can see the books come to life," Erin Setelius of the YA Book Addicts blog said. "It's like a little reward for loving the books."
Film adaptations are a balancing act of fan expectations and filmmaker priorities -- especially when fans have grown up with a book series or character. If a movie deviates too far from the book's plot, changes characters or fudges dialogue, readers can quickly lose faith in it.
So what is the recipe for a well-made YA book-to-film adaptation? Authors and filmmakers agree it doesn't include putting every single page on the screen.
The evolution of young adult fiction
Preserving the soul
"When I saw the first 'Twilight' film, I came out of that with butterflies in my stomach," Forman said. "I felt exactly like I did reading the book, and that's what you want from the film. With so many adaptations happening right now, it speaks to that emotional resonance of YA books and how that translates to the screen."
Don't miss out on the conversation we're having at CNN Living.
Follow us on Twitter
and
Facebook
for the latest stories and tell us what's influencing your life.
One of the biggest challenges of adapting a book for the screen is deciding what stays, what goes and how those pages will translate in a film while maintaining the essence and emotional ties of the story, authors say.
"I think 'Harry Potter and the Prisoner of Azkaban' is one of the best adaptations of YA literature we've ever had," said author and filmmaker Bryan Young. "Director Alfonso Cuarón was the best at taking the spirit of what the book was and boiling it down. He created a new look and feel for the Harry Potter movies that set the tone going forward in a way that no one else really did."
Young said a skillful culling of the book's themes also helped the first "Hunger Games" story translate easily to film. Director Gary Ross made a movie that newcomers could appreciate, while discarding parts of the book that didn't make sense on the screen.
'Harry Potter' producer talks about upcoming spinoff
Forman has signed on to be executive producer of the adaptation of her popular novel "If I Stay." She hopes to be a conduit between her readers and the film's producers, making sure that key scenes, players and touchstones are included.
Casting is an essential part of the equation, too. Fans want to believe in the actors portraying their favorite characters, from appearance to personality.
"As a reader, you have ideas of characters in your head," Forman said. "But for my story, everyone has been so perfectly cast. It's like someone reached into my head and pulled out Mia in the form of Chloe Moretz. If I'm feeling this way, I think the readers will feel that way too."
'Hugo' author leaves readers 'Wonderstruck'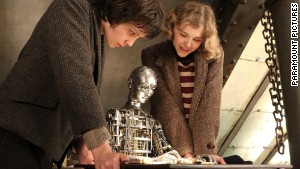 Martin Scorsese and his team captured all the right aesthetics for "Hugo."
Brian Selznick didn't have a formal role in the adaptation of his children's book, "The Invention of Hugo Cabret," but he believes "Hugo" was still a faithful, loving production by director Martin Scorsese and screenwriter John Logan. Scorsese and the entire film crew read and had copies of the book on set at all times, using Selznick's drawings as storyboards.
"If you have a director who loves the original material and a writer who is respectful, you can find that middle ground," Selznick said. "They can maintain the core of what makes it work as a book, yet have something only the cinema can bring to it."
The young adult books that changed our lives
Negative influences
Before the rise of Internet culture, films were made in a relative vacuum, and potential fans didn't know much about a movie until the trailer released. Now, movie headlines are created before the script is even finished, and fans aren't afraid to share their opinions on the script, casting and plot.
"You have all of these voices who think they are absolutely right," Young said. "Then the filmmaker has to do their job and take all of this into account. It's not fair to expect them to work as an artist under those conditions."
Marketing has also taken on a comparative aspect. Selling a dystopian tale such as "Divergent" as the next "Hunger Games" creates the wrong expectations going into the movie, Setelius said.
This could be a contributing factor to the lackluster box office numbers for other YA adaptations outside of the "Harry Potter," "The Hunger Games" and "Twilight" franchises. But the tide could turn with hype over upcoming films like "Divergent" and long-awaited adaptations such as Lois Lowry's "The Giver."
"I do think that when a YA book goes to the movies, it's sort of polarizing," said YA writer Margaret Stohl. "You're going to endure a storm one way or another: are you like 'Twilight,' or 'Hunger Games'? But in truth, those movies also did a lot for YA books being adapted."
Stohl is co-author with Kami Garcia of the "Beautiful Creatures" series. The first book became a film in March 2013, and Stohl's YA novel "Icons" has also been optioned by Alcon.
The "Beautiful Creatures" movie, based on a 600-page Southern Gothic YA novel, drew mixed reviews from fans. But the movie helped to bring in 4 million new readers this year, Stohl said.
List: YA books scheduled to hit the screen
Doing it right
Stephen Chbosky adapted his beloved novel, "The Perks of Being a Wallflower," to the screen in 2012. That was 13 years after the book debuted.
Fans fell in love all over again with the coming-of-age tale of shy teenager Charlie, while new viewers empathized quickly. Chbosky's challenge was to faithfully preserve the boy's story without reciting the book triumph for triumph, humiliation for humiliation.
A 'Wallflower's' lasting impact
"I think that the process of turning 'Perks' into a movie was the most gratifying and challenging work I've ever done professionally," he said. "I had to do a real adaptation -- I couldn't just film the book. It was a real balancing act to simultaneously be emotionally very inside the piece and at the same time always be outside of it to keep it on the train tracks."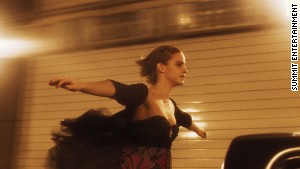 The famous Fort Pitt tunnel scene in "Perks" worked even better on screen.
He wrote a version of the screenplay including almost every detail of the book. It gave Chbosky a chance to self-edit, cutting back on small details or scenes that didn't focus on central characters.
Chbosky wanted to maintain the audience of his readers, both from 1999 and now, bringing teens and parents together around issues that kids of all generations face.
It's something that YA film adaptations continue to do, and Chbosky is hopeful that Forman's upcoming film will have a similar impact: "I do believe that these books and these movies can change lives."
Follow Ashley Strickland on Twitter: @CNNAshley