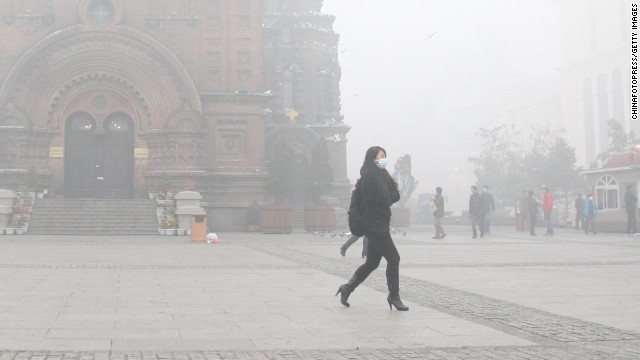 A woman wearing a mask walks along a road as smog engulfs Harbin, China, on Tuesday, October 22. Expressways, schools and an airport were closed after smog disrupted one of northeast China's most heavily populated areas.
Harbin buildings are seen under heavy smog on October 22. Pollution levels there were far above international standards, the state-run China Daily reported.
Drivers try to make their way through the smog in downtown Harbin on October 22.
A policeman directs Harbin traffic on Monday, October 21. In some central areas of the city, visibility was less than 20 meters (65 feet).
A man pushes his bike onto a Harbin bridge on October 21. Government officials blamed the smog on a lack of wind and farmers burning crop stalk after their autumn harvest. Harbin's coal-burning heating system, which was recently started, is also a likely factor.
A woman walks in the Harbin smog October 21. "We can smell the smoke in the air," one man told CNN.
A man runs along a foggy road in Changchun, China, on October 21.
Fog covers a bridge in Jilin, China, on October 21.
A cyclist rides along a road in Shenyang, China, on October 21.
A workman carries a road barrier on a Harbin street on October 21.
Heavy smog covers Chinese cities
Heavy smog covers Chinese cities
Heavy smog covers Chinese cities
Heavy smog covers Chinese cities
Heavy smog covers Chinese cities
Heavy smog covers Chinese cities
Heavy smog covers Chinese cities
Heavy smog covers Chinese cities
Heavy smog covers Chinese cities
Heavy smog covers Chinese cities