'Roseanne' cast: Where are they now?
updated 8:00 AM EDT, Fri October 18, 2013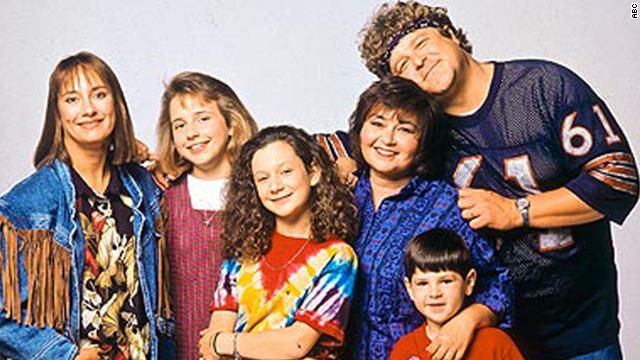 October 18 marks the 25th anniversary of the hit sitcom "Roseanne." The series followed the Conners, a working-class family who had a lot of love and a lot of zingers for each other. Here's what the cast has been up to since the series ended in 1997:
with "Roseanne's Nuts,"
and
ran for president
as a member of the Peace and Freedom Party in 2012. In June, "
Deadline" reported
Barr was planning to return to TV with a new comedy series on NBC. Barr wrote this week that the episode "The Fifties Show" "illustrates the impact of 'Roseanne' on television." And she goes on to call it her "
favorite episode of any television show, ever.
"
The groundbreaking show was based on star Roseanne Barr's stand-up routine and she played mouthy mom Roseanne Conner. After the series ended, Barr hosted "The Roseanne Show," dipped her toe in the reality realm
Alicia Goranson was the original Becky Conner (yep, there were two). She continues to act and has appeared on "Sex & the City," "Fringe" and "Damages."
Sarah Chalke played the older Becky Conner for a bit. She was a regular on "Scrubs" and most recently in the ABC comedy "How to Live with Your Parents (For the Rest of Your Life)."
Laurie Metcalf played Jackie, Roseanne's sister and confidante. She has done quite a bit of work in theater and, like Gilbert, has appeared on "The Big Bang Theory," playing Sheldon Cooper's mom. She also has voiced the role of Andy's mom in the "Toy Story" films.
Johnny Galecki is riding high these days. Since his role as David Healy on "Roseanne" he has worked consistently in television and is one of the stars of the hit CBS sitcom "The Big Bang Theory."
'Roseanne' cast: Where are they now?
Roseanne Barr
John Goodman
Alicia Goranson
Sarah Chalke
Sara Gilbert
Michael Fishman
Laurie Metcalf
Johnny Galecki