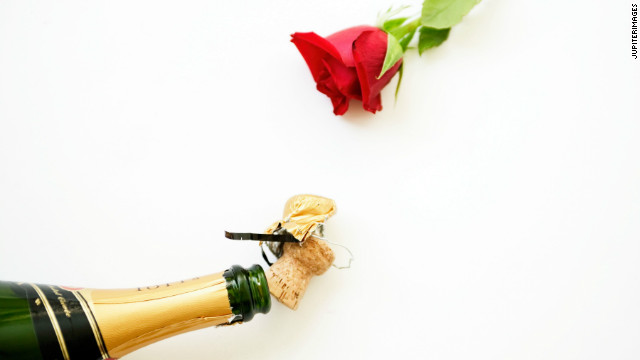 Weddings: they're all Champagne toasts and rose petals a-plenty -- at least until the bills start rolling in. Eliminate any awkwardness or unexpected expenses up front by figuring out who is responsible for footing each part with some guidance from Martha Stewart Weddings.
Engagement Party -- Anyone can host, but usually it falls to the bride's family to pay.
Engagement Announcement -- The bride's parents should pay for placement in local papers and papers in the groom's parents' distribution area if they live in a different region.
Planning expenses, bride's attire, floral arrangements, wedding day transportation, photo and video, officiant's travel and lodging, lodging for bridesmaids -- This usually falls to the bride's family.
Flowers and gifts for bridal attendants, the groom's ring, and a present for him -- The bride.
Wedding Reception -- Sorry, bride's family, but you're traditionally on the hook for this, too.
Corsages and boutonnieres for immediate members of both families, lodging of groom's attendants -- This one falls to the groom's family.
Rehearsal Dinner -- The groom's family.
Marriage license and officiant's fees, bride's bouquet and her engagement and wedding rings and a gift, gifts and boutonnieres for groom's attendants, honeymoon expenses -- Groom, that's all you.
Alcohol and Flowers -- In some circles, the groom's family may pick up these expenses.
How to split the wedding tab
How to split the wedding tab
How to split the wedding tab
How to split the wedding tab
How to split the wedding tab
How to split the wedding tab
How to split the wedding tab
How to split the wedding tab
How to split the wedding tab
How to split the wedding tab
STORY HIGHLIGHTS
Rules are meant to be broken, but guidelines can be helpful
Many brides and grooms opt to pay their own expenses
Parents often want to pitch in, and tradition dictates certain roles
All parties should be happy with their level of contribution
(Martha Stewart Weddings) -- Today, most people believe the couple should pay for their own wedding, especially if they have lived on their own for some time. Of course, parents often want to pitch in. Contributions should be negotiated according to willingness and ability, but the traditional divisions will offer some more guidance.
The Engagement Party
Traditionally, the bride's parents (although anyone can host) will throw an engagement party for their daughter and her husband-to-be, for the express purpose of welcoming him and introducing friends and extended family to the groom and his family and friends.
Although this isn't a requirement, it can be a wonderful way to get future wedding guests together to establish a rapport before the event -- familiar faces always make for a more convivial affair.
Don't miss out on the conversation we're having at CNN Living.
Follow us on Twitter
and
Facebook
for the latest stories and tell us what's influencing your life.
The Engagement Announcements
Long before the reception takes place or is planned, the parents of the bride are responsible for sending (and paying for) the engagement announcements to the local newspapers. If the groom is from another town, or his parents live outside the local paper's distribution area, the bride's parents should find out whether the groom's family would like the announcement to appear in their hometown paper as well.
Traditional Roles for the Bride and Her Family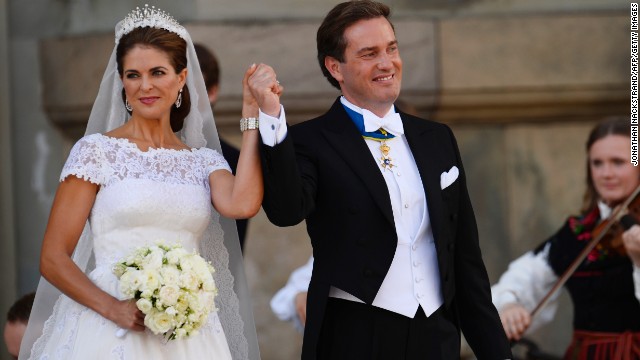 A trip down the aisle shouldn't mean stumbling into debt. Experts say it's important to determine your spending priorities as a couple -- and then skimp on the rest as needed.
Favors are frequently left behind on the tables. As one expert says, guests just don't care -- they're just there to party. If you really want your guests to go home with a token, consider making it edible.
Wedding cake makes a great photo op, but many guests just take a bite or two, if any. Consider a small "show cake" and a less-expensive dessert bar.
Wedding planners say full glasses of Champagne are routinely left un-sipped. Skip the Champagne toast and just have it as option at the bar, or offer sparkling cider.
A bride may have dreamed of a frothy, fancy designer dress since childhood, but many come to regret the expense and the discomfort of wearing it all night. Plenty of brides say they're just as happy having an off-the-rack or sample dress altered so it fits perfectly.
Fancy shoes also might not be worth the splurge. They're often hidden under the dress, and brides slip them off the first second they can.
A vintage veil that's been passed down for generations is one thing. But many brides find that the cumbersome veil they've spent a fortune on is the first thing to go the second the ceremony is over.
One bride says she worked out a deal with her florist to "rent" the flowers, which were collected at the end of the night and brought in to decorate local hotels and restaurants.
Printed programs and menus are lovely, but often skippable. If you're determined to have a menu for everyone, print each guest's name at the top so it becomes a place card.
It might seem incredibly necessary to drape every last surface with flowing fabric, it's often less expensive just to focus on better lighting. Plus -- guests are too busy drinking, dancing and merrymaking to look up and see what's above them.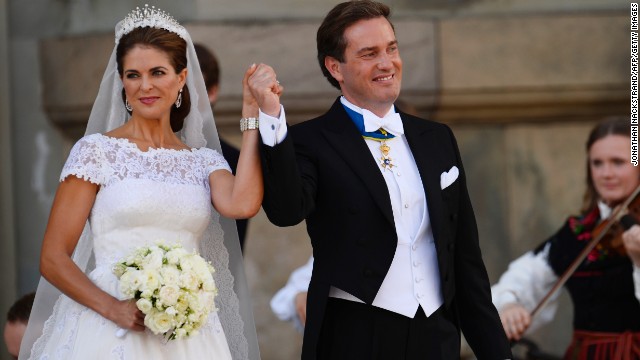 Wedding $: What to skip and where to splurge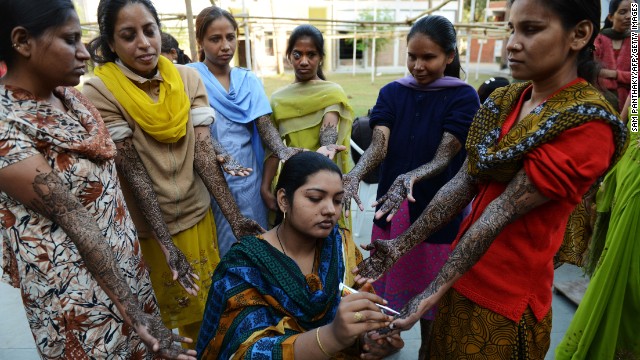 Farzana Shaikh applies henna to visually impaired brides at the Andh Kanya Prakash Gruh institute as part of a ritual ahead of their marriages in Ahmedabad, India.
A bride rides to church in the western Macedonian village of Galicnik.
Belorussian brides take part in an annual Bride Parade in central Minsk.
Rows of newly wedded brides and grooms mingle at the Unification Church's mass wedding at its headquarters in Gapyeong, South Korea, on February 17, 2013. About 3,500 couples matched by the church tied the knot.
An Indian Muslim bride during a mass wedding ceremony at the ancient Sarkhej Roja in Ahmedabad.
iReporter Mikael Ruttkay Hylin shared this striking photos from his trip to Mbour, Senegal, where he witnessed a traditional Muslim Senegalese wedding.
Pakistani brides attend a mass marriage ceremony in Karachi. Some 110 couples participated in the ceremony organized by a local charity welfare trust.
Brides line up with their grooms during a group Valentine's Day wedding at the National Croquet Center on February 14, 2013, in West Palm Beach, Florida. The group wedding is put on by the Palm Beach Country Clerk & Comptroller's office, and approximately 40 couples tied the knot.
Couples prepare for marriage during a mass wedding ceremony on December 12, 2012, in Yogyakarta, Indonesia. The day saw a surge in marriage around the globe to mark 12/12/12.
A Jewish bride is surrounded by relatives during her wedding to the great-grandson of the rabbi of the Tzanz Ultra-Orthodox Hasidic community in Netanya.
In Jerusalem, Hannah Batya Penet dances with her relative during her wedding to Rabbi Shalom Rokach, the grandson of the Belz rabbi.
A Japanese bride and her groom sail through a canal for their wedding procession after their wedding ceremony at Katori city in Chiba prefecture.
A bride checks her messages while getting ready for a group picture after a mass wedding outside a Chinese temple in Kuala Lumpur on December 12, 2012.
Musali Mohammed al-Mujamaie, a 92-year-old Iraqi farmer, sits next to Muna Mukhlif al-Juburi, his new 22-year-old wife, the new wives of his grandsons and one of his grandsons during celebrations after their group wedding in his home village of Gubban, Iraq.
A crowd cheers as a Lebanese bride and groom pose for pictures at the site of a car bomb just days before in Beirut, Lebanon.
Syrian soldiers celebrate with their their brides during a group wedding in Latakia province.
A dozen brides wait to be married during a ceremony for a radio station contest at the Little Chapel of the Flowers on December 12, 2012, in Las Vegas.
Lini Sasanto waits to fill out marriage papers at a busy City Clerk's office on December 12, 2012, in New York.
A bride walks holding her wedding dress at the Gandan monastery on October 18, 2012, a special day on the lunar calendar for wedding ceremonies, in Ulaanbaatar, Mongolia.
Luz Carmen Gonzalez marries Jesus Chacon in the last Maya wedding before the end of the Maya Long Count Calendar -- Baktun 13 -- and the beginning of a new era on December 17, 2012, in Merida, Mexico.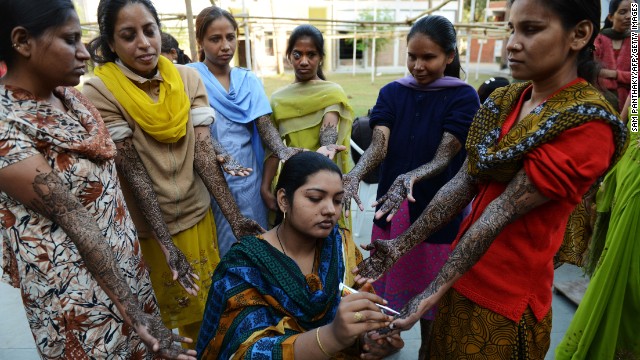 Brides around the world
Traditionally, the bride and her family are responsible for all planning expenses, the bride's attire, all floral arrangements, transportation on the wedding day, photo and video fees, travel and lodgings for the officiant if he comes from out of town, lodging for the bridesmaids (if you have offered to help with this expense), and all the expenses of the reception. The bride personally pays for the flowers and gifts for her attendants, the groom's ring, and a present for him.
The Wedding Reception
Of all their duties, the bride's parents' role as host and hostess of the reception is foremost. This honor is theirs because traditionally they pay for part, if not all, of the festivities. As such, their names have historically gone at the top of the invitations, and they play a special role at the reception of making guests feel welcome and ensuring that everything runs smoothly.
Traditional Roles for the Groom and His Family
The groom's family is responsible for corsages and boutonnieres for immediate members of both families, the lodging of the groom's attendants (if you have offered to help pay for this expense), and sometimes the costs of the rehearsal dinner. The groom is traditionally expected to pay for the marriage license and officiant's fees, and buy the bouquet for his "date" (the bride), as well as her engagement and wedding rings and a gift; he should also purchase gifts and boutonnieres for his attendants. The honeymoon expenses are classically his, as the head of his new household.
The Rehearsal Dinner
Both the groom's parents traditionally organize (and pay for) the rehearsal dinner. This can range in size from a small occasion for members of the wedding party only to a grand soiree (never to outdo the wedding, of course) that includes half or more of the wedding guests.
But they should never be expected to pay for a larger event than they are comfortable with.
Other Roles for the Groom's Family
In some circles, the groom's family offsets reception expenses by purchasing the alcohol; in others, the groom's family pays for all the floral expenses. However you work it out, make sure each party is comfortable with its contribution.
More from Martha Stewart Weddings:
The New Bridal Shower Rules (Toilet Paper Dresses and Awkward Icebreakers Not Included!)
7 Old-School Wedding Rules You Can Break
Common Wedding Traditions and Superstitions You've Never Heard Before
21 Gorgeous Engagement Rings of Real Brides
Kate Bosworth's Wedding: Behind-the-Scenes Photos
Blake Lively and Ryan Reynolds Got Married, Their Exclusive Wedding Photos
How did your families negotiate wedding expenses? Let us know in the comments below.