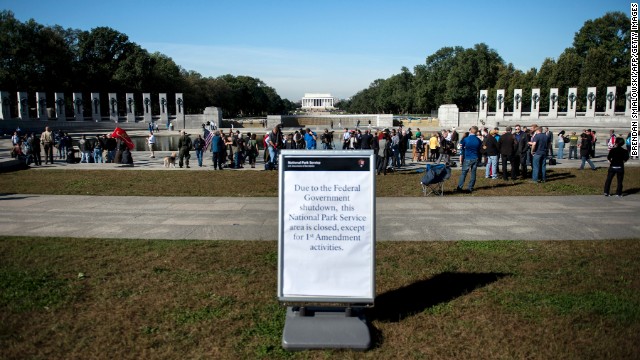 Visitors walk at the National World War II Memorial after a rally at the monument in Washington on Tuesday, October 15. Activists from veterans groups gathered to protest the partial shutdown of the U.S. government and to rally for resolutions to the budget crisis. Signs of the shutdown can be found across the country.
A closure sign is posted on the National Mall near the U.S. Capitol. Much of Washington remains closed with hundreds of thousands of government workers furloughed.
The impasse even takes center stage on the White House website.
The main entrance to Grand Canyon National Park was closed for more than a week before it reopened Saturday, October 12.
The Smithsonian's National Zoo website states, "All the animals will continue to be fed and cared for. A shutdown does not affect our commitment to the safety of our staff and standard of excellence in animal care."
A sign at the bathroom of the National Visitors Center in Boston announces that the restrooms are closed in Faneuil Hall.
Mark Weekley, superintendent at the National Park Service's Lewis and Clark National Historical Trail, tapes a closed sign to the window October 1 in Omaha, Nebraska.
A handwritten sign at the Mount Rainier National Park administration building tells employees where to pick up their furlough letters October 1.
Despite signs stating that the national parks are closed, people visit the World War II Memorial in Washington on October 2.
A sign on Highway 41, north of Fresno, California, tells motorists about the closure of Yosemite Park on October 1.
According to the FBI's website, information not directly related to the protection of life and property will not be routinely updated on the site.
A closed sign hangs at the entrance to the U.S. Treasury building October 3.
Mirta Maltes, a U.S. park ranger, speaks with Christoph Zuercher, a tourist from Switzerland, outside Everglades National Park on October 7 in Miami.
A couple walks next to a sign October 12 informing them that the Statue of Liberty is closed. It reopened the next day on the state of New York's dime.
Signs of a shutdown
Signs of a shutdown
Signs of a shutdown
Signs of a shutdown
Signs of a shutdown
Signs of a shutdown
Signs of a shutdown
Signs of a shutdown
Signs of a shutdown
Signs of a shutdown
Signs of a shutdown
Signs of a shutdown
Signs of a shutdown
Signs of a shutdown
STORY HIGHLIGHTS
Paul Begala: The Great Shutdown Showdown of 2013 will go down in history
Begala: Republicans were seeking an unattainable goal; they were sure to fail
He says Sen. Harry Reid is the undisputed heavyweight champion of the shutdown
Begala: A former boxer, Reid kept Democrats united and reached deal with GOP
Editor's note: Paul Begala, a Democratic strategist and CNN political contributor, was a political consultant for Bill Clinton's presidential campaign in 1992 and was counselor to Clinton in the White House.
(CNN) -- It is hard for me to recall a victory as total -- or surrender as ignominious -- as the Great Shutdown Showdown of 2013.
Room S-230 of the U.S. Capitol, the office of Senate Minority Leader Mitch McConnell, is where the final deal was struck, and it will join Appomattox, the USS Missouri and Waterloo as the site of an unconditional surrender.
They ought to put up a plaque where Senate Majority Leader Harry Reid delivered the tea partying Republicans their worst whipping in a generation.
I'm not sure I have fully absorbed all we have been through these past two weeks in Washington.
The 15-day shutdown saw a deadly shooting at the Capitol, a self-immolation on the National Mall, a citizen waving the Confederate battle flag in front of the White House and World War II veterans storming one last barricade. No one could have predicted all of that.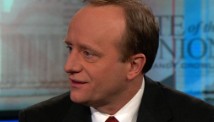 Paul Begala
But the outcome itself was a foregone conclusion. Republicans were seeking an unattainable goal: Repealing Obamacare during the presidency of Barack Obama. They were sure to fail. But the circumstances of their defeat -- and the Democratic hero who has emerged -- are worth noting.
Faithful readers of my columns in this space will recall that I predicted the President would prevail in the government shutdown because his party is more united, more mainstream and more reasonable. And, while our President undoubtedly triumphed -- showing a steely resolve that critics thought he lacked -- the undisputed heavyweight champion of the shutdown showdown is Reid. He truly is the King of the Hill.
While the House GOP conference exploded like the finale of a fireworks show, Reid held together a Senate Democratic Caucus that is significantly more diverse. From Vermont Sen. Bernie Sanders, a socialist, to West Virginia's Joe Manchin -- who is so conservative that he shot a rifle at an environmental bill in one of his ads -- Reid kept his forces united.
Calling Reid an ex-boxer is like calling John McCain an ex-naval officer; you really never depart from those deeply ingrained traits. In the gym at Basic High in Henderson, Nevada, Reid learned to box. He learned how to explore your opponent's defenses, how to probe with a jab, when to feint and when to cover up. And when you have your opponent on the ropes, you finish him off.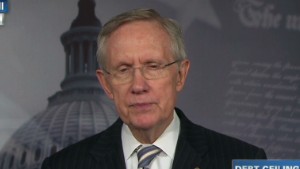 Reid: Cannot make this mistake again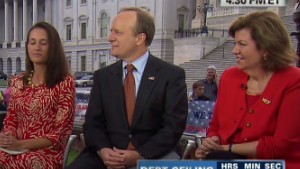 Has John Boehner been checkmated?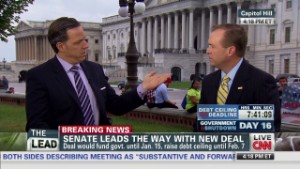 Who lost the government shutdown fight?
Unlike the solitary sport of boxing, politics is a team effort, and Reid led his team with brilliance and bravery. Reid, House Minority Leader Nancy Pelosi and Obama are three very different kinds of leaders. And yet they were yoked together in perfect balance; one would lean in while another held back; one would hold an olive branch while a third would talk tough.
The poor Republicans were divided between the realists, who were depressed, and the true believers, who were delusional. Texas Sen. Ted Cruz would strut and admire his plumage, while House Speaker John Boehner alternated between feckless and hapless. In the end it was McConnell who performed last rites on the corpse of Repeal Obamacare.
To be sure, no victory is ever final. No defeat is ever permanent.
Republicans went on to hold the House after their disastrous shutdown of 1995-96, and Obama rebounded from what he called "a shellacking" in the midterm elections of 2010 to win re-election comfortably in 2012. Reid understands that.
He has been a student of politics and a creature of the Hill since he worked his way through law school as a Capitol police officer.
You won't see him dancing around the ring, holding his championship belt over his head. Perhaps he'll have a quiet dinner with his beloved Landra. Then begin training for his next fight.
Follow us on Twitter @CNNOpinion.
Join us on Facebook/CNNOpinion.
The opinions expressed in this commentary are solely those of Paul Begala.