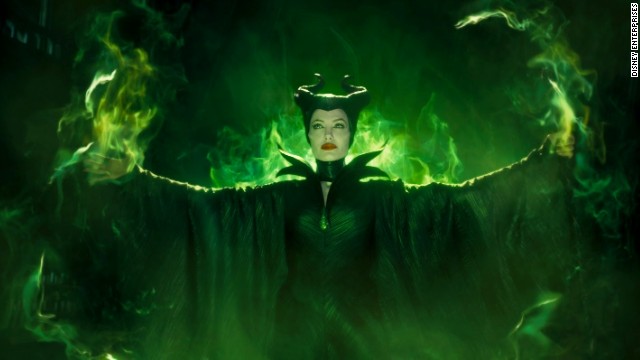 After 1959's animated "Sleeping Beauty," the Disney villain Maleficent has solely been known as the sorceress who curses Princess Aurora so she'll die on her 16th birthday. But starting May 30, the powerful Mistress of All Evil, played by Angelina Jolie in Disney's live-action movie "Maleficent," will tell her side of the story. We're sure these other Disney bad guys (and girls) are petitioning to speak their piece, too.
Over the years, Disney has featured some memorable and entertaining villains, such as the Evil Queen in the 1937 film "Snow White and the Seven Dwarfs." Her vanity and jealousy of Snow White drives her to such a murderous insanity that she transforms herself into a hideous hag and conjures up a poison to do away with the fair princess.
Mother Gothel from the 2010 Disney movie, "Tangled," appears to be a motherly figure to the beautiful, long-haired Rapunzel, but she is responsible for kidnapping the girl as a baby and locking her in a tower.
He may look cuddly, but that's actually what made Lotso the Bear from the Disney/Pixar release "Toy Story 3" so terrifying. He was supposed to do "Lots-O-Huggin" in the 2010 release, but instead ruled over his fellow toys with a merciless, fuzzy fist.
Doctor Facilier in Disney's 2009 "The Princess and the Frog" is a scheming, voodoo-like character who tricks his victims into horrible deals. He is also known as the Shadow Man.
The gun-toting Clayton from 1999's "Tarzan" may have looked like a civilized gentleman, but he was everything but. With zero regard for animals and insatiable greed, Clayton's lack of humanity was frightening.
Shan-Yu is a physically ruthless Hun chieftain in the 1998 film "Mulan." He may be one of be the most merciless villains in the Disney universe and is a cruel leader bent on conquering China.
Hades the Greek god of the Underworld in Disney's 1997 movie, "Hercules," is another villain who, like "Peter Pan's" Captain Hook, is comedic yet powerfully murderous. He is a sleazy, hot-tempered god who makes it his life's work to steal the throne of his brother, Zeus, to be the ruler of Mount Olympus.
Help us if we ever have to live next door to a preteen terror like "Toy Story's" Sid Phillips. The main villain in Disney/Pixar's 1995 hit was uncomfortably fixated on brutally destroying every toy he found.
Gov. Ratcliffe, the greedy, ruthless governor in 1995's "Pocahontas," leads an expedition from England to Virginia in search of gold (for himself). He believes the native Powhatan Indians to be barbaric and savage, all the while believing he is the good guy.
Scar is the younger brother of King Mufasa in the 1994 film "The Lion King." He is jealous of his nephew Simba's position and recruits three spotted hyenas to carry out his dirty work.
The grand vizier of Agrabah, Jafar is the sultan's most trusted adviser in Disney's 1992 film, "Aladdin." He is a powerful psychopathic sorcerer with plans to use his wishes on a magic lamp to become the sultan of Agrabah and to become the most powerful sorcerer in the world.
The only thing worse than a cocky, demanding guy who can't take a hint is a cocky, demanding guy who then organizes a mob to kill your boyfriend. That's essentially what the villain Gaston does in 1991's "Beauty and the Beast." He may not have looked scary, but he was obviously the movie's real beast.
Ursula is one or the most iconic of all the Disney villains. In the 1989 film "The Little Mermaid," the sea witch is able to trick Ariel into giving up her voice for human legs so she can be with her love, Prince Eric.
While he is not one of Disney's most famous villains, Professor Ratigan in the 1986 mystery, "The Great Mouse Detective," certainly delivers with his Jekyll and Hyde personality. He is seen as charismatic and calm, yet detests and even refuses to believe that he is a rat. He makes plans to overthrow the Queen of Mousedom.
A better name for Hans, the deceptively sweet prince in 2013's blockbuster "Frozen," is "Hans the Horrible." Thankfully his self-serving plans were thwarted by the sisterly bond of Elsa and Anna.
The Horned King is the main antagonist in the 1985 film "The Black Cauldron." His plan is to find the black cauldron and use its power to unleash an army of deathless warriors.
In Disney's 1977 film, "The Rescuers," Madame Medusa is a greedy, wicked proprietor of a seedy pawn shop. She abducts an orphan named Penny to help find the world's largest diamond, the Devil's Eye.
Shere Khan, a powerful, murderous and sophisticated tiger in Disney's 1967 movie, "The Jungle Book," is feared by all in the jungle. Khan starts a hunt for Mowgli when the child has the nerve to stand up to the vicious tiger.
Madam Mim is a powerful witch and Merlin's arch rival in the 1963 film, "The Sword in the Stone." The overconfident, mischievous Mim is in only 20 minutes of the movie, but her time is spent continuously trying to destroy Merlin.
Cruella de Vil is one of the most popular of all the Disney villains, with her excessive need for fur coats. In Disney's 1961 film "101 Dalmatians," de Vil goes to great lengths to kidnap an old friend's dalmatian puppies to have them skinned.
In Disney's 1953 classic, "Peter Pan," Captain Hook is the captain of a crew of pirates who have long abandoned sailing the high seas for adventure. Instead, he attempts to take revenge on a young Peter Pan for cutting off his left hand and feeding it to a crocodile.
"Off with their heads!" is one of the more famous quotes from the tyrannical and sadistic ruler of Wonderland, the Queen of Hearts, in Disney's 1951 animated film, "Alice in Wonderland." The ruler enjoys decapitating anyone who annoys her and blames Alice for spoiling a game of croquet.
Lady Tremaine in Disney's 1950 film "Cinderella" is a cruel and wicked stepmother. She never physically harms Cinderella, but she does set out to punish and torment her by forcing her to be a maid in their home.
Chernabog is a humongous, powerful demon who appears in the "Night on Bald Mountain/Ava Maria" segment in Disney's 1940 animated film, "Fantasia."
In the 1940 film "Pinocchio," the main antagonist, Stromboli, appears to only be a man trying to make money with his puppet theater. But once he sees Pinocchio's performance on stage, he becomes vicious and locks Pinocchio away in a cage.
Maleficent, and more of Disney's baddest villains
The Evil Queen
Mother Gothel
Lotso the Bear
Doctor Facilier
Clayton
Shan-Yu
Hades
Sid Phillips
Gov. Ratcliffe
Scar
Jafar
Gaston
Ursula
Professor Ratigan
Hans
The Horned King
Madame Medusa
Shere Khan
Madam Mim
Cruella de Vil
Captain Hook
The Queen of Hearts
Lady Tremaine
The hunter from 'Bambi'
Chernabog
Stromboli