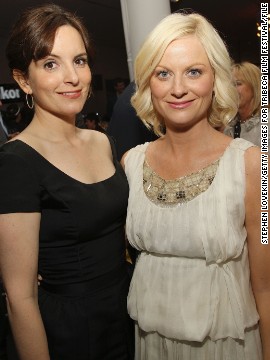 Tina Fey spent the 2012 Golden Globes photobombing her pal Amy Poehler, and the pair found great success hosting that show in 2013. So much so that they have been tapped to host the awards show for the next two years. Here's a look back at their friendship over the years:
The women of "Saturday Night Live" -- Tina Fey (from left), Rachel Dratch, Amy Poehler, Ana Gasteyer and Maya Rudolph -- were honored at a 2002 event in New York City.
In December 2004, Fey and Poehler attended an event at the Museum of Modern Art in New York City.
Fey, Poehler and fellow "SNL" cast member Rachel Dratch attended a benefit for New York City's Museum of Natural History in November 2005.
Fey and Poehler co-anchored "Saturday Night Live's" "Weekend Update" until 2006 when Fey left to focus on her NBC sitcom, "30 Rock." Fey and Poehler were reunited, along with Poehler's new "Weekend Update" co-host Seth Meyers, when Fey hosted the show in February 2008.
Fey and Poehler stopped by MTV's "Total Request Live" in April 2008.
Fey and Poehler co-starred in 2008's "Baby Mama" as Kate and Angie, respectively. When Kate discovers that she's unable to get pregnant, she hires Angie to be her surrogate. Hilarity ensues.
The women promoted their film at the 2008 Tribeca Film Festival.
In September 2008, they presented the award for best supporting actor in a comedy series at the Emmys.
Poehler and Fey attend a Golden Globes after party in January 2010.
The women greeted each other on the red carpet at the 2011 Screen Actors Guild Awards.
The nominees for outstanding lead actress in a comedy series -- Fey (from left), Martha Plimpton, Melissa McCarthy, Poehler, Edie Falco and Laura Linney, joined each other onstage at the 2011 Emmy Awards. "Mike & Molly's" McCarthy ended up winning the award.
Fey snuck up on Poehler while she was smiling for the cameras at InStyle's Golden Globes after party in 2012.
Fey and Poehler attended Comedy Central's "Night of Too Many Stars" on October 13, 2012 to support autism programs.
Tina Fey, Amy Poehler through the years
Tina Fey, Amy Poehler through the years
Tina Fey, Amy Poehler through the years
Tina Fey, Amy Poehler through the years
Tina Fey, Amy Poehler through the years
Tina Fey, Amy Poehler through the years
Tina Fey, Amy Poehler through the years
Tina Fey, Amy Poehler through the years
Tina Fey, Amy Poehler through the years
Tina Fey, Amy Poehler through the years
Tina Fey, Amy Poehler through the years
STina Fey, Amy Poehler through the years
Tina Fey, Amy Poehler through the years
Tina Fey, Amy Poehler through the years