STORY HIGHLIGHTS
Senate leaders Harry Reid and Mitch McConnell have had a rocky past
Democrat and Republican are at center deal to end shutdown, avert debt default
Both have been in the Senate for decades and say reports of tensions are overblown
Washington (CNN) -- Two opposing Senate leaders didn't let a tense history get in the way as they steered negotiations to end the partial government shutdown and extend the debt ceiling.
Boehner urges House GOP to support Senate deal
When talks between House Republicans and the White House came to a standstill, the negotiating spotlight moved over the weekend to Senate Majority Leader Harry Reid and Minority Leader Mitch McConnell.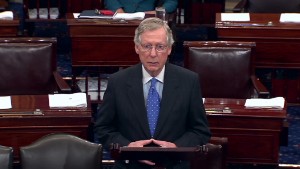 McConnell: 'Time to unite' on deal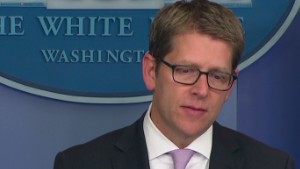 Carney: We applaud leaders of Senate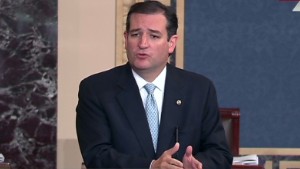 Ted Cruz: 'This is a terrible deal'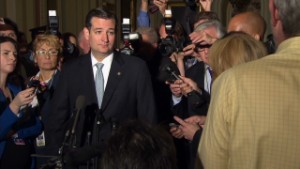 Cruz: A 'remarkable thing' happened
And with Tuesday's collapse of a last ditch effort by House Republicans, the ball returned to Reid and McConnell's court.
And that raised questions about their strained relationship and whether it would have endangered a compromise.
After a deal was struck on Wednesday, both men took to the floor of the Senate.
"This time was really hard. But after weeks of facing off across a partisan divide that often seemed too wide to cross, our country came to the brink of a disaster. But in the end, political adversaries set aside their differences and disagreements to prevent that disaster," said Reid.
"After yesterday's events the majority leader and I began a series of conversations about a way to get the government reopened and to prevent default. I'm confident we'll be able to do both those things later today," said McConnell, moments later.
Monday both leaders used some of their time on the floor to praise the other.
"I deeply appreciate my friend, the minority leader, for his diligent efforts to come to an agreement," said Reid.
"Let me just echo the remarks of my good friend, the majority leader," added McConnell.
Senate makes a deal: Now what?
The compliments from both men were at odds with the bitter comments the two have flung at each other in the past.
Hard feelings boiled over this summer when they battled over a Democratic push to amend filibuster rules. McConnell called Reid "the worst leader in the Senate, ever."
"Both are creatures of the Senate. But from Reid's perspective, Sen. McConnell has run nothing less than a filibuster on steroids over the past couple of years," says Democratic strategist Jim Manley, Reid's former senior communications adviser.
"There's no denying that relationship has taken a pretty significant turn for the worse in the last year or so. Anyone, who's seen the sparring on the Senate floor each morning understands that."
Earlier Monday, Reid downplayed talk of a frayed relationship.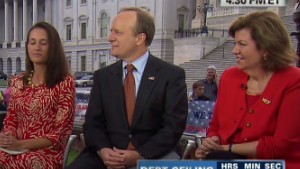 Has John Boehner been checkmated?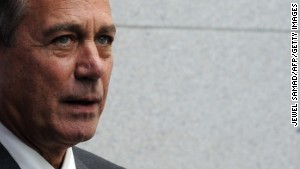 Boehner: 'We fought the good fight'
"That's greatly exaggerated. Sen. McConnell and I have worked together for more than 30 years, very closely since we've been whips. So no problem," Reid told reporters.
McConnell's former chief of staff, Josh Holmes, agrees, saying he doesn't buy into such stories.
"There's a lot of people trying to make a lot out of the relationship," says Holmes, who's now a Republican consultant helping McConnell's 2014 re-election campaign and the National Republican Senatorial Committee.
Both in their early 70s, the two lawmakers have combined have served nearly 60 years in the chamber and have similar backgrounds.
McConnell of Kentucky was first elected to the Senate in 1984. Reid, the Nevada Democrat, entered the chamber two years later. Both sat on the Appropriations Committee and both were whips, the No. 2 party position in the Senate responsible for rounding up votes.
Regardless of their common history and similar paths to power, Reid and McConnell don't appear to be that close personally.
"To say they're friends outside of the office is a pretty significant stretch," adds Manley, a senior director at QGA Public Affairs. "In recent years, when they've been battling each other on the Senate floor, the only thing they find in common in the Washington Nationals."
Campaign politics may be a contributing factor.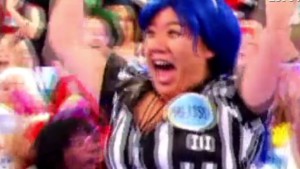 Done-deal follies: Bunny sex to mirrors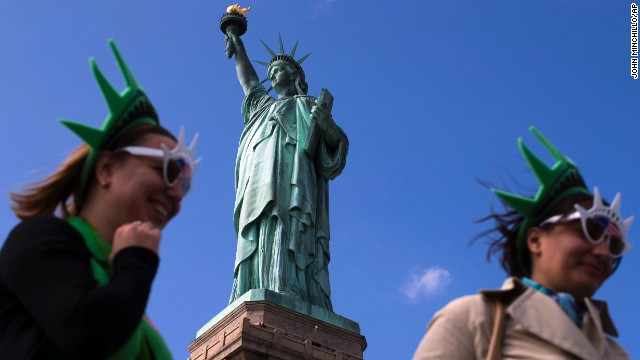 The Statue of Liberty looms over visitors below on Liberty Island in New York Harbor on Sunday, October 13, 2013. The statue was closed to the public by the federal government's partial shutdown that began October 1, 2013, but reopened Sunday after the state of New York agreed to shoulder the costs of running the site during the shutdown.
Empty tables overlooking Seal Rocks are seen inside the closed Cliff House on Wednesday, October 9, in San Francisco. The 150-year-old oceanside icon was ordered closed by the National Park Service for the duration of the partial government shutdown, leaving most of the restaurant's 170 employees without work.
Boaters gather to protest the closure of Everglades National Park waters on October 9 near Islamorada, Florida. About a third of the 2,380-square-mile park encompasses Florida Bay and has been closed to Florida Keys guides and recreational fishermen since October 1.
A camping party at the Dolly Copp campground in Gorham, New Hampshire, on October 9 is told that the park will close on Thursday, October 10, at noon. The privately run campground in New Hampshire's White Mountains National Forest was forced to close ahead of the lucrative Columbus Day weekend because of the federal government shutdown.
Rick Hohensee holds a "Fire Congress" sign near the House steps on Capitol Hill in Washington on Tuesday, October 8.
Officers stand at the base of stairs leading to the Capitol Rotunda on Monday, October 7.
Tourists take photos at a barricade blocking access to the World War II Memorial in Washington on Sunday, October 6.
River runners make camp in a dirt parking lot in Marble Canyon, Arizona, after being unable to access the Colorado River at Lee's Ferry on Saturday, October 5.
A closure sign is posted on the National Mall in front of the U.S. Capitol in Washington on Thursday, October 3.
Tourists take photos of the Statue of Liberty while riding a tour boat in New York Harbor on October 3. The statue is adminstered by the National Park Service and is closed as a result of the government shutdown.
A single security guard patrols the closed Lincoln Memorial in Washington on October 3.
A U.S. Capitol police officer walks past a statue of Gerald Ford in the rotunda on Tuesday, October 1. The Capitol is closed to tours because of the government shutdown.
Barricades around the World War II Memorial in Washington prevent people from entering the monument on October 1. The memorial was temporary opened to veteran groups who arrived on Honor Flights on a day trip to visit the nation's capital.
World War II veteran Russell Tucker of Meridian, Mississippi, stands outside the barricade as he visits the World War II Memorial in Washington on October 1.
World War II Veteran George Bloss, from Gulfport, Mississippi, looks out over the National World War II Memorial in Washington, on October 1. Veterans who had traveled from across the country were allowed to visit the National World War II Memorial after it had been officially closed because of the partial government shutdown.
A park ranger secures a road at the entrance to the Mount Rushmore National Memorial on October 1 in Keystone, South Dakota.
A visitor takes a picture of a sign announcing the closure of the Fort Point National Historic Site due to the partial government shutdown on October 1 in San Francisco, California.
Visitors to Independence National Historical Park are reflected in the window of the closed building housing the Liberty Bell, on October 1 in Philadelphia.
Hot Springs National Park employee Stacy Jackson carries a barricade while closing Arlington Lawn in Hot Springs National Park in Arkansas on October 1.
The Washington Monument is seen behind a chain fence in Washington, on October 1.
A National Park Service ranger finishes putting up a sign indicating all facilities at the Martin Luther King Historic Site are closed to the public in Atlanta, on October 1.
A Capitol police officer walks through the empty Capitol Rotunda, closed to tours during the government shutdown on Capitol Hill in Washington, on October 1.
An employee at the Springfield Armory National Historic Site in Springfield, Massachusetts, puts up a sign on October 1, to notify visitors that the site is closed because of a government shutdown.
A U.S. Park Service police officer stands at the closed Martin Luther King Jr. Memorial on the National Mall in Washington on October 1.
A man looks into the closed Smithsonian National Air and Space Museum in Washington on October 1.
A U.S. park ranger places a closed sign on a barricade in front of the World War II Memorial in Washington on October 1.
Park police and Park Service employees close down the Martin Luther King Jr. Memorial on the National Mall on October 1.
Members of the U.S. National Park Service close the Lincoln Memorial on the National Mall in Washington on October 1.
A U.S. park ranger posts a closed sign at the Lincoln Memorial on October 1.
People look at a sign announcing that the Statue of Liberty is closed in New York on October 1.
Fencing around the World War II Memorial prevents people from entering the monument on the National Mall in Washington on October 1.
A U.S. park service police officer stands guard at the entrance of the closed Lincoln Memorial on October 1.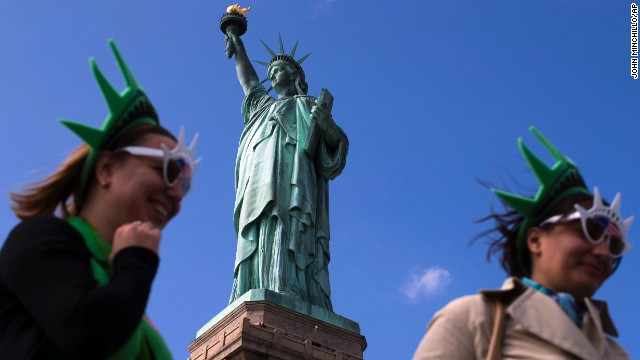 Government shutdown of 2013
McConnell is up for re-election next year and not only faces a Democratic challenger at home in Secretary of State Alison Lundergan Grimes, but also a primary challenge from businessman Matt Bevin, who enjoys the support of some tea party and other grassroots conservative activists.
Reid helped recruit Grimes and was supposed to appear at a Las Vegas fundraiser for her but missed it because of the ongoing shutdown and debt ceiling impasse.
"Is it helpful that you have a majority leader throwing a fundraiser for your opponent? Probably not," adds Holmes. "But McConnell's a grown up and he's certainly not going to use that as a reason to not get a result."
When Reid faced a bruising re-election four years ago, McConnell never campaigned with the GOP challenger, Sharron Angle.
But the National Republican Senatorial Committee, which is the campaign arm of the Senate GOP, did go up with some tough commercials attacking Reid.
The Senate tradition that the chamber's top two leaders would refrain from actively campaigning against each other back home ended in 2004, when then-Senate Republican leader Bill Frist got involved in the successful drive to defeat then-Senate Democratic Leader Tom Daschle of South Dakota.
Despite all this bad blood over the past few years, Manley points out that both "Reid and McConnell "are smart enough to know when to compromise."
Bipartisan group of senators helped pave the way for deal
In defeat, Boehner may live to fight another day
Polls: Time to throw my guy out of Congress?
Poll: Tea Party's favorable numbers take a hit
5 things: The Supreme Court and the shutdown