STORY HIGHLIGHTS
Cartagena spent whole professional life helping fellow Americans understand Latinos
Every 30 seconds, two non-Hispanics reach retirement age and one Latino turns 18
"Latino baby boom" will affect every aspect of American life over the next 50 years
Cartagena: Businesses can't afford to ignore Hispanics, one-quarter of their market
Editor's note: Chiqui Cartagena is the vice president of corporate marketing for Univision Communications. She is a Hispanic media and marketing pioneer with 25 years of experience and the author of "Latino Boom II: Catch the Biggest Wave Since the Baby Boom," her second book on the Hispanic market.
(CNN) -- With a name like Chiqui Cartagena, you can't escape the fact that you're different from your classmates in school. From the first grade on, I was constantly looked down upon and treated differently -- and sometimes not so nicely.
I'm an Army brat. My father was a decorated veteran of the Puerto Rican 65th Infantry Regiment that bravely fought in the Korean War. When he left the armed forces, he became a corporate executive for General Electric in Spain, which is where I grew up from the age of 6 until I was 21 years old.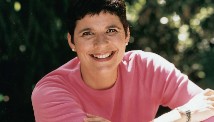 Chiqui Cartagena
When I came to the U.S. to finish my education and became a journalist, I was fascinated by how little people really understood Latinos. So I have spent my whole professional life helping my fellow Americans understand who we are.
The last two Census reports and presidential elections have certainly elevated the awareness of the power and growth of the U.S. Latino community, especially in certain sectors, politics being one of them. But there is still a lot of ignorance about the important impact Hispanics are having on every sector of the U.S. economy.
U.S. Latino population is growing fast, and traditional demographic patterns are shifting
There are seven sectors of business -- retail, food, entertainment, financial services, etc. -- that offer companies unprecedented domestic growth opportunities, if only they will focus their efforts on marketing to Hispanics. But business leaders don't feel like they know how to take the proper steps to capitalize on their Hispanic opportunity, so they don't do anything at all.
On average, only 5% to 6% of all advertising budgets is allocated to marketing to Latinos, who already represent 17% of the total population and 20% or more of key demographic groups -- children, teens, and millennials. Clearly, there is a fundamental gap between awareness of the need to start marketing to Latinos and the ability to do so.
Business leaders often don't know where to begin. It all feels very scary to them -- partly because for so long, language has been the main way people think about Hispanic marketing, when in fact, it's all about culture and creating marketing campaigns that are culturally relevant.
Fewer Latinos will speak Spanish, more non-Latinos will
When minorities in general make up almost half of all millennials -- with Hispanics accounting for nearly 25% of them and growing at the fastest pace -- this is an opportunity you can no longer ignore. How can you have a millennial strategy without asking yourself "What about Hispanics?"
You simply can't afford to leave out one quarter of your target simply because you don't know how to talk to them. If you do, chances are your competition will figure it out and you will lose in the long term.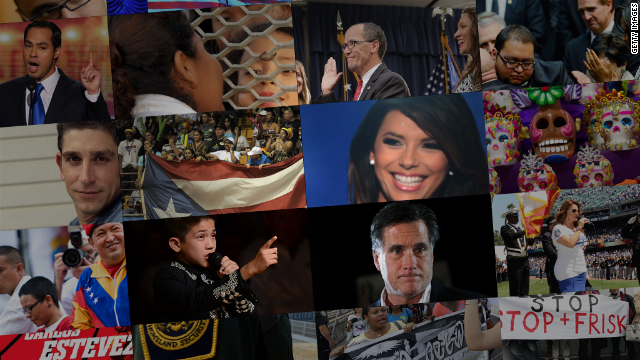 For National Hispanic Heritage Month, which runs September 15-October 15, CNN takes a look back on the news, politics, art, culture and entertainment stories that spoke to the Hispanic community during the last year.
September 2012: San Antonio Mayor Julian Castro gave the keynote address on the first day of the Democratic National Convention. It marked the first time that a Latino had ever delivered the signature address at that event. Castro, 37, was introduced by his twin brother, then-congressional candidate and Texas state Rep. Joaquin Castro. "My grandmother never owned a house," Julian Castro said. "She cleaned other people's houses so she could afford to rent her own. But she saw her daughter become the first in her family to graduate from college. And my mother fought hard for civil rights so that instead of a mop, I could hold this microphone."
September 2012: Pulitzer Prize-winning author Junot Diaz brought back the character Yunior in his long awaited book, "This Is How You Lose Her." "I thought that it was important to get at men's inner lives and, more importantly, more personally to use a Dominican, New Jersey male in the background as sort of ground zero as the central reference," he told CNN. This month Diaz introduces his collection of short stories in paperback.
September 2012: In a hotly contested election, Republican presidential candidate Mitt Romney stepped up efforts to woo Latino voters in a forum broadcast by the Spanish-language Univision network. "With a father born in Mexico, are you sure you're not Latino?" co-host Jorge Ramos joked, apparently referring to a secretly recorded video that showed the Republican candidate saying "it would be helpful to be Latino. The candidates answers about immigration and employment did little to sway the influential electorate, and recently, Republicans have examined how to better reach out to Latino voters.
October 2012: 2012 also marked the year of the political Latino celebrity, starring Eva Longoria. The actress' political profile was heightened in the election year, as she became a respected player not only in Hollywood, but also Washington, working with the Obama campaign. "My government and economics teacher gave us a project where we all had to volunteer during the election. We could choose whatever party, but we had to volunteer and help register people to vote. It was part of our grade," Longoria said. "So I caught the political bug from there."
October 2012: When Venezuelan Miguel Cabrera became baseball's first triple crown winner in 45 years, some reported that he was the first Latino to lead the league in batting average, home runs and runs batted in. But CNN uncovered that Mexican-American baseball player Ted Williams paved the way for Cabrera. "We're proud that Cabrera is continuing the tradition," Williams' daughter, Claudia Williams, told CNN. "But Latinos should have not needed to wait this long to see a Triple Crown winner when they had one for so long already. It's unfortunate that it had not been celebrated before. Ted was actually very proud of his heritage."
October 2012: Disney's not-so-Latina princess, Sofia the First, got some backlash when the company labeled the new character Latina and then backtracked. "What's important to know is that Sofia is a fairytale girl who lives in a fairytale world," Disney wrote in a statement on its Facebook page. Afterward, the National Hispanic Media Coalition sat down with Disney executives, who made a commitment to hiring more diverse writers in order to avoid future blunders.
On Election Day, Puerto Ricans voted in favor of statehood in a nonbinding referendum, marking the first time such an initiative garnered a majority. "I think people just came to realize that the current relationship simply does not create the number of jobs that we need," Puerto Rico Secretary of State Kenneth McClintock said.
November 2012: The Latino vote was key this election year, and Hispanics voted in record numbers, making up 10% of the electorate. "It's something we saw coming and have seen happen for a numbers of years now. Hispanics are increasing their share of their electorate," said Mark Hugo Lopez, associate director of the Pew Hispanic Center. And, in another first, Cuban-Americans in Florida voted for a Democratic candidate over a Republican, 49% to 47%. Cuban-Americans in Florida have reliably voted Republican and have been a factor in some presidential outcomes in the coveted swing state.
December 2012: The year ended on a sad note, as many mourned musical superstar Jenni Rivera's death in a plane crash in Mexico. The singer's fame and tragic death was often compared to that of singer Selena, who died in 1995. "She was a singer in a genre of music that's largely dominated by males, and she brought a powerful voice to that genre where she sang frankly about her struggles to give her children a better life in this country," Sen. Marco Rubio of Florida said on the U.S. Senate floor, describing Rivera as "a real American success story." Rivera's hit reality show, "I Love Jenni," continues to film with her children -- Chiquis, Jacqui, Jenicka Michael and Johnny.
January 2013: Richard Blanco became America's first Latino, openly gay poet to read at a presidential inauguration. "Just thinking about my parents and my grandparents and all the struggles they've been through, and how I am, first-generation Cuban-American, and this great honor that has just come to me, and just feeling that sense of just incredible gratitude and love," he wrote.
January 2013: In January, the Department of Homeland Security announced that mixed-status families could remain together while a family member applies to become legal U.S. resident. "This is clearly a step in the right direction, but a lot more work needs to be done," said Wida Amir, immigrant rights program director at the National Asian Pacific American Women's Forum. "We need a broader comprehensive immigration reform that provides a pathway to citizenship."
February 2013: Daniel Hernandez, the former intern of ex-Rep. Gabrielle Giffords, shared the story of how the Tucson shooting changed his life in his memoir, "They Call Me a Hero: A Memoir of My Youth." "It's really striking that I went from being a 'suspicious driver' to being the 'hero' who helped Gabby. It's one of the reasons that I'm so vocal about staying in Arizona and doing what I can do here. I love Arizona. But if Latinos aren't here to fix these problems, then it's never going to be done. It'll only get worse," Hernandez said. He is currently running for re-election to a Tucson school board.
March 2013: The Catholic Church elected its first pope from South America, a milestone that had some wondering whether he should be considered the first "Latino" pope. "It's human nature to want to see yourself reflected in an organization you belong to," Ruben Naverrette wrote. His tour through Brazil showed the pope has been embraced by Latinos and Latin Americans and by many around the world.
March 2013: When President Barack Obama nominated Thomas E. Perez to replace Hilda Solis as secretary of labor, it was a first for Dominican-Americans. "What's even more significant is that it's not somebody who is Mexican-American, Puerto Rican or Cuban-American as in previous years," said Arturo Vargas, executive director of the National Association of Latino Elected and Appointed Officials.
March 2013: Venezuelan President Hugo Chavez's death received mixed reactions and left a country deeply divided. "We shouldn't be partying," said Ernesto Ackerman, a Chavez opponent and president of the Independent Venezuelan-American Citizens, a nonprofit organization that helps Latinos become U.S. citizens. "We're only half of the country; the other half still supports Chavez. We should be asking (for) democracy, democracy, democracy, constitution. This is a most critical moment." Elections were held 30 days later, and Nicolás Maduro, Chavez's handpicked successor, was sworn in after securing 50.7% of the vote.
April 2013: Media organizations, including the Associated Press and CNN, updated standards in the use of the term "illegal immigrant" in reporting. "There is certainly a more widespread awareness that terminology is contentious and part of the overall political battle for immigration reform," said Lina Newton, an associate professor of political science at Hunter College and author of "Illegal, Alien, or Immigrant: The Politics of Immigration Reform."
April 2013: Jay-Z and Beyoncé set off a firestorm of criticism when they were photographed in Havana, Cuba, celebrating their wedding anniversary. Sen. Marco Rubio called their trip "hypocritical," saying "they're delivering hard currency to a tyrannical regime who then turns around and uses that to oppress its people." After a request from two Republican lawmakers, the U.S. Treasury revealed the pair's trip had been sanctioned. The hype eventually blew over, but not without a response from Jay-Z in a rap song titled, "Open Letter."
May 2013: Is it possible to trademark the name of a holiday? The Walt Disney Company thought so when the company tried to trademark "Day of the Dead." After the story raised ire on social media, Disney withdrew its application. "How could Disney allow such a blunder," marveled Lalo Alcaraz, a Mexican-American editorial cartoonist and founder of Pocho.com. "I knew they weren't copyrighting the holiday, but I couldn't believe they would let someone in their legal department let this happen."
June 2013: TThe debut of "Devious Maids" made history as the first primetime program featuring an all-Latina leading cast: Roselyn Sanchez, Edy Ganem, Ana Ortiz, Dania Ramirez and Judy Reyes. Creator and executive producer Marc Cherry of "Desperate Housewives'' was joined by fellow "Housewives" alum Eva Longoria. "We have, as Latina maids, been portrayed on television and movies, but none of them have been humanized," Ramirez said. "None of them are real life stories, choosing to take this role is more interesting to me because I get to tell a story of struggle." "Devious Maids" was picked up by Lifetime TV for a second season in 2014.
June 2013: Charlie Sheen's move to drop his stage name for his birth name, Carlos Estevez, came just in time for his turn in "Machete Kills," Robert Rodriguez's Latino-centric action film. "I can't help but wonder if Robert Rodriguez is trying to give Charlie a chance to re-embrace his identity. I just hope Charlie's not just trying to use his culture to get all eyes on him since Latinos are such a hot commodity right now," said Herrera Mulligan, editor-in-chief of Cosmopolitan for Latinas. Time will tell if the name sticks; for now, hola, Carlos!
June 2013: 11-year-old Sebastien de la Cruz became a household name after the Mexican-American child sang the national anthem in a mariachi outfit before the start of an NBA Finals game. There was a quick backlash, but "El Charro de oro," as he's known, was invited back for an encore performance. "For those that said something bad about me, I understand it's your opinion," Sebastien said. "I'm a proud American and live in a free country. It's not hurting me. It's just your opinion."
June 2013: The Senate passed a comprehensive immigration reform bill on a 68-32 vote with 14 Republicans joining the Democratic majority. The measure, drafted by a bipartisan "Gang of Eight," was sent to the GOP-controlled House. "Today is another historic day in the Senate," said Sen. Patrick Leahy, D-Vermont. "This legislation will reunite families. It will bring millions of people out of the shadows and into our legal system. It will spur job growth and reduce our deficit. And it will make us safer."
August 2013: A federal judge ruled NYPD's stop-and-frisk policy unconstitutional and ordered it to be altered. It was found that it violated the Constitution in part by unlawfully targeting blacks and Latinos. "No one should live in fear of being stopped whenever he leaves his home to go about the activities of daily life," Judge Shira A. Scheindlin wrote. "Those who are routinely subjected to stops are overwhelmingly people of color, and they are justifiably troubled to be singled out when many of them have done nothing to attract the unwanted attention." In September, Judge Scheindlin denied the city's request to delay stop-and-frisk reforms. "Ordering a stay now would send precisely the wrong signal," she wrote.
September 2013: The Senate's immigration bill called for doubling the size of the border patrol, leaving those who live and work on the border feeling an even bigger disconnect between the debate in Washington and the realities on the ground. "It's true that Congress is done with the immigration debate for the rest of this year," CNN contributor Ruben Navarrette wrote in September. "But any hope of a large-scale reform that offers legal status to the estimated 11 million illegal immigrants in the United States has faded."
September 2013: Should it be legal for an undocumented immigrant to practice law? That's the question the California Supreme Court faced when undocumented law graduate Sergio Garcia presented his case to the court this month. He has the support of California Attorney General Kamala Harris, who wrote in a brief to the court last year, "Admitting Garcia to the bar would be consistent with state and federal policy that encourages immigrants, both documented and undocumented, to contribute to society." The court has up to 90 days to make a decision, one that could affect hundreds of undocumented immigrants in the United States.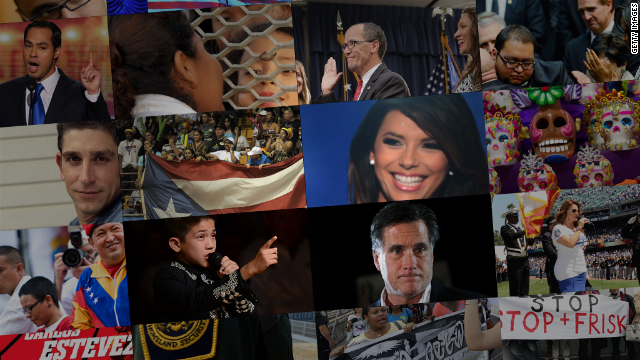 A year in Latino news
Hispanics are creating a new baby boom in the United States.
Think of it this way: Every 30 seconds, two non-Hispanics reach retirement age and one Latino turns 18. Like the baby boomers before us, the Latino baby boom will affect every aspect of American life over the next 50 years. Do you want to be the one missing out on this opportunity? I think not.
Although I have spent the last month giving speeches about the importance of the Latino community as part of various events celebrating Hispanic Heritage Month, I feel like the designation of Hispanic Heritage Month is becoming an anachronism. In many ways the influence of Hispanics on America can be felt every day.
Does Hispanic Heritage Month matter?
From the grocery aisle where you pick up your Corona beer and your dulce de leche ice cream, to the Billboard charts where Pitbull, Marc Anthony and Jennifer Lopez routinely dominate, to the lunch you order at Chipotle or Panera or, in fact, at the great American fast feeder, McDonald's -- the Latino effect is everywhere.
The media and both political parties now readily acknowledge that it was the influence of the Latino vote in the key swing states that got President Barack Obama re-elected last year. In fact, just two weeks ago, Mitt Romney said that insufficient Hispanic outreach was his largest error in 2012.
The story behind Hispanic Heritage Month
"The largest strategic error was not investing sufficiently, particularly in Hispanic TV and Hispanic outreach to help Hispanic voters understand that ours is the party of opportunity," Romney told CNN's Jake Tapper of the lesson to be learned for GOP presidential campaigns of the future.
Funny, because just this past summer, Univision Network made history when it came in first place during the July sweeps, beating ABC, NBC, CBS and Fox in the much coveted demographic of adults 18-34.
I can't think of a more appropriate way to recognize the influence Hispanics are having on America.
25 stories that shaped the Latino community
The opinions expressed in this commentary are solely those of Chiqui Cartagena.