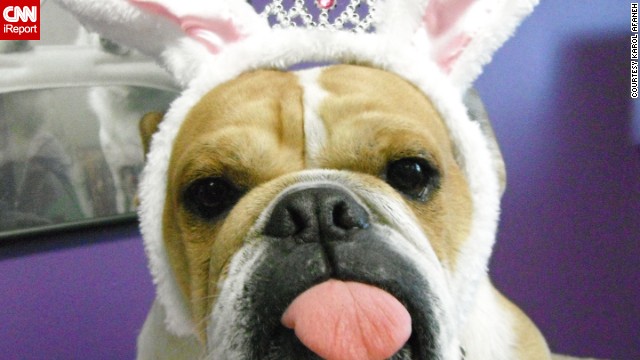 If your pet has the patience for bunny ears, like iReporter Karol Afaneh's dog, Halloween could be hopping!
iReporter Rachel Cauvin captured this adorable Corgi-as-firetruck costume
Cauvin also snapped this
dressed as Tropical Storm Irene
at the Tompkins Square Park Halloween Dog Parade in New York in 2011.
Is your pup a force of nature? Cauvin spotted this dog
The long, wavy ears of this King Charles spaniel complement strands of "pasta" in his costume. Cauvin couldn't resist taking a photo of this
spaghetti-and-meatballs dog
at the Tompkins Square Park Halloween Dog Parade.
Uh-oh. Looks like this
pup got into the sewing room
before being photographed by Cauvin in New York.
Simply attach shiny fabric to your dog's collar and voila: instant canine sidekick. iReporter Jodi Kaplan snapped this superdog while trick-or-treating in New York.
iReporter Quan Huynh's dog, Rocky, serves as a
plane for an ace pilot
.
Try involving the entire family in a Halloween costume, like iReporter Catherine Schneider did with her baby burger and pet hot dog.
scary and adorable
while wearing a meat cleaver -- and a message to stop animal cruelty.
Gory special effects need not be reserved for human costumes. Navarro's Pomeranian, Jacks, somehow looks
This Pomeranian arrived at the Scaredy Cats and Dogs Walk in the Philippines as the boy wizard "
Hairy Potter
."
obvious costume choice
for Bailey, iReporter Kate Nelson's sweet chocolate Lab.
A Hershey's Kiss was the
A field guide to Halloween pets
A field guide to Halloween pets
A field guide to Halloween pets
A field guide to Halloween pets
A field guide to Halloween pets
A field guide to Halloween pets
A field guide to Halloween pets
A field guide to Halloween pets
A field guide to Halloween pets
A field guide to Halloween pets
A field guide to Halloween pets
A field guide to Halloween pets
A field guide to Halloween pets