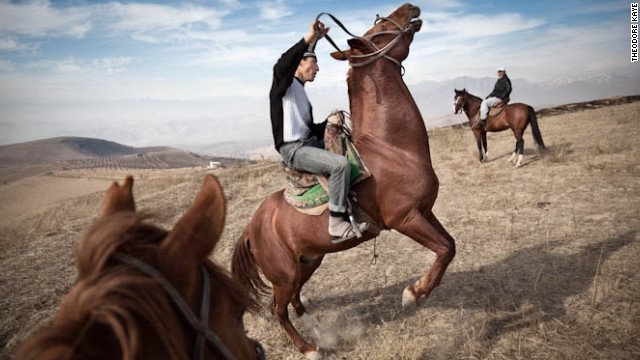 Suhrob exercises one of the horses in preparation for Buzkashi -- a Central Asian sport where up to a hundred or more riders fight to seize a headless goat carcass then carry it to a goal. As is common in the buzkashi world, rather than riding their own horses, Suhrob and his brothers ride animals owned by a wealthy individual.
In preparation for the Karoh (maturity) ceremony, a girl is ritually purified by having water poured over her head by the most respected old woman in a Muslim community in Ninh Thuan, central Vietnam. The ceremony is considered one of the most important ritual events of their lives and the girls will then be recognized as an adult in the community.
Jeannette Nikiéma, 13, practices karate at a martial arts school three times a week in Burkina Faso, West Africa. Karate, though not as popular as boxing, is well established in the country. Though usually nothing more than a spartan space with no real teacher, they attract young people eager to copy the moves they have seen on action films from Asia at their local video club.
A migrant worker scavenges for materials in a landfill in the Maldives. Thilafushi is an artificial island created by filling one of the Maldives' shallow lagoons with garbage. More than 300 tons of rubbish are brought to Thilafushi each day. Workers earn US$300 a month by burning the rubbish and selling scavenged materials.
A farmer harvests produce from her small hillside plot in Busan, South Korea. More than half of South Korea's farmers are women and few farmers are young -- 40 percent are over 60 years old -- and most have seen their children and grandchildren move to other professions.
Soliha practises measuring blood pressure in an Afghan Turk clinic in Taloqan, north of Afghanistan. Along with a class of 20 young village women, she spends 18 months training to become a midwife. After qualifying, they return to their remote villages. In a country whose child mortality rates are the highest in the world and where many women die in pregnancy, their skills will save lives and enable women to deliver babies safely.
From 9 a.m. to 7 p.m., Mr and Mrs Lau, both in their early 40s, collect batteries, electric motors, wire and other waste materials to recycle and resell. Despite the smell and the dirt, every day the couple make an effort to find time to eat and watch television together in what after 20 years has become their sanctuary. "Sometimes life is hard, but I'm the big boss of our 'cozy' cave, and here we can live our lives in our own way," says Mr Lau.
Sisters Aleftina and Ludmila Sablina are in their 70s, they continue to carry on with their traditional way of life in Alekhovshchina, a small Russian village. While most neighbors have upgraded to chainsaws, they continue to use a two-handed saw to cut wood which has been in the family for decades.
Frank, Yvonne and their two teenage children visit a rich neighborhood in Amarillo, Texas, to enjoy the Christmas decorations that adorn most of the homes. Yvonne has diabetes and Frank suffers from insomnia, both unemployed, they live in a trailer. Often, after school, the parents pick up their two kids, buy popcorn and soft drinks, and go off for a drive in their car.
Eritrea's Daniel Telehaimanot, the country's most popular cyclist, is mobbed by spectators in front of Asmara's Roma Theatre after finishing second in the Giro dell'Eritrea - a 700-mile, 10-stage event, that is Africa's oldest cycle race.
At dawn, fishermen Sunil Nishanti (left) and Anil Madushanka sit on wooden stilts they both inherited from their fathers. Sunil and his family lost almost everything when the tsunami of 2004 flooded the bay where they lived on the coast of Ahangama, Sri Lanka. For now, he still earns his living from fishing but his catch is barely enough to feed his own family.
Mahamadou, 17, grinds metal parts that have just been moulded in Bamako, Mali. Every day he works from 7 a.m. to 6 p.m. recycling scrap metal to everyday objects. He never went to school and, like more than seven out of ten Malians aged 15 or older, is illiterate. His knowledge, instead, came from his father and grandfather, both of whom were blacksmiths.
Tajikistan
Vietnam
Burkina Faso
Maldives
South Korea
Afghanistan
Hong Kong
Russia
United States
Eritrea
Sri Lanka
Mali