A computerized beer machine takes the legwork out of home-brewing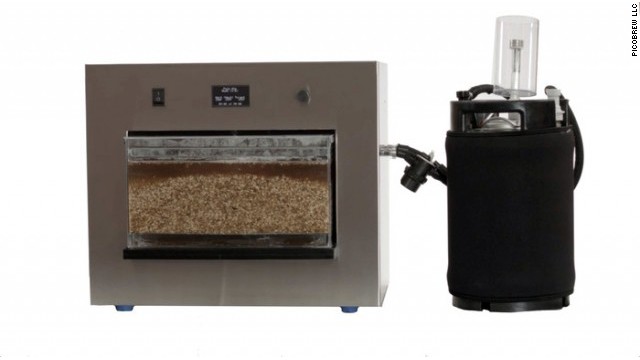 The $1,300
PicoBrew Zymatic
claims to produce home-brewed craft beer, using just a downloaded recipe and a handful of ingredients. But this Arduino-powered microbrewery isn't the only alcohol-inspired robot that could soon be making, mixing and serving your tipple of choice...
Brewbot
have linked up a home brewing station and an iPhone to create a $2,400 beer factory capable of producing consistent, reliable brewing conditions -- so allowing brewers to experiment with new ingredients and recipes.
A group of Belfast-based brewers are also building a beer-producing robot that aims to take care of all the complex heating and cooling, mixing and mashing required to make a pint.
Monsieur
robot mixologist. Load in eight spirits or mixers and the mechanical cocktail mixer can whip you up 300 different drinks. Monsieur aims to get to know you: making personalized drinks recommendations, and -- slightly creepily -- sensing when you have a date over to offer them a drink as well.
If beer's not your drink, try the $2,700
Bartendro
might look like a tangle of kid's Krazy straws, but this Arduino cocktail factory contains a Wi-Fi connected mixer which can be accessed from any device. A 15 bottle mixer will set you back $2,400, but the open source hardware and software allows for limitless customization.
Rival cocktail waiter
Also hoping to make the barkeep obsolete is the JAMES project: a group of German researchers set on producing a "socially appropriate" robot barman. Prototype JAMES is now capable of interpreting drinkers' posture and physical gestures to know when they're looking for a drink, as well as responding to patrons' voices.
Makr Shakr
gave attendees at the 2013 Google I/O Conference the chance to send orders via a smartphone app and interact with attendees with a similar taste in booze. The team from MIT's
Senseable City Lab
wanted to see what would happen if you let a crowd of take control of an industrial manufacturing machine -- and naturally chose alcohol to be the inspiration for their experiment.
Adapted industrial robot
But humans aren't the only ones having fun: some robots have now got a taste for the booze themselves. Scientists in Japan have developed the wine-tasting "Robot sommelier", which has a sensor capable of distinguishing between varieties of wine. Très bien.
Invasion of the boozy robots
Invasion of the boozy robots
Invasion of the boozy robots
Invasion of the boozy robots
Invasion of the boozy robots
Invasion of the boozy robots
Invasion of the boozy robots
STORY HIGHLIGHTS
A Kickstarter campaign seeks to automate the small-scale beer creation process
The PicoBrew Zymatic automates some steps of beermaking, but it's not cheap
The machine can import recipes and scale them to the PicoBrew's setup
(Ars Technica) -- Home-brewers who may have dreamt about harnessing the power of Arduino to automate their process may find something to envy in the PicoBrew Zymatic, a project posted to Kickstarter Monday. The machine's makers purport to automate the process of home-brewing from beginning to end; owners simply add their ingredients and come back in a while to processed beer and an easy clean-up solution.
Brothers Jim and Bill Mitchell, the latter a former Microsoft executive, constructed the first prototype in 2010 using, among other things, an Arduino controller and a custom heating loop. The two teamed up with Microsoft software architect Avi Geiger in the fall of 2011.
More recent versions of the PicoBrew machine moved to custom AMTEGA controller boards and a number of custom parts, some rendered by Geiger himself. With the level of specificity provided by the PicoBrew, the founders state that users should be able to turn out recipes "precisely on spec." The machine can also import BeerXML-formatted recipes and translate and scale them to the PicoBrew's setup.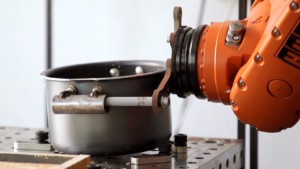 Will robots take over our kitchens?
The machine is sort of an odd meeting ground between the act of homesteading and using science and commercial techniques on a consumer level. The founders cite the amount of work and hands-on time home-brewing requires, although that's part of the charm for some enthusiasts. At $1,300, it's not really for the casual home-brewer.
The PicoBrew has more potential clients in commercial craft breweries. One source in the Kickstarter video, Matt Linecum of Fremont brewery, notes that the machine could be used for quickly testing the quality of ingredients before committing to their use in a full batch.
COPYRIGHT 2011 ARSTECHNICA.COM