An open world for DC superheroes in 'Scribblenauts Unmasked'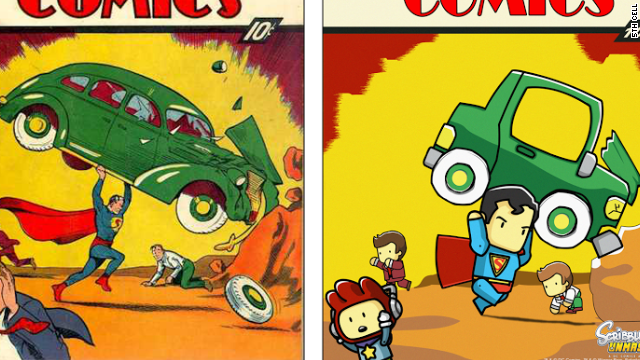 In "Scribblenauts Unmasked," the covers of classic comics are reworked as part of the story. Perhaps the most iconic comic ever, "Action Comics No. 1," is included. It introduced the world to Superman.
From 1988, "Batman: The Killing Joke" was a graphic novel, featuring the Joker, that saw the classic franchise take a darker turn.
Batman No. 497, "The Broken Bat," tells the story of supervillain Bane defeating Batman in hand-to-hand combat.
In "The Dark Knight Returns," a 55-year-old Bruce Wayne comes out of retirement to fight crime once again as Batman.
Behind this classic cover, Flash and the Justice League of America get embroiled in a blackmail plot.
From 1971, Green Lantern/Green Arrow No. 85 is part of an anti-drug arc in which Green Arrow's ward is revealed to be a junkie.
Comic covers of 'Scribblenauts Unmasked'
Comic covers of 'Scribblenauts Unmasked'
Comic covers of 'Scribblenauts Unmasked'
Comic covers of 'Scribblenauts Unmasked'
Comic covers of 'Scribblenauts Unmasked'
Comic covers of 'Scribblenauts Unmasked'
STORY HIGHLIGHTS
"Scribblenauts Unmasked" includes more than 2,000 characters from DC comics
The games story is a sibling argument over whether Superman or Batman is better
It's an open-world game, with multiple versions of many characters
(CNN) -- With more than 2,000 heroes, villains and other characters pulled from the DC Comics universe, the latest in the "Scribblenauts" video game franchise has created a unique visual experience for gamers and comic fans alike.
The new title, "Scribblenauts Unmasked," lets Maxwell, the main character in the series, and his sister Lily argue about who the greatest DC hero is: Batman or Superman.
Using their unique abilities to create anything they can think of with a magical notepad, the duo enters the DC Universe and becomes involved in the iconic battles from some classic comics.
Jeremiah Slaczka, creative director at game developer 5TH Cell, said his team wanted to give players the opportunity to imagine any scenario, which meant creating a lot of DC content.
"Twenty-two different Batmen, 153 different Green Lanterns. (It) would be hard to find a DC character we didn't create," Slaczka said. "Every time you play, the content is different."
Although the game does have a central plot line, Maxwell exists in an open-world environment and can visit well-known places like Gotham, Metropolis or the Green Lantern's home planet of Oa.
With Maxwell's ability to create anything or anyone, Slaczka said, you can even have multiples of the same character on the screen at one time.
The DC characters are drawn in the cartoonish Scribblenauts style but retain the powers and abilities fans will recognize from the books. Some of the powers, like Deadman's ability to possess other characters, will make for interesting gameplay.
The toughest character to create? Larfleeze, or the Orange Lantern, who creates a new version, or "construct," of each character he defeats.
"With Larfleeze's power, the number of characters on the screen can get out of hand really quickly," Slaczka said. "You can also create battles between the Green Lantern Corps and the Yellow Lanterns."
More than just heroes and villains, Slaczka said, complementary characters like Lois Lane and new characters like Pandora from "Trinity War" are included.
Slacska said he wouldn't be surprised to hear about players recreating other comic stories in the game environment. That's why developers were so meticulous about having as many DC characters available as possible.
"You will be hard-pressed to stump us," he said.
"Scribblenauts Unmasked: A DC Comics Adventure" is available now for the Wii U, Nintendo 3DS and Windows PC. The game is rated E 10+ for everyone 10 years of age and older due to cartoon violence and comic mischief.