Sebastian Vettel: I'm not thinking about the world title
updated 8:17 AM EDT, Thu October 10, 2013
STORY HIGHLIGHTS
Sebastian Vettel refuses to be distracted by thoughts of a fourth world title
The Red Bull driver can wrap up the F1 championship at Sunday's Japanese GP
Vettel admits being booed by spectators throughout 2013 has been unpleasant
The German lauds Suzuka Circuit as "one of the best tracks in the world"
(CNN) -- In typically collected fashion, Formula One's triple world champion Sebastian Vettel is taking each race as it comes.
The unflappable Red Bull driver could become only the third driver to win four consecutive championships at this weekend's Japanese Grand Prix -- following in the footsteps of legendary drivers Michael Schumacher and Juan Manuel Fangio.
But like any great champion, the German is concentrating on the next grand prix.
Read: Will F1 rule change end Vettel's dominance?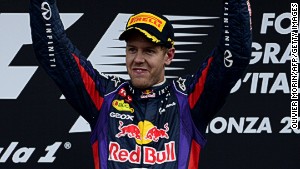 What's behind Vettel's winning streak?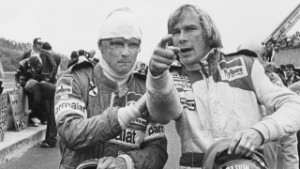 Niki Lauda on F1's most dangerous years
"I'm not really focusing on the title, I'm trying to focus on the race," the 26-year-old, who is bidding for a fifth consecutive grand prix win at the Suzuka Circuit, told CNN in Yokohama.
"We have a fantastic car, we are in great shape. We have to enjoy that and try our best."
In order for Vettel to be crowned champion this weekend he must take the checkered flag and hope Ferrari's Fernando Alonso -- his nearest rival -- finishes no higher than ninth.
Vettel recently suggested the superiority he enjoys over two-time world champion Alonso could be the reason why he has been booed on the podium at a number of races during the 2013 season.
Read: Vettel lauds Red Bull's hard work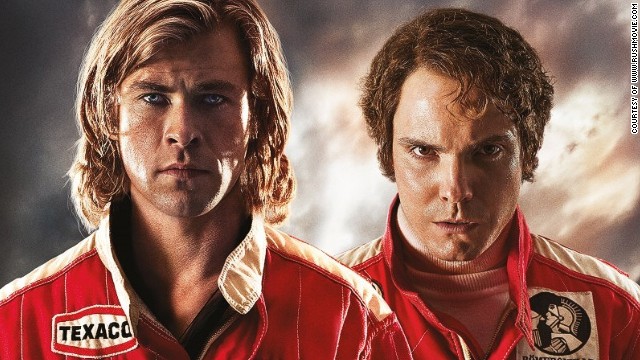 A promotional image for the new Formula One film "Rush." Australian actor Chris Hemsworth plays the hedonistic James Hunt (left) while Daniel Bruhl plays his on-track nemesis Niki Lauda.
Lauda (left) and Hunt seen here during their heyday in the 1970s. Their battle during the 1976 season is one of motorsport's most compelling dramas and has now been dramatized in "Rush" -- which was released this September.
McLaren driver Hunt poses before the 1976 British Grand Prix at Brands Hatch. The Briton, who died of a heart attack in 1993 aged 45, was one of F1's great characters. He earned the nickname "Hunt the Shunt" for his habit of crashing into fellow competitors.
By contrast, Austrian Lauda had a meticulous nature on and off the racetrack. The clash of personalities made for a compelling rivalry on and off the track during the 1976 season.
Lauda's crash at the Nurburgring at the beginning of August was the defining moment of the 1976 season. He suffered horrific burns and nearly lost his life but somehow found the courage to return to the track at Monza just 43 days later. The Ferrari driver conquered his fears and finished fourth to the amazement of everyone and the delight of the Tifosi.
Lauda attends the world premiere of "Rush" at London's Leicester Square. "I was happy to stay alive," he says of the crash at the Nurburgring. "Normally you get killed in this kind of accident. Then it was clear that the challenge now is to see can you ever comeback ... So I fought my way back five weeks later in Monza. I only had Hunt as a target and make sure he will not win the championship."
Lauda's return to the racetrack at Monza took "courage in its rawest form," says "Rush" director Ron Howard. "Both (Hunt and Lauda) were so truthful and so competitive. They just did things their way. And they would have scars of some of those decisions but they also got to own their own triumphs. You have to admire that. To me, that's the nobility of the story."
Current McLaren driver Jenson Button also attended the London premiere. Lauda's comeback was "amazing," the 2009 world champion said. "It's obvious how tough he found it ... You are going to be (scared) after a massive, scary incident. Things have changed in terms of safety over the last 40 years but there are still dangers involved. We understand that as drivers. As soon as you step into the cockpit you know that."
Hunt's son Tom attended the premiere. He said it was "surreal" watching the film for the first time. "There were so many different emotions. For me, it's easy in one way because I know it's not Dad up there and it's a Hollywood film. Ron and his team have done a fantastic job."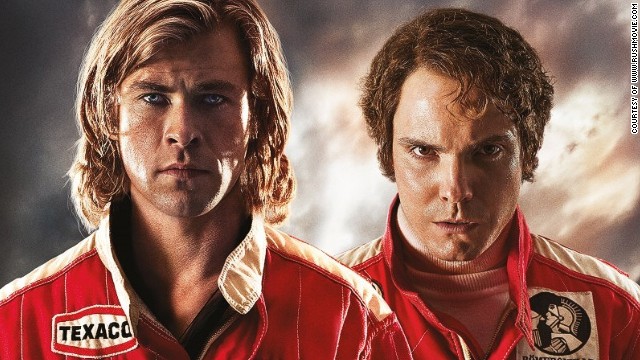 Rush movie premiere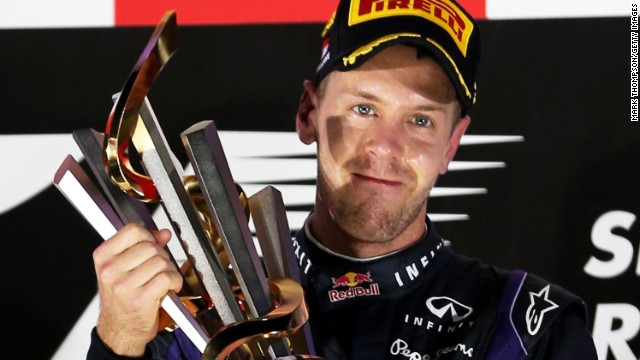 Red Bull's Sebastian Vettel lifts the trophy under lights following his victory at the Singapore Grand Prix, F1's only night race.
The Red Bull driver won at the Marina Bay street circuit for the third year in a row, triumphing by more than half a minute despite his progress being slowed by the safety car halfway through the race.
Vettel started from pole position and briefly surrendered the lead to Mercedes' Nico Rosberg at the beginning of the race, but was untroubled after that.
Rosberg finished fourth after Vettel's teammate Mark Webber had to retire at the end due to technical problems. The Australian was given a ride back to the pits by Ferrari's second-placed Fernando Alonso.
Like Alonso, Kimi Raikkonen battled his way up from down the grid to take third place for Lotus, despite being troubled by back problems in Saturday's qualifying.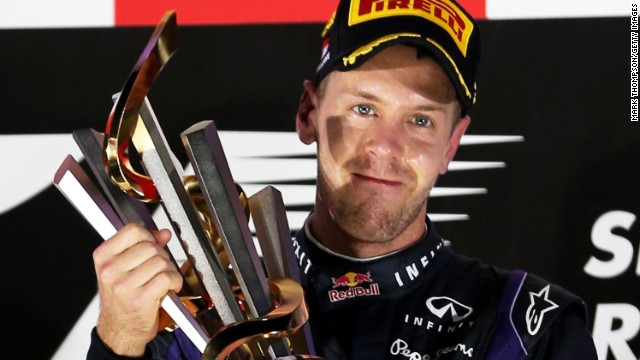 Vettel's Singapore success
His popularity among fans was also dented earlier this year, when he ignored team orders to pass teammate Mark Webber and win March's Malaysian Grand Prix.
While he admits that the booing is disappointing, Vettel attributes it to sporting rivalry rather than a particular dislike for him or his all-conquering Red Bull team.
"It's not nice for sure," he said. "But it's sport, there is no deep meaning behind it.
People don't think. Somebody starts, some people join, others don't. It's not a big deal."
Vettel will get a lift this weekend when he takes to the track at Suzuka, one of his favorite circuits on the F1 calendar.
"It's one of the best tracks in the world," he explained, "with all the fast corners, I always enjoy it a lot."