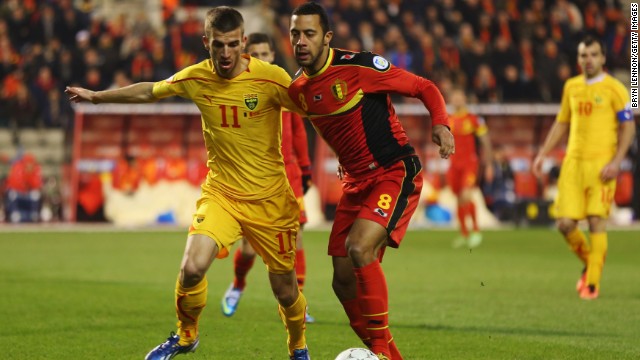 Mousa Dembele (right) is a key part of the Belgium side hoping to qualify for the 2014 World Cup in Brazil.
The Red Devils are unbeaten in World Cup qualifying, having won seven of their eight group games.
Romelu Lukaku is still only 20 but has already won 20 full international caps. Arguably the jewel in Belgium's emerging crop of stars, many observers think he is Chelsea's best striker, though he is spending this season on loan at Everton. Here Lukaku, who was born in Antwerp, celebrates after scoring against Newcastle in the English Premier League.
MIdfielder Marouane Fellaini played for Standard Liege before joining Everton. He left Goodison Park in August to join Manchester United, where he linked up again with former Everton manager David Moyes.
Alongside Fellaini in Belgium's midfield is Chelsea's Eden Hazard. French club Lille was key to Hazard's development and the midfielder spent five years with the Ligue 1 team before joining Chelsea.
Aston Villa striker Christian Benteke is Belgium's first-choice striker. He has scored four league goals this season and is pictured celebrating Villa's surprise 3-1 win over Arsenal on the opening day of the campaign.
Manchester City captain Vincent Kompany also skippers the Belgium national team. He began his professional career with Brussels club Anderlecht.
Kompany made his debut for Belgium in 2004 and has gone on to win over 50 caps for his country.
Napoli forward Dries Mertens (left) is one of the Belgium players to have worked under "brain coach" Michel Bruyninckx in the early stages of his career. The 26-year-old earned a move to Italy after impressing with Dutch club PSV Eindhoven last season.
Before coming to England, Dembele, who is now with Tottenham, played in both Belgium and Holland.
His first EPL club was Fulham, where manager Martin Jol described Dembele as "probably the best player on the ball I've ever seen."
Belgium' s World Cup Red Devils
Belgium' s World Cup Red Devils
Belgium' s World Cup Red Devils
Belgium' s World Cup Red Devils
Belgium' s World Cup Red Devils
Belgium' s World Cup Red Devils
Belgium' s World Cup Red Devils
Belgium' s World Cup Red Devils
Belgium' s World Cup Red Devils
Belgium' s World Cup Red Devils
Belgium' s World Cup Red Devils
STORY HIGHLIGHTS
Belgium is considered one of the dark horses to win the World Cup in Brazil
Nation has one of the most gifted squads in football thanks to outstanding youth program
Can qualify for the 2014 tournament on Friday night with draw in Croatia
Dembele believes his side can do 'something special' next July
(CNN) -- One country, two languages -- and one dream of winning the World Cup.
If Belgium is divided by the Flemish speakers who live in the north and the French-speaking Walloons in the south, the nation's footballers are united with one goal.
And with its place at the 2014 World Cup finals almost secure, midfielder Mousa Dembele believes Belgium's multicultural array of stars can follow in the footsteps of France's 1998 winning team.
Like Les Bleus -- a team which included players of African and Caribbean heritage -- Belgium's class of 2013 has a cosmopolitan feel.
Striker Christian Benteke was born in Kinshasa, Congo, while the likes of Manchester City captain Vincent Kompany and Chelsea striker Romelu Lukaku are both of Congolese heritage.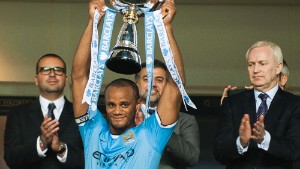 Kompany's meteoric rise to the top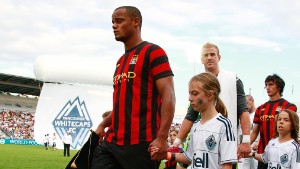 Kompany on grooming the next generation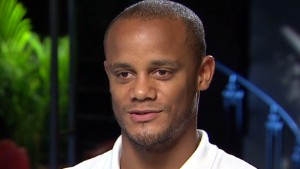 Kompany on future ambitions
Then there is Manchester United's Marouane Fellaini, who along with Tottenham's Nacer Chadli and 17-year-old starlet Zakaria Bakkali is of Moroccan descent.
Read: Will Belgium win the World Cup?
Dembele himself was born in Belgium after his father moved from Mali -- of which he remains proud.
And while the 26-year-old considers himself Belgian, he believes the ethnic mix within the team has made his time in the national setup a more enjoyable experience.
"We get on very well, I think," Dembele told CNN ahead of Friday's trip to Croatia, where a draw will be enough to clinch Belgium's 2014 place as winner of Group A with a match to spare.
"It makes us strong. We have all kinds of players and perhaps you can compare us to the France side which won the World Cup in 1998.
"I think it's fair to say we're like them. Perhaps you could say we're also like Germany in a way.
"With Germany, you can see there's a real mix of nationalities in their team. I like that approach because I'm of mixed nationality myself."
It's a nuanced response from Dembele and contrasts sharply with the view of Arsenal midfielder Jack Wilshere, who said this week only English people should play for England.
While the Belgium players remain united, the team will often arrange separate interviews for Flemish and French speakers.
Arsenal defender Thomas Vermaelen will speak to the press in Flemish, while Zenit St. Petersburg midfielder Axel Witsel, whose father came from the Caribbean island of Martinique, will give his thoughts in French.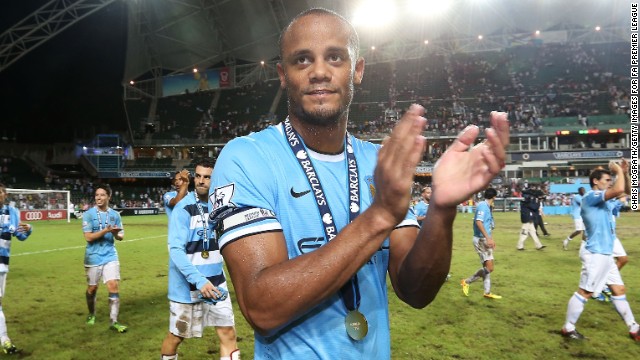 Vincent Kompany enjoys the lifestyle which comes with being a modern millionaire footballer. But, despite rising to the top of his sport, the Belgian remains grounded and committed to education.
Kompany made his Anderlecht debut in 2003. The defensive player had been with the club's academy since 2000 and went on to win the Belgian Championship with the team in 2004 and 2006.
Kompany made his debut for the national team in 2004 in a friendly match against France. He is pictured here tackling legendary French playmaker Zinedine Zidane.
His performances earned him a move to German club Hamburg in 2006. A serious achilles injury limited Kompany to just six appearances in his first season in Germany.
After just two seasons with Hamburg, Kompany made the move to Manchester City in 2008.
Kompany was consistently excellent for the Abu Dhabi-owned club and was one of the team's standout performers as they beat Stoke City 1-0 to win the FA Cup in 2011.
The highlight of Kompany's career to date arrived in May 2012. A goal from Sergio Aguero deep into injury time gave City a 3-2 win over Queens Park Rangers and secured the team a first league title in 44 years. As captain, Kompany was the man who lifted the trophy.
Manuel Pellegrini was appointed as City manager in May following the sacking of Roberto Mancini. The Chilean is the third different manager Kompany has worked under during five years in Manchester.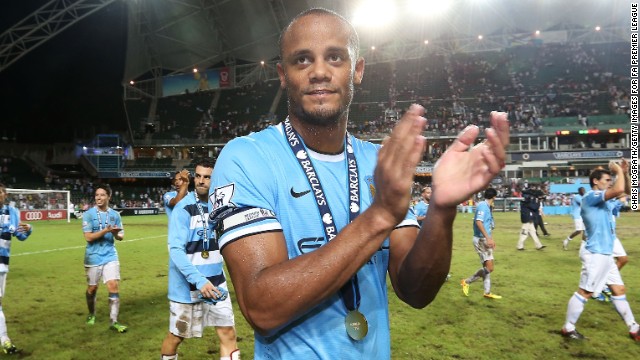 Vincent Kompany's rise to the top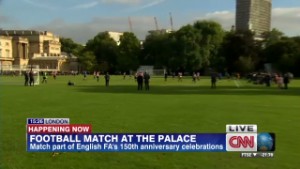 Football comes to Buckingham Palace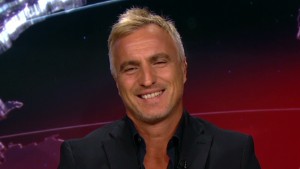 Ginola answers questions on Qatar 2022
One team
But the divisions stop there -- on the pitch these players have come together to give Belgian football its most exciting generation of players since the team reached the 1986 World Cup semifinal.
The path to today's array of riches has not been an easy one -- Belgium has failed to qualify for the past five major tournaments and only an extensive overhaul of its playing structure has ensured that the country has not been left behind.
"Some 13 years ago the Belgian Football Federation decided to reorganize Belgian football programs and set up in every province an elite academy," leading Belgium youth football coach Michel Bruyninckx, who has long been interested in maximizing the way players use their brain in games as part of his innovative training sessions, told CNN in a recent interview.
"In collaboration with all the universities in our country and after studying the strategies of other countries the Belgian FA composed a plan with the new vision implemented in the different federation academies and then step-by-step integrated in the club programs.
Read: Why school paid off for Kompany
"Just as importantly the Ministry of Education agreed to create a school curriculum to extend the number of weekly training hours.
"That meant we could guarantee young talents would have about 20 hours training time a week and their school programs were never in danger.
"The structure, organization and lifestyle in the academies was regularly checked to make sure that this project delivered professional players or highly qualified young people."
Youth program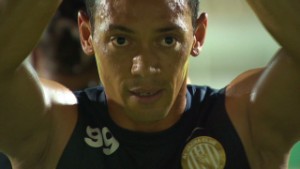 Qatar 2022: Too hot for football?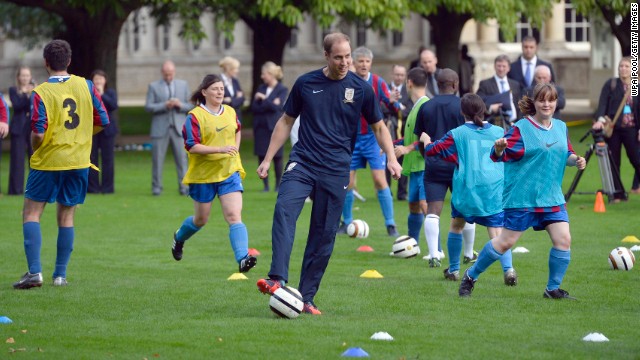 Prince William shows off his footballing skills during a training session on the grounds of Buckingham Palace.
Prince William is clearly enjoying himself as he wrestles to keep the ball during a training session at Buckingham Palace.
Prince William is a measure of concentration as he practices his skills in a training session with members of the Royal Household.
Prince William talks to the players ahead of the special match at Buckingham Palace to mark the 150th anniversary of the English FA.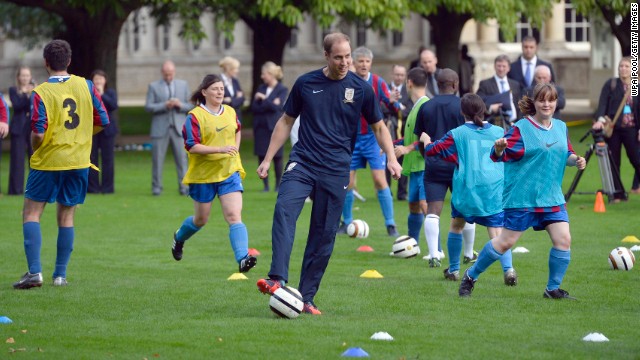 Prince William hosts Buckingham Palace football match
The project has been a huge success -- Belgium's top club side Anderlecht competes in the European Champions League with a team boasting an average of just 22.5 years.
The club's youth teams have been dominating on both the national and European stage, while the Belgian Under-21 side recently defeated Italy 3-1.
"Anderlecht have won five of the eight national youth championships and many important European tournaments such as the Viareggio, the Aegon Future Cup and the Premier League Cup," added Bruyninckx.
"The integration of many very young players in the first team is the proof of the success of what has happened in Belgium. Most of all Youri Tielemans, the 16-year-old player who has surprised the whole of Belgium and is the product of the new strategy."
Star pupils
One of those players to have come through the Anderlecht system announced himself on the world stage last weekend.
Adnan Januzaj scored twice on his full Premier League debut for Manchester United in a 2-1 win at Sunderland -- sparking a wild frenzy among a whole host of nations which want to secure his international future.
The 18-year-old, who was born in Belgium, could potentially play for his country of birth as well as Albania, Turkey, Serbia or Kosovo, which has yet to be recognized by FIFA.
Even England has made overtures in attracting the youngster to wearing the Three Lions.
There may be a chance Januzaj will wear the red of Belgium, but that is for the future -- he has refused all international call-ups so far.
Now Belgium is hoping that the culmination of the project will take place in Brazil next July with its group of players one of the most talented in Europe.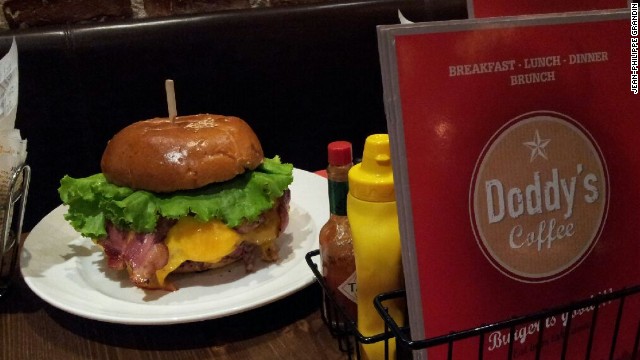 Behold the "Zlatan burger", a mountain of meat dedicated to Paris Saint-Germain's star striker Zlatan Ibrahimovic. The $41 monster is the brainchild of French cafe manager Jean-Philippe Grandin.
The mercurial striker arrived at the Parc des Princes in 2012. His career has seen him play for some of Europe's biggest clubs, including Ajax, Inter Milan and Barcelona, winning eight league titles in four different countries.
PSG fanatic Grandin wanted a burger worthy of his team's towering forward. It weighs over one kilogram, including a 600 gram burger, three different types of cheese and a custom-made bun.
Ibrahimovic's first season in Paris ended in glory. The Swede scored 30 league goals as PSG stormed to the French First Division title.
As this picture shows "Le Zlatan" towers over other burgers on the menu at Doddy's Cafe. "We have a lot of homemade burgers on the menu, I wanted to invent an extraordinary burger," declared Grandin.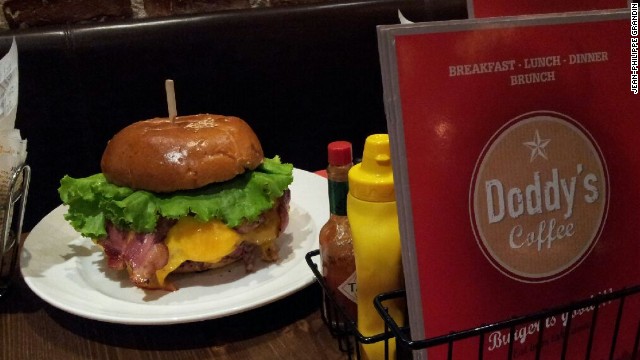 The Zlatan Ibrahimovic burger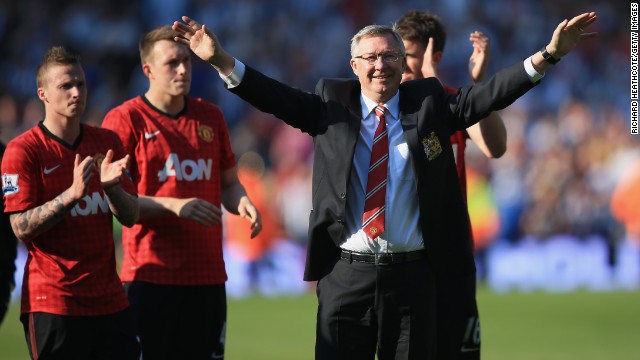 Former Manchester United manager Sir Alex Ferguson was the focus of a 2012 Harvard Business School study on leadership. According to author and management consultant, Mike Carson, those in business can learn much from analyzing the work of successful football coaches like Ferguson.
High profile managers like Jose Mourinho (pictured) are adept at managing a complex array of stakeholders and their demands, Carson said, a skill that will be familiar to many CEOs and senior executives.
A fair comparison between the business and football worlds would be former Barcelona coach Pep Guardiola and Steve Jobs, the late Apple CEO, Carson said. Both lived their vision (in Jobs' case innovative product design and in Guardiola's a style of play) dragging their respective institutions along with them.
Borussia Dortmund's charismatic coach, Jurgen Klopp, is renowned for his energetic touchline persona. According to the dean of Edinburgh University's business school, Professor Ian Clarke, senior business figures could learn from the passion displayed by the likes of Klopp.
The best managers are always looking to learn more, Carson believes. New Manchester United manager, David Moyes, is highly regarded for his desire to soak up new ideas and implement innovative coaching methods.
Former Celtic and Tottenham player, Ramon Vega (left), is one of the few individuals to have operated at the sharp end of both football and business. The ex-Switzerland international captain believes he learned much during his sporting career that prepared him for running his own asset management firm.
Communication is 80% to 90% of management, according to Ramon Vega. Here, England coach Roy Hodgson gets his message across to his players.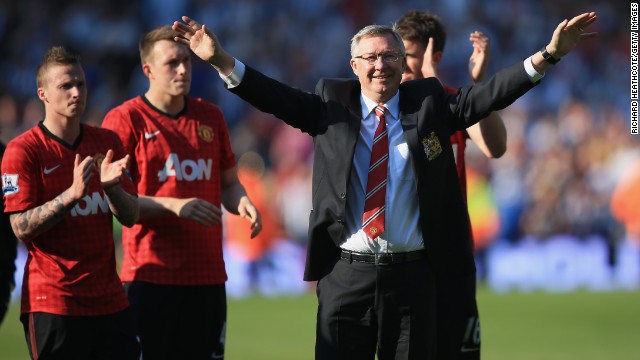 What can football managers teach you about leadership?
Goalkeeper Thibaut Courtois has starred in Spain's La Liga for Atletico Madrid, while Chelsea's Eden Hazard is regarded as one of the most exciting playmakers in the world.
Benteke and Lukaku are two of the most lethal finishers in the English Premier League, while Fellaini commanded a $43 million transfer fee when he joined Manchester United from Everton in August.
Then there is the prodigiously talented Bakkali -- who, at 17 years and 196 days old, became the youngest player to score a hat-trick in the Dutch league, for PSV Eindhoven in August.
'Something special'
There is talent everywhere you look -- it is a squad which promises to thrill, excite, inspire and perhaps, just perhaps, win.
"For the past three years we've known that we've had some good players but we didn't always get the results," Dembele says.
"I think now you can see we have a lot more confidence there. With the World Cup, it's all looking good for us but it's not done quite yet.
"I think there are some difficult games to play but we're confident.
"We have a very good team, so we don't have to be scared. But we have to be concentrated, and I believe if we get to Brazil we can do something special, but we have to get there first."