Who will be this year's top 10 CNN Heroes?
updated 2:47 PM EDT, Wed October 9, 2013
STORY HIGHLIGHTS
The top 10 CNN Heroes of 2013 will be revealed Thursday morning on CNN and CNN.com
They will be honored at "CNN Heroes: An All-Star Tribute," which airs December 1
Who will be the Hero of the Year? You can cast your vote once the names are revealed
(CNN) -- Ten everyday people will be recognized Thursday for their remarkable efforts to make the world a better place.
CNN's Anderson Cooper will reveal this year's top 10 CNN Heroes during the 8 a.m. hour of "New Day."
All the top 10 Heroes were nominated by CNN's global audience and profiled earlier this year on CNN. Each will receive $50,000 and be honored at "CNN Heroes: An All-Star Tribute," a globally broadcast event that airs December 1.
One of the top 10 will receive an additional $250,000 for their cause if the public chooses them as the CNN Hero of the Year.
Starting Thursday morning, you will be able to vote for your favorite Hero at CNNHeroes.com or from your mobile device. Voting ends November 17.
Last year's Hero of the Year was Pushpa Basnet, a Nepalese woman who supports children so they don't have to live behind bars with their incarcerated parents.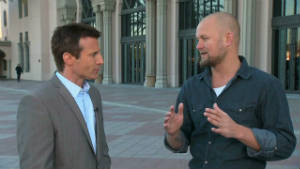 What it means to be a Top 10 CNN Hero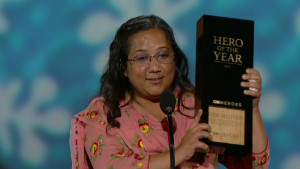 Hero of the Year's acceptance speech
She started a home in Kathmandu where children can receive education, food, medical care and a chance to live a more normal life.
"These children have done nothing wrong. They are simply caught in something they do not understand," Basnet said. "We want to work with the government to bring them all out of prison. And they deserve a better future."
Robin Lim, the Hero of the Year in 2011, was recognized for helping thousands of poor Indonesians have a healthy pregnancy and birth.
"I found that if you have a good idea and you do it with love, a lot of people want to help you," Lim said.
This is the seventh year CNN has conducted its annual search for CNN Heroes. In those years, the campaign has profiled more than 200 people on CNN and CNN.com.
This year's tribute show will be held in New York and hosted by Cooper at the American Museum of Natural History.
Click here to see all the extraordinary Heroes who have been featured this year.