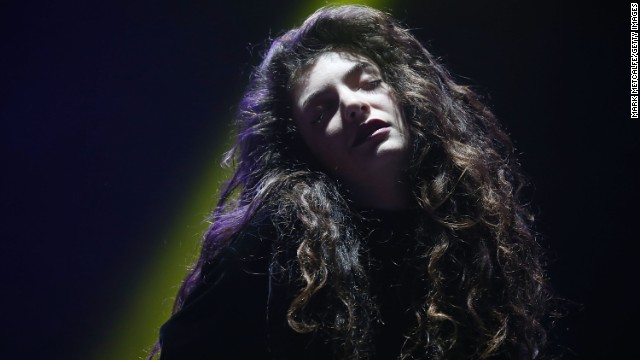 Lorde is currently enjoying having a chart topper with her single "Royals," but has sparked some criticism after
a blogger cried racism
over some of the song's lyrics. Here are just a few other tunes that have have also caused controversy:
"Blurred Lines."
But the hit was dubbed "rape-y" by some with its lyrics "I know you want it"
which critics said promoted sexual assault.
The music video also came under fire for its use of nude women and spurred
a parody video
with scantly-clad men. Not to mention ... well,
you know
.
Robin Thicke, right, had the song of the summer in 2013 with
"God Save the Queen."
In response to lyrics like "God Save The Queen/She ain't no human being"
the BBC banned the song.
It was 1977 and Queen Elizabeth of England was celebrating her silver jubilee when British punk-rock group the Sex Pistols released
"Darling Nikki"
was about a young lady who did something ... naughty with a magazine.
According to Time Magazine,
the song's lyrics inspired wife of then Sen. Al Gore, Tipper Gore, to found the Parents Music Resource Center, which led to "Parental Advisory" labels on albums. So thanks for that, Prince.
Prince's song
"Revolution"
angered some in its urging of peace and love when so many
were protesting the war in Vietnam
and calling for rebellion against the establishment.
The Beatles' 1968 hit
"They Don't Care About Us"
featured the line "Jew me, sue me, everybody do me/ Kick me, kike me, don't you black or white me" and led to charges of anti-semitism in 1996. The singer apologized and promised that later versions of his single and album would not contain the references.
Michael Jackson's song
F*** Da Police"
which as you can imagine did not go over well with the law enforcement community.
NWA's 1988 debut studio album "Straight Outta Compton" included the tune "
run afoul of religious groups
in 1971 when he released the now iconic tune
"Imagine."
The line "Imagine there's no heaven" was enough for John Lennon to
Rapper Rick Ross apologized in April 2013 for what he said was a misinterpretation of the lyrics "Put Molly all in her champagne/ She ain't even know it/ I took her home and I enjoyed that/ She ain't even know it" as advocating date rape in the song
"Rapture"
has a line that
sounds pretty risque.
We will leave you to Google that.
Blondie's 1981 hit
Rapper LL Cool J, left, and country artist Brad Paisley wanted to stir dialogue with their 2013 collaboration
"One in a Million"
was deemed homophobic and racist. Lead singer Axl Rose later
said in an interview
that he was "pro-heterosexual."
Guns N' Roses' 1988 song
The Anti-Bullying Alliance took on rapper J. Cole
in July 2013 for his use of the word "retarded" during a guest appearance on fellow rapper Drake's song
"Jodeci Freestyle."
Both Cole and Drake apologized.
"Cop Killer"
drew criticism from then-President George Bush.
Before he was an actor, Ice T was a rapper and also performed with the heavy metal band Body Count. In 1992 their collaboration on the song
Controversial song lyrics
Controversial song lyrics
Controversial song lyrics
Controversial song lyrics
Controversial song lyrics
Controversial song lyrics
Controversial song lyrics
Controversial song lyrics
Controversial song lyrics
Controversial song lyrics
Controversial song lyrics
Controversial song lyrics
Controversial song lyrics
Controversial song lyrics
Controversial song lyrics