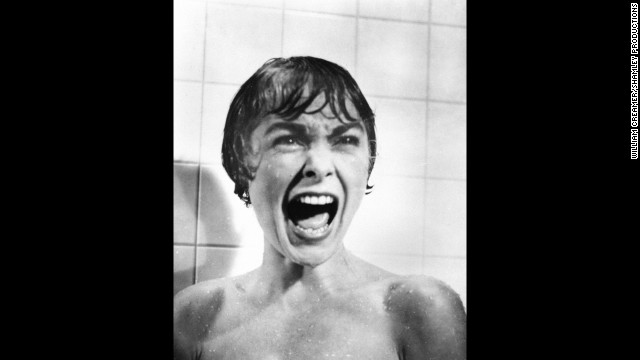 The best movie twists are shocking enough to make you reconsider the entire film. (We'll be revealing many of them in this gallery, so you've been warned: SPOILERS FOLLOW.) In fact, some of them don't even take place at the end -- giving the viewer that much more to chew on. Take Alfred Hitchcock's
"Psycho"
(1960), for instance, in which star Janet Leigh's character is killed off in the shower less than halfway through the film -- never mind all the business with Norman Bates (Anthony Perkins) and his mother.
"The Sixth Sense." Psychologist Malcolm Crowe (Bruce Willis) hears Cole Sear (Haley Joel Osment) say he can see dead people, but doesn't realize that he's one of them -- until trying to talk to his wife near the end.
Director/writer M. Night Shyamalan is fond of twists, but he probably put them to best use in his first major film, 1999's
"The Usual Suspects." Of course, he would know, since it's finally revealed that he's criminal mastermind Keyser Soze, who set up the attack that's being investigated.
"The greatest trick the devil ever pulled was convincing the world he didn't exist," goes the paraphrased Baudelaire quote that Verbal Kint (Kevin Spacey) uses in 1995's
"Catfish," the documentary about three filmmakers who travel to Michigan to meet a love interest -- only to find out that the pretty single woman they thought they were talking to is actually a middle-aged mother with severely disabled children. The film, which spawned a popular MTV show, has itself been called a hoax.
The difficulties of trust and identification in the Internet age are at the heart of 2010's
"The Crying Game" (1992), an IRA soldier (Stephen Rea, right, with Forest Whitaker) falls in love with a prisoner's girlfriend. Or is that the prisoner's boyfriend? Jaye Davidson was nominated for an Oscar for best supporting actor for his gender-bending performance.
In
"Atonement," the 2007 film based on Ian McEwan's novel, features the main character apologizing to the reunited couple played by Keira Knightley and James McAvoy for forcing their separation with a youthful lie. But it turns out that the apology -- and reunion -- never happened, for both died during World War II.
"Twelve Monkeys" (1995), with Bruce Willis, left, and Brad Pitt, is a tale of twisted time based on the French short "La Jetee." Willis, who has traveled back in time to stop a world-destroying virus, has dreams of a death in an airport. He finally realizes it's no dream -- he was a child at the scene and saw his own death. The film was directed by Terry Gilliam.
"Soylent Green," and he yells it to a partner: "Soylent Green is people!"
What is Soylent Green, the popular foodstuff in an overcrowded future? Detective Robert Thorn (Charlton Heston) finds out in 1973's
"Planet of the Apes" (1968). Believing he's traveled to an alien world populated by talking apes, it's only as the movie concludes -- with the Statue of Liberty emerging from a beach -- that he realizes he's on a future Earth. "You maniacs!" he screams. "You blew it up!" Rod Serling, of "Twilight Zone" fame, wrote the screenplay.
Five years earlier, Heston revealed another of the movies' great twists at the end of
"The Third Man" (1949). For much of the movie, Holly Martins (Joseph Cotten) and the audience believe Lime is dead.
In one of the great reveals in movie history, black market profiteer Harry Lime (Orson Welles) emerges from the shadows in
"Don't Look Now," a troubled couple (Donald Sutherland and Julie Christie) travel to Venice to escape the grief caused by the death of their daughter. Sutherland's character has visions of seeing his child in a red coat, but it's actually a serial killer -- and Sutherland's visions are actually about himself. The haunting film was directed by Nicolas Roeg.
In 1973's
"The Wicker Man," little does he realize he's about to become the sacrifice he thought he was looking into. Christopher Lee, who plays the island's leader, has said he believes "The Wicker Man" is "the best-scripted film I ever took part in." In the UK, it was seen on a double bill with "Don't Look Now."
When the chaste detective played by Edward Woodward travels to a small island to investigate a missing child in 1973's
"Fight Club" (1999)? Well, there's a reason only Norton's character can see Durden -- he exists only in the narrator's troubled mind.
Just who is the destructive Tyler Durden (Brad Pitt, left), and why does he keep tormenting Edward Norton's unnamed narrator in
"The Empire Strikes Back"
("Star Wars Episode V," for those who prefer the retitled version):
"I am your father," Vader says.
And thus the battle between the Rebels and the Empire becomes very personal.
Some of the most startling words in movie history are uttered by Darth Vader to Luke Skywalker in 1980's
"Saw" (2004), a corpse lies in a pool of blood on the floor of well-hidden washroom. Meanwhile, two chained figures, played by Cary Elwes and Leigh Whannell, realize they're part of a brutal serial killer's game. After much gore and misdirection, the serial killer is revealed to be the corpse -- who's not so dead after all.
For almost the entire running time of
"Diabolique" remains a model for the psychological thriller. A wife and a mistress decide to murder their shared lover, a brutal schoolmaster. But when his body disappears, who's really controlling the plot? Turns out the real target was the wife. But the movie lets the audience wonder if she, too, is really dead.
The 1955 French film
"No Way Out." The movie has a nice kicker, in which Costner's character lapses into Russian, revealing him as the mole his character was supposedly searching for.
Kevin Costner plays a naval officer investigating a murder in 1987's
"Being There." However, his simple nature leads him to high places, including -- it is suggested -- a possible run for president. As the movie ends, he blissfully walks on water, giving his character a holier level.
Chauncey Gardiner (Peter Sellers) appears to be a good-hearted but weak-minded gardener in 1979's
"The Cabin in the Woods" (2012) is, like "Scream," as much a parody of horror movie cliches as it is a horror movie itself. But the final twist, including an uncredited performer, shows that underneath the parody is an apocalyptic heart.
"Chinatown."
But he doesn't realize just how twisted until she reveals
her daughter is also her sister
, the product of an incestuous rape. "Forget it, Jake, it's Chinatown," a colleague remarks as Gittes realizes how little he understands.
Jack Nicholson's detective Jake Gittes knows that Evelyn Mulwray (Faye Dunaway) has a twisted relationship with her creepy father, Noah Cross (John Huston) in 1974's
"The Parallax View" (1974) neatly captured the paranoia of Watergate-era America. In the film, a reporter (Warren Beatty, left, with Hume Cronyn, center) turns up an assassination conspiracy, but instead of revealing it to the world, he ends up the target.
"House of Games" (1987). She thinks she's studying them, but as the old poker-table saying goes, if you don't know who the sucker is, you're the sucker. David Mamet, then Crouse's husband, wrote and directed.
Psychiatrist Margaret Ford (Lindsay Crouse) gets sucked into an underworld of con men led by Mike (Joe Mantegna) in
"In the Company of Men" (1997). But it's Howard who ends up broken, blindsided by Chad's coldheartedness. Neil LaBute wrote and directed.
Chad and Howard (Aaron Eckhart, left, and Matt Malloy) come up with a plan to break the heart of a deaf woman by dating her and then splitting with her in
"L.A. Confidential" (1997) finds good cop Ed Exley (Guy Pearce) trying to battle corruption at the LAPD in the midst of a case involving celebrity lookalike call girls such as Lynn Bracken (Kim Basinger). The corruption, it turns out, goes right up to the chief, played by James Cromwell, who kills a detective (Kevin Spacey) in a shocking scene midway through. Russell Crowe also stars.
The modern film noir
"Seven," despite being uncredited, as he was revealed as the serial killer setting up the Seven Deadly Sins murders that draw in two detectives, including Brad Pitt, right. David Fincher directed.
Kevin Spacey obviously likes twists, right up to his present-day role in the TV series "House of Cards." But he really made a name for himself in 1995's
Great movie twists
Great movie twists
Great movie twists
Great movie twists
Great movie twists
Great movie twists
Great movie twists
Great movie twists
Great movie twists
Great movie twists
Great movie twists
Great movie twists
Great movie twists
Great movie twists
Great movie twists
Great movie twists
Great movie twists
Great movie twists
Great movie twists
Great movie twists
Great movie twists
Great movie twists
Great movie twists
Great movie twists
Great movie twists