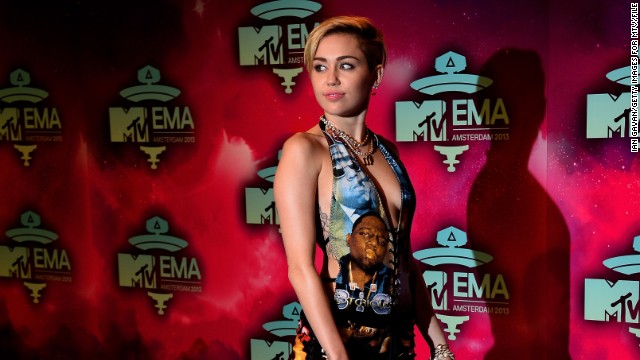 Miley Cyrus became a household name for families when her Disney Channel television show, "Hannah Montana," premiered in 2006. From there, Cyrus quickly rose to pop star fame and has been changing her appearance ever since. As she celebrates her birthday on November 23, we look back at her evolution from child star to adult provocateur:
The future pop star with her father, Billy Ray Cyrus, in October 1994 in Memphis, Tennessee.
The father and daughter team make a New York appearance for the Disney Channel in February 2006.
Cyrus performs during the Radio Disney Totally 10 Birthday Concert in July 2006 in Anaheim, California.
Cyrus chats with VJ Susie Castillo during an appearance on MTV's Total Request Live in February 2007 at MTV Studios in New York City.
Cyrus starred with Emily Osmand in an episode of "Hannah Montana" in June 2007.
Cyrus appears at the 2007 American Music Awards in Los Angeles.
The actress arrives at the Teen Vogue Young Hollywood Party at Vibiana in September 2007 in Los Angeles.
Cyrus arrives at a film premiere in Hollywood in January 2008.
Cyrus performs for ABC's "Good Morning America" at New York's Bryant Park in July 2008.
Cyrus appears at the Nickelodeon Kids' Choice Awards in Westwood, California, in 2009.
Cyrus performs during her "Wonder World" tour at Nassau Veterans Memorial Coliseum in November 2009 in Uniondale, New York.
Cyrus and her mother, Tish Cyrus, at the 52nd Annual Grammy Awards in January 2010 in Los Angeles.
Cyrus impersonates singer Justin Bieber in a Saturday Night Live skit with Vanessa Bayer in March 2011.
Cyrus performs at a music festival in June 2010 in Arganda del Rey, Spain.
Cyrus and Liam Hemsworth arrive at the 2012 People's Choice Awards at the Nokia Theatre L.A. Live in January 2012 in Los Angeles.
The singer arrives at the 2012 Billboard Music Awards in Las Vegas in May 2012.
Cyrus poses on the red carpet for the MTV Video Music Awards in Los Angeles in September 2012.
The grown-up Cyrus performs during the "VH1 Divas" concert in Los Angeles in December 2012.
Cyrus attends the Costume Institute Gala for the "PUNK: Chaos to Couture" exhibition at the Metropolitan Museum of Art on May 6 in New York City.
Cyrus winks during an interview at a radio station in Bad Vilbel near Frankfurt, Germany, on July 22.
Cyrus shows off her moves with Robin Thicke during the 2013 MTV Video Music Awards in Brooklyn, New York, on Sunday, August 25.
Cyrus is seen leaving her London hotel on September 11.
Cyrus performs onstage during the iHeart Radio Music Festival Village on September 21 in Las Vegas.
Taran Killam and Cyrus pose in a promo for her upcoming "Saturday Night Live" episode on October 5.
Bobby Moynihan, left to right, Vanessa Bayer and Cyrus perform a skit on "Saturday Night Live" on October 5, in which they mock Cyrus' VMA performance.
Cyrus smokes a marijuana joint onstage during the MTV Europe Music Awards in Amsterdam, Netherlands, on November 10.
Cyrus performs on the European competition show "The X Factor" in London on November 17.
Evolution of Miley Cyrus
Evolution of Miley Cyrus
Evolution of Miley Cyrus
Evolution of Miley Cyrus
Evolution of Miley Cyrus
Evolution of Miley Cyrus
Evolution of Miley Cyrus
Evolution of Miley Cyrus
Evolution of Miley Cyrus
Evolution of Miley Cyrus
Evolution of Miley Cyrus
Evolution of Miley Cyrus
Evolution of Miley Cyrus
Evolution of Miley Cyrus
Evolution of Miley Cyrus
Evolution of Miley Cyrus
Evolution of Miley Cyrus
Evolution of Miley Cyrus
Evolution of Miley Cyrus
Evolution of Miley Cyrus
Evolution of Miley Cyrus
Evolution of Miley Cyrus
Evolution of Miley Cyrus
Evolution of Miley Cyrus
Evolution of Miley Cyrus
Evolution of Miley Cyrus
Evolution of Miley Cyrus
Evolution of Miley Cyrus
STORY HIGHLIGHTS
Miley Cyrus hosted and performed as a musical guest on "SNL"
The 20-year-old poked fun at the reaction to her VMAs performance
But, she said, she wasn't going to apologize
She appeared in several sketches throughout the night, and sang twice
(CNN) -- By hosting "Saturday Night Live" this weekend, Miley Cyrus might have just had the last laugh.
The 20-year-old pop star has eclipsed nearly every other figure in popular culture in the weeks following her salacious twerking-with-teddy-bears routine with Robin Thicke at the 2013 MTV Video Music Awards on August 25.
There was no way "Saturday Night Live" was not going to address the subsequent tidal wave of reaction, and the sketch comedy series smartly attacked it right at the start of the cold open.
With "SNL" cast member Kenan Thompson playing a wise old-timer in the year 2045, he recounts what led America to an apocalyptic state of destruction.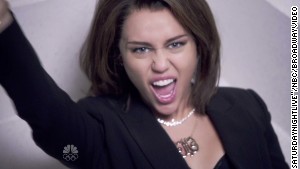 Miley Cyrus pokes fun at shutdown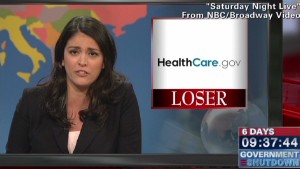 'SNL' riffs on online Obamacare troubles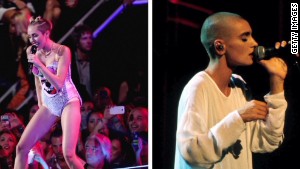 Sinead O'Connor pens letter to Miley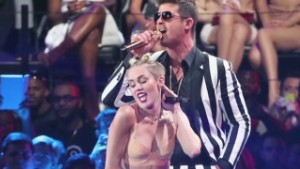 Miley Cyrus: 'Weed is the best drug'
"Most folks say it was the government shutdown. Others blame Obamacare. But I remember the exact day America ended: it was the 2013 Video Music Awards," Thompson said.
Photos: Miley Cyrus wild child
Cyrus was in on the joke from the start, as the camera cut to her being warned not to take the stage by "old Miley," as played by "SNL's" Miley impressionist, Vanessa Bayer. ("I think I'm hallucinating," Cyrus said in a winking joke. "I must've smoked too much ... cigarettes.")
"Old Miley" was there to warn that the VMAs routine "might be too controversial" and hit all the references in the process: Cyrus' revealing costume that could potentially land her in prison; the constant tongue wagging ("I'm having tiny strokes, yo!" Cyrus explained); and the stuffed animals as stage props. (Cried one stuffed bear before going on stage, "We shouldn't be doing this! This is for kids!")
But in the end, Cyrus told her old self that while she knows kids look up to her as a role model, she's still growing up herself.
"I'm only 20 years old, I need some freedom to grow up and make mistakes," she said. "And no matter what happens, I promise I'll always be true to Miley Cyrus."
Just don't expect her to feel the same way about her former Disney character, "Hannah Montana."
As the 20-year-old said in her opening monologue, "I don't apologize for my VMAs performance. If I owe anybody an apology, it's the people who make the bottom half of shirts. There are a few subjects I'm not going to get into tonight: I'm not going to do Hannah Montana, but I can give you an update. She was murdered."
And thus began an extremely Miley-heavy episode of "SNL," as she appeared in most of the night's sketches and gave two pared-down performances of her hits, "We Can't Stop" and "Wrecking Ball." While she's made headlines for both the music videos for those songs and her attire while performing them live, on "SNL" Cyrus turned in two tasteful sets that were focused less on her dance moves and more on her voice.
She also provided impersonations of a few famous faces, including Scarlett Johansson and Hillary Clinton, but the favorite of the night was her take on Michele Bachmann in a parody of her "We Can't Stop" music video, "We Did Stop (The Government)."
With Taran Killam playing Speaker John Boehner in a tight white tank and matching leggings, the parody was easily one of the night's best sketches.
Sample lyrics: "To my government workers on the furlough, even though you're already paid low: Remember only God can judge us, forget the haters, because somebody elected us."
One topic conspicuously missing from the broadcast was any mention of Sinead O'Connor, the singer Cyrus has been publicly battling with over social media.
It all began when O'Connor wrote an open letter to Cyrus last week about her nudity and suggestiveness in the "Wrecking Ball" music video. Cyrus hit back with a tweeted dig at O'Connor's past mental health issues, as well as the infamous moment in 1992 when the "Nothing Compares 2 U" singer ripped up a photo of Pope John Paul II on "SNL."
Yet for all those who waited patiently to see how "SNL" and Cyrus would tackle the back-and-forth -- which on Friday grew to threats of legal action -- they were left disappointed. Sinead O'Connor wasn't mentioned, nor was a photo dramatically torn in her honor.
Overall, the episode was smooth, light on nudity and mainly twerk-free.
"Hey, look at that," tweeted the Huffington Post's Mike Ryan. "Miley Cyrus didn't just play an exaggerated version of herself and she was really good."
For The Hollywood Reporter, Cyrus' episode outshone last week's "SNL" premiere with veteran Tina Fey.
Even Kirstie Alley weighed in with support.
So why didn't Cyrus incorporate the one dance move that's been at the center of the insane amount of debate she's caused?
Well, "I used to think twerking was cool," Cyrus explained during her monologue. "But now that white people are doing it it seems kinda lame."