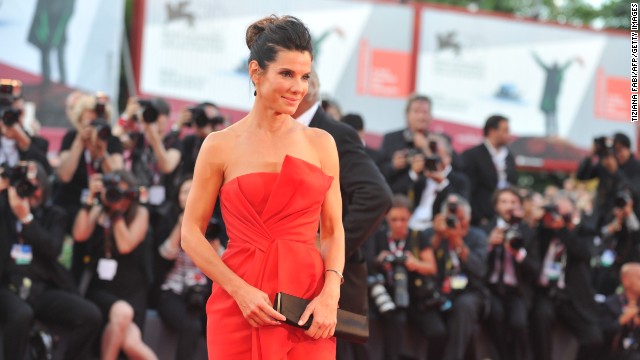 We know you don't need another reason to love Sandra Bullock. The acclaimed actress has earned the title of "America's sweetheart" by being charming and self-deprecating; grounded, but also a talented Hollywood star. As she celebrates her 50th birthday on July 26, here's a look at the life and career of Sandy B.
In 1992, Bullock costarred with Tate Donovan in the comedy "Love Potion #9." The pair dated for a bit after filming ended.
The actress portrays Agnes von Kurowsky in the 1996 drama "In Love and War."
Bullock and John Travolta have some fun in Las Vegas after being named the 1996 National Association of Theatre Owners' female and male stars of the year.
Bullock plays a single mom embarking on a new romance in the 1998 movie, "Hope Floats."
Also in 1998, Bullock and Nicole Kidman star as witches in the film "Practical Magic."
Bullock and Ben Affleck star in "Forces of Nature" in 1999.
A role in "28 Days" in 2000 allows Bullock to further display her acting chops as a woman forced to enter rehab.
Michael Caine walks with Bullock in a scene from the 2000 film "Miss Congeniality."
"Divine Secrets of the Ya-Ya Sisterhood" brought Ellen Burstyn, Maggie Smith, Fionnula Flanagan, Bullock and Shirley Knight together in 2002.
Hugh Grant and the actress have chemistry in 2002's "Two Weeks Notice."
Bullock suffers as Jean Cabot in the critically acclaimed 2004 drama ''Crash."
In 2005, Bullock reprises her role as Gracie Hart in "Miss Congeniality 2: Armed and Fabulous."
Former "Speed" co-stars Keanu Reeves and Bullock reunite in 2006 for the romantic drama "The Lake House."
In 2007, Bullock steps out with her then-husband, Jesse James, at the premiere of "Premonition" in Hollywood, California.
The actress stars as Linda in the psychological thriller "Premonition."
Ryan Reynolds and Bullock shake things up in 2009's "The Proposal."
Mary Horowitz (Bullock) thinks she's in love with cable news cameraman Steve (Bradley Cooper) in the 2009 film "All About Steve." The film went on to be nominated for five Golden Raspberry Awards in 2010, with Bullock winning for "worst actress" -- ironically, the same year she won the best actress Oscar for "The Blind Side."
Lily Collins, Bullock, Tim McGraw, Jae Head and Quinton Aaron say grace in a scene from "The Blind Side."
Bullock accepts the best actress award for "The Blind Side" during the 82nd Annual Academy Awards in March 2010 in Hollywood, California.
Bullock stars as Linda Schell and Thomas Horn as Oskar Schell in the 2011 drama "Extremely Loud & Incredibly Close."
Bullock and her son, Louis, are spotted on the streets of Manhattan in 2011.
Melissa McCarthy and Bullock bring the funny as law enforcement partners in 2013's "The Heat."
Bullock is set adrift in space in the 2013 thriller "Gravity" which earned her several accolades including a best actress Oscar nomination.
Sandra Bullock: America's sweetheart
Sandra Bullock: America's sweetheart
Sandra Bullock: America's sweetheart
Sandra Bullock: America's sweetheart
Sandra Bullock: America's sweetheart
Sandra Bullock: America's sweetheart
Sandra Bullock: America's sweetheart
Sandra Bullock: America's sweetheart
Sandra Bullock: America's sweetheart
Sandra Bullock: America's sweetheart
Sandra Bullock: America's sweetheart
Sandra Bullock: America's sweetheart
Sandra Bullock: America's sweetheart
Sandra Bullock: America's sweetheart
Sandra Bullock: America's sweetheart
Sandra Bullock: America's sweetheart
Sandra Bullock: America's sweetheart
Sandra Bullock: America's sweetheart
Sandra Bullock: America's sweetheart
Sandra Bullock: America's sweetheart
Sandra Bullock: America's sweetheart
Sandra Bullock: America's sweetheart
Sandra Bullock: America's sweetheart
Sandra Bullock: America's sweetheart