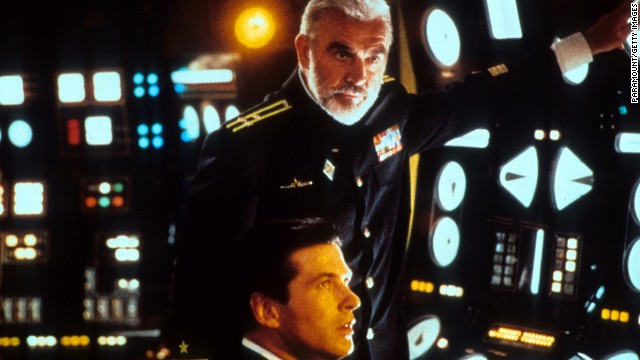 Tom Clancy's reach went well beyond the novels he became famous for as his characters were also a hit on the big and small screens."The Hunt for Red October," which came to theaters in 1990, features Sean Connery as a Russian submarine captain struggling to prevent nuclear war with the help of CIA Analyst Jack Ryan, Clancy's most prolific character, played by Alec Baldwin.
In 1992's "Patriot Games," CIA Analyst Jack Ryan (Harrison Ford) and his family are targeted by the Irish Republican Army.
"Clear and Present Danger," released in 1994, once again features Harrison Ford as Jack Ryan who is this time working to thwart a Colombian drug cartel.
In the 1995's television movie "Op Center," Harry Hamlin, plays Paul Hood, who is on the hunt for stolen nuclear missiles.
Tom Clancy's "NetForce" was a 1999 TV movie set in the then-near future of 2005. In it, the FBI battles a villain set on controlling the Internet.
The 2002 motion picture "The Sum of all Fears" has Ben Affleck in the role of a youthful Jack Ryan and Morgan Freeman as CIA Director Bill Cabot, as Ryan is drawn into a terrorist plot designed to bring Russia and the U.S into conflict.
Clancy's brand extended into gaming with the series of popular "Splinter Cell" games which hit consoles in 2002. Other video games included "Rainbow Six" and "Ghost Recon."
Paramount's upcoming feature film "Jack Ryan" will feature Chris Pine, pictured left, as the title character and Kevin Costner, right. The movie is set to debut in late 2013.
Tom Clancy's enduring impact on pop culture
Tom Clancy's enduring impact on pop culture
Tom Clancy's enduring impact on pop culture
Tom Clancy's enduring impact on pop culture
Tom Clancy's enduring impact on pop culture
Tom Clancy's enduring impact on pop culture
Tom Clancy's enduring impact on pop culture
Tom Clancy's enduring impact on pop culture