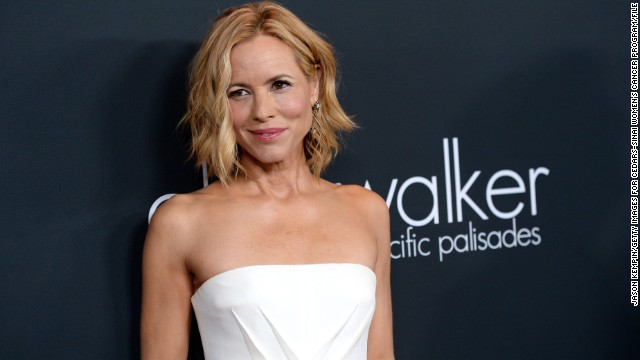 In a column in the
December 1 issue of the New York Times
, Maria Bello describes the process of falling in love with her female best friend, Clare, and how that impacted her relationship with her 12-year-old son. See how these other stars have come out in show business:
used YouTube to announce
that he's in a relationship with another man. "Of course, I still fancy girls," he says in his video. "But, I mean, right now I'm datin' a guy and I couldn't be happier."
British diver Tom Daley
Harper said.
"I knew a very long time ago that I was gay. ... And being gay doesn't mean that you are less than anybody else. It's just who you are."
Bob Harper's confirmation that he's gay came about as a desire to comfort a "Biggest Loser" contestant. On the November 26 episode, personal trainer Harper, 48, talked about his sexuality for the first time on the reality weight loss competition in an effort to show the contestant that he doesn't have to be ashamed. "I'm gay,"
told Out magazine
that he's been in a relationship for nine years. "It feels like a nice time to be celebrating something like that, especially on the heels of the DOMA and Prop 8 decisions," the actor said.
Maulik Pancholy's sexuality wasn't a secret, but he did take the extra step of going on the record about it in November 2013 -- just in case someone out there wasn't clear. The actor, who memorably portrayed the obsessive and loyal assistant Jonathan on "30 Rock,"
Ellen DeGeneres came out shortly after her character Ellen, on an ABC sitcom, came out on-air amid controversy in 1997. "I never wanted to be the lesbian actress," DeGeneres told Time magazine. "I never wanted to be the spokesperson for the gay community. Ever. I did it for my own truth." DeGeneres' current partner, Portia de Rossi, also kept her sexuality a secret for many years.
recently told EW
"I've gone both ways. I do as I please" while discussing how many have assumed she is gay.
"Fast & Furious" star Michelle Rodriguez
recently came out
after he withdrew from the St. Petersburg International Film Festival in protest of Russia's anti-gay policies.
"Prison Break" star Wentworth Miller
Lucas Cruikshank is the star of Nickelodeon's hit series "Fred." He
indicated for the first time
she is a lesbian. She first tweeted the news: "I can finally get married! Yay government! So proud of you." She later released a statement saying, "I was excited to hear today that more states legalized gay marriage. I, however am not currently getting married, but it is great to know I can now, should I wish to."
On August 2, Raven-Symone, who played adorable Olivia on "The Cosby Show,"
`NSync singer Lance Bass appeared on the cover of People in August 2006 with the headline "I'm Gay." "I knew that I was in this popular band and I had four other guys' careers in my hand, and I knew that if I ever acted on it or even said (that I was gay), it would overpower everything," Bass told the magazine in explaining why he didn't come out sooner.
came out publicly
as gay in an e-mail message to the Daily Beast's Andrew Sullivan, which was posted to the site in July 2012.
CNN's Anderson Cooper
In May 2012, a
New York Times
story about "The Normal Heart's" Jim Parsons revealed that the "Big Bang Theory" actor is gay and in a 10-year relationship.
Matt Bomer said
he "especially" wanted to thank "my beautiful family: Simon, Kit, Walker, Henry. Thank you for teaching me what unconditional love is." (People magazine identifies "Simon" as his partner, publicist Simon Halls.) Bomer's reveal wasn't overt, but some have congratulated the actor for acknowledging his sexuality, which has been the subject of gossip in the industry.
While accepting a humanitarian award in February 2012, "White Collar" star
Actor Zachary Quinto said he was inspired to
acknowledge his homosexuality
in October 2011 after a 14-year-old, who was apparently being harassed over his sexuality, killed himself. "In light of Jamey's death, it became clear to me in an instant that living a gay life without publicly acknowledging it is simply not enough to make any significant contribution to the immense work that lies ahead on the road to complete equality."
told People
when she came out in 2010.
"There had never, ever been a country music artist who had acknowledged his or her homosexuality," Chely Wright
Pop singer Ricky Martin declared publicly in March 2010 what he avoided discussing for years. "I am proud to say that I am a fortunate homosexual man," Martin wrote on his official website. "I am very blessed to be who I am."
In April 1998, British pop star George Michael told CNN that he was gay. "This is as good of a time as any," the Wham! singer said. "I want to say that I have no problem with people knowing that I'm in a relationship with a man right now. I have not been in a relationship with a woman for almost 10 years."
After years as a stand-up comedian and actress, Rosie O'Donnell came out two months before her talk show went off-air in 2002. The announcement came during a comedy routine at the Ovarian Cancer Research benefit at Carolines Comedy Club in New York. "I don't know why people make such a big deal about the gay thing," she said during her act. "People are confused, they're shocked, like this is a big revelation to somebody." She became engaged to partner Michelle Rounds in 2011.
David Furnish
in December 2005.
British singer Elton John discussed his bisexuality for the first time in a 1976 Rolling Stones interview. "There's nothing wrong with going to bed with somebody of your own sex," he said. "I think everybody's bisexual to a certain degree. I don't think it's just me. It's not a bad thing to be." John married
Stand-up comedian and actress Wanda Sykes announced her sexual orientation -- and her marriage -- in 2008 at a rally for gay marriage. "You know, I don't really talk about my sexual orientation," Sykes said. "I didn't feel like I had to. I was just living my life, not necessarily in the closet, but I was living my life. ... But I got pissed off. They pissed me off. I said, 'You know what? Now I gotta get in your face.' " Sykes was referring to the passage of Proposition 8, banning gay marriage, in California days after her wedding.
Reports of "Sex and the City" star Cynthia Nixon's relationship with Christine Marinoni surfaced in 2004, six years after the television show's premiere. Nixon discussed her relationship with New York Magazine in 2006, saying, "I never felt like there was an unconscious part of me around that woke up or that came out of the closet; there wasn't a struggle; there wasn't an attempt to suppress. I met this woman, I fell in love with her, and I'm a public figure."
Known best as the TV character he played during childhood, Doogie Howser, Neil Patrick Harris has continued his successful acting career as an adult. Harris often walks the red carpet with partner David Burtka, and stars in the hit sitcom "How I Met Your Mother." He told People magazine in 2006 that he is, in fact, gay. "I am happy to dispel any rumors or misconceptions and am quite proud to say that I am a very content gay man."
"Family Ties" actress Meredith Baxter confirmed in December 2009 rumors that she is a lesbian. "Anyone who's a friend of mine, anyone who knows and cares about me, knows," the actress explained to Matt Lauer on the "Today" show. "It's no secret that I'm gay, but it has been to the greater world." Baxter is in a long-term relationship with a building contractor, Nancy Locke.
married
to writer/producer/director Brian Hargrove. Pierce first talked about his partner in an Associated Press interview about his Tony-nominated performance in "Curtains."
He had an 11-year run on "Frasier," but it wasn't until he returned to Broadway in 2007 that David Hyde Pierce confirmed his sexuality. The actor is
Coming out in Hollywood
Coming out in Hollywood
Coming out in Hollywood
Coming out in Hollywood
Portia de Rossi and Ellen DeGeneres
Coming out in Hollywood
Coming out in Hollywood
Coming out in Hollywood
Coming out in Hollywood
Celebs who have come out: Lance Bass
Anderson Cooper
Jim Parsons
Matt Bomer
Zachary Quinto
Chely Wright
Ricky Martin
George Michael
Rosie O'Donnell
Elton John
Wanda Sykes
Cynthia Nixon
Neil Patrick Harris
Meredith Baxter
David Hyde Pierce
STORY HIGHLIGHTS
Michelle Rodriguez forged a career playing tough-gal characters
She is up next in the film "Machete Kills"
When it comes to the question of whether she is gay she says "I do as I please"
(EW.com ) -- Michelle Rodriguez has been outside the hotel for only 90 seconds when she gets stopped on the street. "Uh, excuse me? Hi, I swear I'm not a crazy stalker," says a tall and impressively muscled black man on the crowded New York City sidewalk. "But I am your biggest fan." He holds up his phone for a picture. Rodriguez lifts her chin up. "Oh, hell yeah," she says, smiling. "C'mon, let's do it." She squeezes one of his massive biceps: "Yo, man, where'd you get these?" The fan's giddy grin stretches even wider, and his very patient girlfriend takes the picture.
In person Rodriguez is smaller than you'd think — barely 5'5″ in the flat-heeled black boots she's wearing on this sunny Saturday afternoon. You'd assume she'd loom larger. After all, she's forged a career playing tough-gal characters, from her astonishing 2000 debut as a boxer in the Sundance darling Girlfight to her roles in Lost, Avatar, the Fast & Furious franchise, and the upcoming Machete Kills (rated R, out Oct. 11).
She is arguably the most iconic actress in the action genre, as well as one of the most visible Latinas in Hollywood. She has also amassed some jaw-dropping box office: The cumulative global gross of her films is $5.2 billion. That Rodriguez, 35, is a delicate-boned beauty doesn't mean she's any less of a badass, of course. In her downtime she likes to race cars, fire guns, and jump out of planes. Even her lunch order is kinda out-there: salad, bone marrow, and chocolate cake.
But she's also unexpectedly sweet and warm. Her mind moves quickly, pinging brightly among topics: neurolinguistics, Hinduism, diversifying her financial portfolio (she recently invested in Twitter), and why she was disappointed by Million Dollar Baby ("I was excited to see it. I was like, 'Great, now we have a commercial version of Girlfight.' And I watch the movie and I'm like, 'F— you, f— you. Why does she have to die?!'") as well as by The Girl With the Dragon Tattoo ("Why does she have to get raped — raped! — before taking vengeance? Why do the stakes have to be so much higher for a woman than a man? You wouldn't do that to Pacino").
EW: Michelle Rodriguez is back (with her eye patch!) in 'Machete Kills' preview
Rodriguez, needless to say, speaks her mind. She doesn't shy away from addressing her fraught early days in Hollywood ("I was loud, obnoxious, crazy") or even her sexuality. "I don't talk about what I do with my vagina, and they're all intrigued," she says of the media. "I've never walked the carpet with anyone, so they wonder: What does she do with her vagina? Plus, I play a butchy girl all the time, so they assume I'm a lesbo." When EW points out that that's not a fair assumption, Rodriguez laughs. "Eh, they're not too far off," she says. "I've gone both ways. I do as I please. I am too f—ing curious to sit here and not try when I can. Men are intriguing. So are chicks." She shrugs.
"She doesn't hold back," says James Cameron, who directed Rodriguez in Avatar. "There's no filter. She's a lot of fun to hang out with because you always know what she's thinking."
She was born in Texas to a Dominican mother and a Puerto Rican father. When she was small, the family moved to the Dominican Republic, where Rodriguez spoke Spanish for three years. Then her mother — whom she calls the strongest woman she's ever known — had a nervous breakdown and the family moved to Jersey City, where the actress was raised largely by her grandmother. Her new melting-pot neighborhood had an impact. "That's where I learned to curse," Rodriguez jokes. She was brought up as a Jehovah's Witness, and sharpened her wit on the street: "That's what I used to survive, because they were like, 'All right, she's a funny bitch — let's protect her.' And then I'd protect all the weaker kids who helped me with my homework."
She liked to make up stories for her stepsister and dreamed about being a writer, but she dropped out of high school before graduating. "F—ing public schools suck a--, dude," she says. "But it's all good. It taught me how to socialize." One of her older brothers, however, started to stress about the company she was keeping. "He told me to get a life and get a job," she says. "He was worried I'd end up like some of my girlfriends who were pregnant at 17. I kept telling him, 'That won't happen to me — I dress like a boy on purpose!'" She enrolled in a technical school in New Jersey but lasted only a month. "It was awful. I remember standing in Port Authority and watching all these people going back and forth in their suits, with their sun deprivation and their narrow eyes, looking angry at life. I was like, 'That's going to be me' — so I quit."
Her other brother suggested she look for work as an extra. For the next two years, Rodriguez appeared as a background player in Cradle Will Rock, For the Love of the Game, and Summer of Sam. Just before her Girlfight audition, she had what she thinks of as a wake-up call about her life in New Jersey: After a night of partying, it seems, her best friend wound up in jail. "I said to myself, 'I don't want to be a lowlife,'" she says. "I was always that kid who'd look up at the stars and think, 'I don't belong here. Where do I belong?'" Then she hopped a train to New York City for the audition that would change the course of her life. "I walked into the room and told them the truth," says Rodriguez. "'Never graduated high school, never been to school for acting — but I can beat girls up and you want a boxer.'"
"Michelle radiated a huge amount of charisma and power," says Girlfight director Karyn Kusama. "She was quite a wild child, but there was this core strength in her. She really wanted to prove she could do it. That was very much the character, so it was a perfect meta-meeting of actor and character."
EW: CinemaCon: 'Fast & Furious 7' set for 2014 release
The movie was a hit at film festivals and a prime platform for a fledgling actress. But Rodriguez wasn't interested in playing "the girlfriend" — or even in appearing in movies in which women weren't portrayed with respect. "Female empowerment became my torch to bear," she says. "I won't ever bend on what I believe in. I don't care who you are — you can be the best director on the planet. If you don't get what I do, what I'm good at, I will not bend for you." She tosses her hair back, taps her fingers along the table. "People don't understand how important symbolism is. Seeing an image up on that screen can make a difference to somebody. It can make a difference."
Rodriguez didn't like the way she saw young actresses treated, even at parties. When she was 22, she was at a wrap party in Europe when a producer pinned her against a wall and grabbed her between the legs. "Well, get this," Rodriguez says. "This girl from Jersey City has a knife in her boot. I pulled it out and said, 'I'll cut your d— off.'" She sighs. "You know what he did? He laughed at me." But he never bothered her again.
Rodriguez has always thought of herself as a lone wolf. "I can count on one hand the only real friends I have in Hollywood," she says. Namely? The actors Olivier Martinez and Vin Diesel and Universal co-chair Donna Langley: "She's always been really nice to me, even in my knucklehead stupid years."
Ah, the knucklehead years. Between 2002 and 2007, Rodriguez kept getting into trouble. She was arrested for assault after a fight with her roommate (charges were later dropped). She was arrested a couple of times for drunk driving, and later for violating her probation. She credits James Cameron casting her in Avatar for helping her reset her course. "It was really cool of Jim to grab my hand when nobody believed in me," she says. "They thought I was going to be this loser, this party animal, and he just grabbed my hand and pulled me in."
Cameron says he wasn't worried about her reputation: "I don't care about any of that stuff as long as it doesn't come to my set. I wrote this character [in Avatar] with her in mind, and I was really over the moon when she jumped on board. And I don't know anybody who came out of the shoot without an abiding affection for who she is as a person. The character of Trudy has this amazing integrity, and that's who Michelle is. I mean, I'm kind of kicking myself today that I killed her off."
Machete Kills director Robert Rodriguez had the foresight to bring her back for his sequel — and was actually pleased to see she'd tinkered with his script. "She just comes in and says, 'Here, I want to say this.' Then I read it, and I'm like, 'Yes, please.' She's just a blast. Everyone wants to edit on her scenes because there are so many great takes and great lines."
The actress says she gets grief for not making more movies with Latin filmmakers like Robert Rodriguez: "Most Latin directors don't understand female empowerment at all. Culturally they're in the archaic caveman days." That said, she'd love to create a Latina superhero. "She should be, like, a South American Amazon princess," she says. "I just need to figure out what her superpower is."
Writing — telling stories like she did as a girl — is still Rodriguez's ultimate goal. After she shoots Fast & Furious 7, she has a few writing projects: one a kids' movie and the other about a secret society of women. Personally speaking, she's felt a shift over the past couple of years, a kind of calming down that she attributes, in part, to therapy: "I always felt like a loner, and now, you know what? F— that! I want to know who's out there. I want to hang out with the kids and see what they are thinking about. I'm open." She grins. "I want to mingle."
(Additional reporting by Lindsey Bahr and Josh Rottenberg)
See the original story at EW.com.
CLICK HERE to Try 2 RISK FREE issues of Entertainment Weekly
© 2011 Entertainment Weekly and Time Inc. All rights reserved.