Popes John XXIII and John Paul II to be declared saints in April
updated 6:02 AM EDT, Mon September 30, 2013
STORY HIGHLIGHTS
To become a saint, a person needs to lead a holy life and perform two miracles
John Paul II is said to have cured a French nun and a Costa Rican woman
Pope John XXIII is only recorded as having performed one miracle after his death
But Pope Francis has decided that there are sufficient grounds to canonize him
(CNN) -- Popes John XXIII and John Paul II will be declared saints in April, the Vatican said Monday.
The announcement came after Pope Francis met with cardinals to discuss the planned canonizations of two of his predecessors. The ceremony will take place on April 27.
It will be the first time two popes will be canonized at the same time.
Why does a pope become a saint?
To be named a saint involves a series of steps, but the qualifications are straightforward, according to the veteran Vatican analyst John Allen.
"You put a holy life and two miracles together, according to the Catholic system, you've got a saint," he said.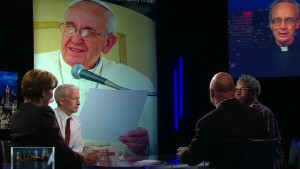 Interpreting the Pope's recent comments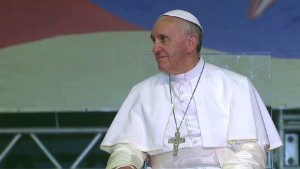 Pope breaks with tradition, shocks world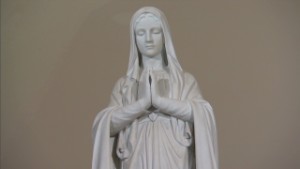 Gay Catholic: Pope Francis gives me hope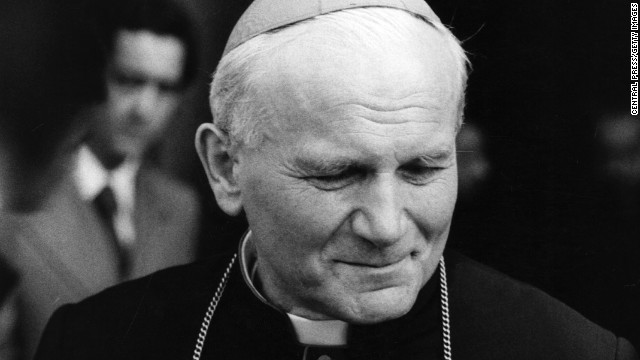 The Roman Catholic Church will declare Pope John Paul II a saint, the Vatican announced Friday, July 5. The Polish-born pope, pictured in 1978, was fast-tracked to beatification after his death in 2005 and was declared "blessed" barely six years later -- the fastest beatification in centuries. Here's a look at the most widely traveled pope and his journeys around the world:
Pope John Paul II blesses the crowd in St. Peter's Square in Vatican City on Easter Sunday in April 1980.
Aides help Pope John Paul II moments after a May 13, 1981, assassination attempt by Turkish gunman Mehmet Ali Agca in St Peter's Square.
Pope John Paul II in Segovia, Spain, in November 1982.
Pope John Paul II and Mother Teresa wave to well-wishers in Kolkata, India, in February 1986.
Pope John Paul II kisses the ground upon arriving in Auckland, New Zealand, in November 1986.
Bill and Hillary Clinton greet Pope John Paul II as he arrives in Newark, New Jersey, on a U.S. trip in October 1995.
Pope John Paul II visits then-South African President Nelson Mandela at the presidential guesthouse in Pretoria, South Africa, in September 1995.
Hundreds of thousands of pilgrims attend an open-air Mass celebrated by Pope John Paul II in Beirut, Lebanon, in May 1997. The pontiff drew vast crowds as he crisscrossed the globe.
Cuban leader Fidel Castro greets the pope in Cuba in January 1998. John Paul II was the first pontiff to visit the Caribbean island nation.
Pope John Paul II at the Mass of beatification of Anton Martin Slomsek in Maribor, Slovenia, in September 1999.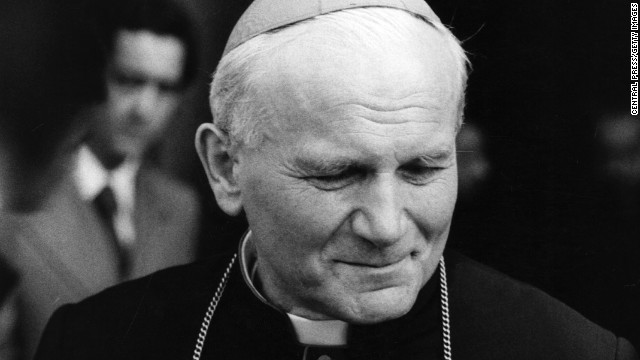 Photos: Pope John Paul II
The calls to canonize John Paul II began even before he had been buried. People attending his funeral in 2005 held banners saying "Santo Subito," short for "make him a saint now."
Their call was heard.
Bypassing the normal five-year waiting period, Pope Benedict XVI set in motion the process to canonize his predecessor.
John Paul is said to have miraculously cured Sister Marie Simon-Pierre, a French nun stricken by Parkinson's disease, several months after his death.
Read more: Pope names first Native American saint
The church says the second miracle occurred when a Costa Rican woman with a brain aneurism recovered after praying to John Paul.
John XXIII, revered for his role in the Second Vatican Council, is only recorded as having performed one miracle after his death in 1963.
"Pope Francis has decided that there already was a decree of heroic virtue saying that the man had lived a holy life," Allen says. "There already was one miracle certified for his beatification in 2000, so Pope Francis has decided he doesn't have to pass go, doesn't have to collect $200, he can go directly to sainthood."
In fact, canonization by the Catholic Church simply formalizes on earth what is already in place in heaven, Allen points out.
"It's not like Karol Wojtyla, John Paul II, will suddenly become a saint when the canonization ceremony occurs," he says. "The belief would be he is already in heaven with God, living the life of a saint. All that's going to happen when the ceremony occurs is that the church will officially recognize that."
CNN's Hada Messia contributed to this report.