STORY HIGHLIGHTS
NEW: Obama and Netanyahu meet at the White House
NEW: Diplomatic overtures between the U.S. and Iran are a key topic
NEW: Both leaders say Iran's words must be backed up by actions
The relationship between Obama and Netanyahu has been strained
Washington (CNN) -- President Barack Obama once again finds himself in the middle of a high-stakes, tension-fraught meeting with a key leader from the Middle East.
Must be Monday.
Just days after a historic phone call with Iranian President Hassan Rouhani, the U.S. president met with his Israeli counterpart, Benjamin Netanyahu, at the White House late Monday morning.
The relationship between Obama and Netanyahu has been one of the more strained in the history of the two nations. Obama has come under criticism from some Israelis for what they perceive as a lack of enthusiasm toward pro-Israeli policies and interests.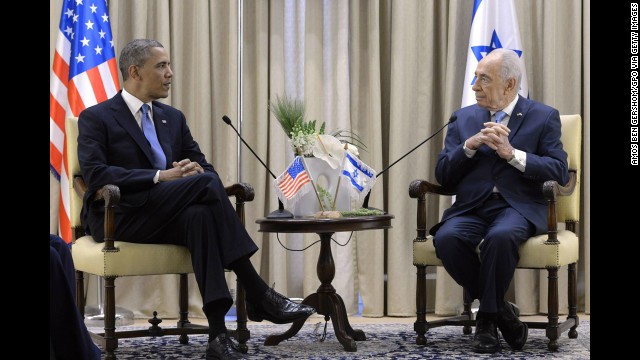 Israeli President Shimon Peres welcomes President Barack Obama to his residence on Wednesday, March 20, in Jerusalem. Obama is making his first trip to Israel as president. It's part of his sweep across the Middle East, which also will include visits to the West Bank and Jordan.
Obama and Peres listen to children sing before meeting on March 20.
Obama and Peres head into the Israeli president's house in Jerusalem on March 20.
Israeli Prime Minister Benjamin Netanyahu greets Obama at Israel's Ben Gurion Airport on March 20.
A boy waves a Palestinian flag at a camp Palestinians set up to demonstrate against Obama's visit on March 20. Activists erected the tent city outside Jerusalem in the West Bank to protest the Obama trip and continued Israeli construction of settlements in what they consider an occupied territory.
Palestinians in Gaza City hold up placards demonstrating against Obama's visit on March 20.
Obama arrives at Ben Gurion Airport near Tel Aviv, Israel, on March 20.
Obama greets Israeli officials during the welcome ceremony at the airport on March 20. Israeli President Shimon Peres, second from right, and Prime Minister Benjamin Netanyahu, right, are by Obama's side.
Obama shares a laugh with Israeli President Shimon Peres during the official welcoming ceremony at Ben Gurion Airport on March 20.
Obama accompanies Israeli President Benjamin Nethanyahu at Ben Gurion Airport on March 20 in a handout image from the Government Press Office of Israel.
Air Force One waits at Ben Gurion Airport on March 20 after Obama's arrival.
The official limousine awaiting Obama's arrival in Israel is towed after malfunctioning in Jerusalem on March 20. The limo failed to start after its driver refueled it using gasoline rather than diesel fuel, an official said.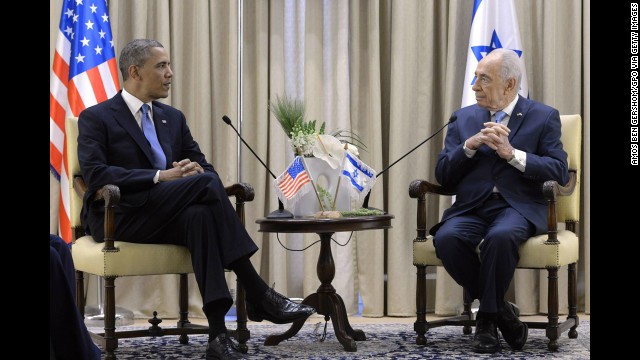 Photos: Obama visits Israel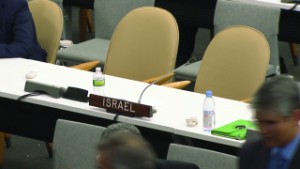 Two-state solution talks stall, again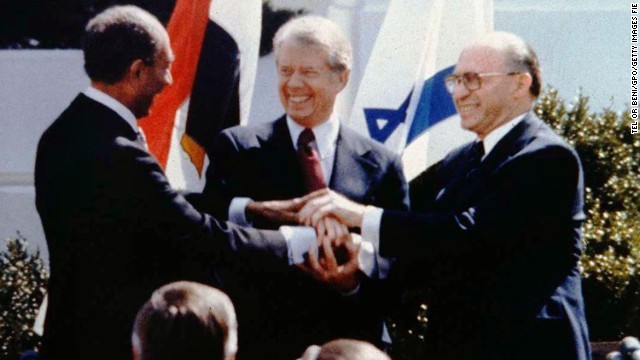 Every president in the past 50 years has tried to broker peace in the Middle East, including when President Jimmy Carter ushered the historic Israeli-Egyptian peace treaty between Egyptian President Anwar Sadat and Israeli Prime Minister Menachem Begin on March 26, 1979. Here's a look at other recent attempts for peace:
President Barack Obama walks with Prime Minister Benjamin Netanyahu of Israel, left, and President Mahmoud Abbas of the Palestinian Authority, at the White House on September 1, 2010.
Then-President George W. Bush walks with then-Israeli Prime Minister Ehud Olmert, left, and Palestinian President Abbas on November 27, 2007, during the Annapolis Conference at the U.S. Naval Academy in Maryland. The peace conference was attended by 16 Arab countries, including Saudi Arabia and Syria, Israel and the Palestinians. A joint statement was the only thing agreed upon under heavy American pressure and by avoiding specific reference to any of the core issues.
Then-Israeli Prime Minister Ehud Barak, left, with the then-President Bill Clinton and Palestinian leader Yasser Arafat pose for a photograph on July 21, 2000, at Camp David, in Maryland. The Camp David Summit was an effort to resolve the issues of the 52-year-old Israeli-Palestinian conflict including the status of Jerusalem, the borders and nature of a Palestinian state, and the future of Jewish settlers and Palestinian refugees. The Summit ended without an agreement.
President Clinton stands between then-Israeli Prime Minister Yitzahk Rabin, left, and Yasser Arafat at the White House on September 13, 1993. Rabin and Arafat shook hands for the first time after Israel and the Palestine Liberation Organization signed a historic agreement on Palestinian autonomy in the occupied territories. The peace process faltered after Rabin was assassinated by a Jewish extremist on November 4, 1995.
Then-Egyptian President Anwar Sadat, left, shakes hands with then-Israeli Prime Minister Menachem Begin, in the garden of Camp David on September 6, 1978. With the help of then-President Jimmy Carter, the Camp David Accords became the groundbreaking first-ever peace treaty between Israel and Egypt.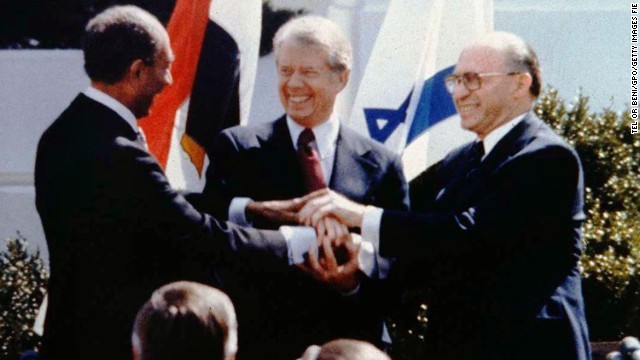 Defining moments in Middle East peace talks
In March, Obama made his first visit to Israel as president, a charm offensive to reassure Israelis that the United States is committed to its security.
On Monday, Obama said he has a "good working relationship" with Netanyahu, and he didn't mince words when talking about U.S. support of Israel.
"Our unshakeable bond with the Israel people is stronger than ever," he said. "Our commitment to Israel's security is stronger than ever."
But beyond the handshakes and smiles the two leaders shared while talking to reporters about their meeting, this week will be a test of how they can work together.
Poll: Most in U.S. favor negotiations with Iran over nukes
Both leaders said the new diplomatic overtures between the United States and Iran were a key topic for them on Monday.
As he boarded his flight to the United States for his meeting with Obama and his appearance at the U.N. General Assembly, Netanyahu threw cold water on the developments.
"I will tell the truth in the face of the sweet talk and the onslaught of smiles," he said. "One must talk facts, and one must tell the truth."
After his meeting with Obama, Netanyahu seemed to strike a more accepting tone while stressing that preventing Iran from developing nuclear weapons is "the most important challenge" that both nations face.
"I appreciate deeply the fact that you have made clear that you remain committed to this goal. I also appreciate the statement you made that Iran's conciliatory words have to be met by real actions -- transparent, verifiable, meaningful actions," he said. "Iran is committed to Israel's destruction, so for Israel, the ultimate test of a future agreement with Iran is whether or not Iran dismantles its military nuclear program. ... That's the bottom line."
Netanyahu said sanctions against Iran should continue and even strengthen if Iran continues to advance its nuclear program during negotiations.
"If diplomacy is to work, those pressures should be kept in place. And I think they should not be lessened until there's verifiable success," he said.
Obama said that if Iran wants sanctions relief, it will have to meet "the highest standards of verifications."
"It is absolutely clear that words are not sufficient," Obama said. "We have to have actions that give the international community confidence that, in fact, they are meeting their international obligations fully and that they are not in a position to have a nuclear weapon."
In the latest indication of Tehran's new approach to relations with Washington, Iran's Fars News Agency reported that Rouhani wants to establish direct flights between Iran and the United States.
The news agency cited the head of the High Council of Iranian Affairs Abroad, Akbar Torkan, as saying that Rouhani had instructed him to look into how to establish direct flights between the two countries.
Over the weekend, Israel said it arrested an Iranian-born man and accused him of spying for Tehran.
According to the Israeli government, the alleged spy was carrying photos of various sites, including the U.S. Embassy in Tel Aviv.
Obama focuses foreign policy on Iran and Middle East peace talks
CNN's Leslie Bentz reported from Washington. CNN's Catherine E. Shoichet reported from Atlanta. CNN's Sara Mazloumsaki contributed to this report.