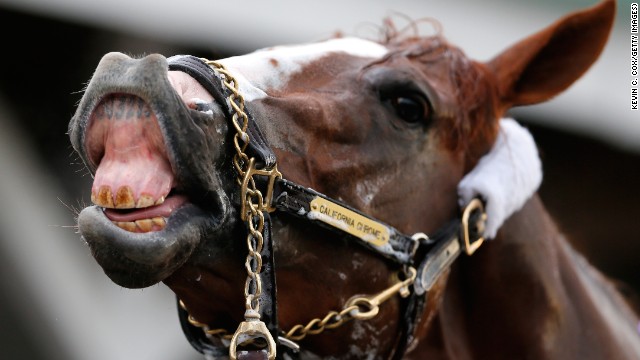 Introducing racing's "rock star."
California Chrome has arrived at Louisville for the Kentucky Derby build-up and remains the favorite to win the famous trophy.
A crowd of 150,000 is expected to flock to Churchill Downs to see the field leave the stalls for the 140th Kentucky Derby.
Last year's winner of a race billed as "the fastest two minutes in sport" was Orb, ridden through the mud to victory by jockey Joel Rosario.
This year's favorite when they enter the first turn is California Chrome, a horse that cost its owners a mere $10,000 to breed.
California Chrome, pictured with mother Love the Chase as a foal, was a huge bargain -- the mare costing $8,000 and breeding with sire Lucky Pulpit for just $2,000.
The colt has become a surprise hit in thoroughbred racing, upstaging far more costly rivals in something of a fairy tale.
All eyes in the U.S. will be on Kentucky from dusk until dawn as the world's best horses battle it out for the $2 million purse.
Star jockey Gary Stevens returned to the sport before last year's Kentucky Derby and is targeting a fourth win in the prestigious race on Candy Boy.
The stands will once again be full to the brim for the key occasion of American thoroughbred racing.
Flamboyant hats are never far away on major race days.
Spectators come in all shapes and sizes each, including a quartet of AXE astronauts in attendance at the event a year ago.
Colorful head pieces are always a feature on race day and, in the case of this punter, hopefully lucky horseshoe sunglasses.
Last year the rain came down but those gathered for the event remained undeterred by the mud underfoot. Who will the sun shine down on in 2014?
'The fastest two minutes in sport'
'The fastest two minutes in sport'
'The fastest two minutes in sport'
'The fastest two minutes in sport'
'The fastest two minutes in sport'
'The fastest two minutes in sport'
'The fastest two minutes in sport'
'The fastest two minutes in sport'
'The fastest two minutes in sport'
'The fastest two minutes in sport'
'The fastest two minutes in sport'
'The fastest two minutes in sport'
'The fastest two minutes in sport'
'The fastest two minutes in sport'