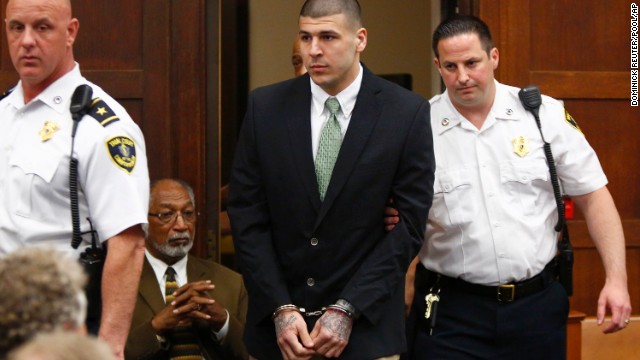 Former New England Patriots tight end Aaron Hernandez is led into the courtroom to be arraigned on homicide charges on Wednesday, May 28, in Boston. Hernandez pleaded not guilty in the 2012 killings of Daniel de Abreu and Safiro Furtado. He has also been charged in the 2013 death of semipro football player Odin Lloyd.
At a press conference on May 15, Suffolk County District Attorney Dan Conley announces that Hernandez has been indicted for the July 2012 killings of de Abreu and Furtado and charged with three counts of armed assault with attempt to murder. Prosecutors allege Hernandez killed de Abreu and Furtado after de Abreu bumped into Hernandez at a nightclub, causing him to spill his drink.
Hernandez is brought into the Attleboro, Massachusetts, District Court for his arraignment on June 26, 2013. He was charged with first-degree murder in Lloyd's death. Hernandez was release by the Patriots less than two hours after his arrest.
Hernandez answers questions during Media Day on January 31, 2012, before Super Bowl XLVI against the New York Giants in Indianapolis.
Hernandez carries the ball as the Patriots play the Cincinnati Bengals in Foxborough, Massachusetts, on September 10, 2010.
Hernandez looks up after being tackled during a game against the Philadelphia Eagles on November 27, 2011, in Philadelphia.
Tattoos on Hernandez's arm are visible during the pregame warmup on December 4, 2011.
Hernandez scores a touchdown against the Buffalo Bills on January 1, 2012, in Foxborough, Massachusetts.
Hernandez catches a pass against Chase Blackburn and Aaron Ross of the New York Giants during Super Bowl XLVI on February 5, 2012, in Indianapolis.
Hernandez runs for a 12-yard touchdown past Deon Grant of the New York Giants in the third quarter of Super Bowl XLVI on February 5, 2012, in Indianapolis.
Hernandez celebrates his touchdown in the third quarter of Super Bowl XLVI.
Hernandez, center, reacts during the SEC Championship game between the Florida Gators and the Alabama Crimson Tide on December 6, 2008. The Gators went on to win the national title.
Rise and fall of Aaron Hernandez
Rise and fall of Aaron Hernandez
Rise and fall of Aaron Hernandez
Rise and fall of Aaron Hernandez
Rise and fall of Aaron Hernandez
Rise and fall of Aaron Hernandez
Rise and fall of Aaron Hernandez
Rise and fall of Aaron Hernandez
Rise and fall of Aaron Hernandez
Rise and fall of Aaron Hernandez
Rise and fall of Aaron Hernandez
Rise and fall of Aaron Hernandez
STORY HIGHLIGHTS
Three people are indicted in a June slaying in Massachusetts
They include the fiancee of a fallen NFL star
Aaron Hernandez is charged in the death of Odin Lloyd, who was shot in June
(CNN) -- Former NFL star Aaron Hernandez's fiancee, cousin and an associate have been indicted in connection with the investigation into the June 17 killing of semipro football player Odin Lloyd, Massachusetts.
Carlos Ortiz, 27, of Bristol, Connecticut, was indicted on a single count of accessory to murder after the fact in connection with Lloyd's death, Bristol County District Attorney Sam Sutter said in a written statement Friday. Ortiz will be arraigned October 18 in Fall River Superior Court.
Hernandez has pleaded not guilty to first-degree murder in Lloyd's death.
The former New England Patriots tight end's fiancee, Shayanna Jenkins, 24, is accused of a single count of perjury. She was indicted last week and will be arraigned October 15.
His cousin, Tanya Singleton, 37, also of Bristol, was indicted on a charge of "conspiracy to commit accessory after the fact." She pleaded guilty Monday and is being held without bail, according to a court statement.
Singleton, who was already being held on a previous indictment for contempt of court by allegedly refusing to testify before a grand jury, saw both of the cases against her combined, and is scheduled to appear October 24 for a pretrial hearing.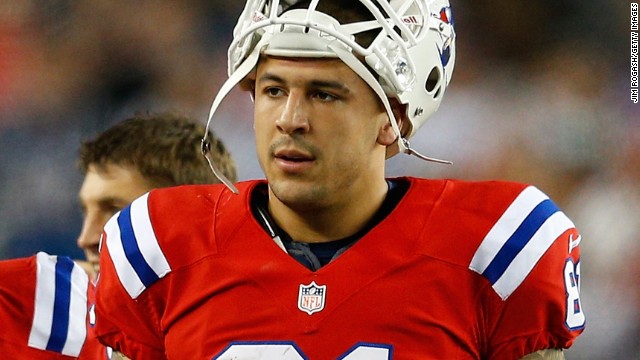 A Bristol County, Massachusetts, grand jury indicted former NFL player Aaron Hernandez on a first-degree murder charge, as well as five weapons charges, on August 22. The former New England Patriots' tight end was arrested in the shooting death of his friend Odin Lloyd in June. Hernandez has pleaded not guilty. Here's a look at other professional athletes who have been charged with murder. Some have been able to create new lives in the free world. Others are incarcerated.
South African sprinter Oscar Pistorius, seen here in August, is accused of murdering his girlfriend, model Reeva Steenkamp, on February 14, 2013. Pistorius became the first amputee to compete in the able-bodied Olympics when he ran for South Africa in London 2012.
Rae Carruth, who was a wide receiver for the Carolina Panthers, became the first active NFL player ever charged with first-degree murder. His pregnant girlfriend, Cherica Adams, was killed in December 1999, and prosecutors said he arranged for her to be killed in a drive-by shooting. Carruth was eventually convicted of conspiring in her murder and is now in prison. The unborn child, a boy, survived.
Middleweight boxer Rubin Carter, known as "Hurricane" in the ring, served 18 years in prison for a triple homicide that took place in a bar in 1966. A federal judge overturned his sentence and that of his supposed accomplice, John Artis, in 1985, ruling that the conviction was based on "racial stereotypes, fears and prejudices."
Groundbreaking skateboarder Mark "Gator" Rogowski confessed to beating and raping Jessica Bergsten, then choking her to death and burying her in the desert in 1991. Bergsten was a friend of Rogowski's former girlfriend, and Rogowski testified that he acted out of misplaced anger against his ex. Rogowski was denied parole in 2011 and will not be eligible for parole again until 2018.
Baltimore Ravens linebacker Ray Lewis and two others were charged with murder in 2000 after a fight in a popular Atlanta bar district left two men dead on the street. The murder charges against Lewis were dropped after he pleaded guilty to a misdemeanor charge of obstruction of justice and testified against his friends; they were later acquitted. Lewis announced his retirement before helping the Ravens win the Super Bowl in 2013.
Bruno Fernandes das Dores de Souza, a former goalie for the Brazilian soccer club Flamengo, was convicted in the murder of his ex-girlfriend, a court said in March 2013. He was sentenced to 22 years and three months for the murder of Eliza Samudio, who had disappeared in 2010. Souza, his lover and his ex-wife were among nine people charged with torturing and murdering Samudio, who had been trying to prove Souza had fathered her son.
Although O.J. Simpson was found not guilty, the former football star's 1995 murder trial has kept him a household name. Simpson was acquitted in the death of his wife, Nicole Brown Simpson, and Ron Goldman. In October 2008, Simpson was sentenced to 33 years in prison on multiple counts, including armed robbery and kidnapping, in connection with a robbery at a Las Vegas hotel in 2007.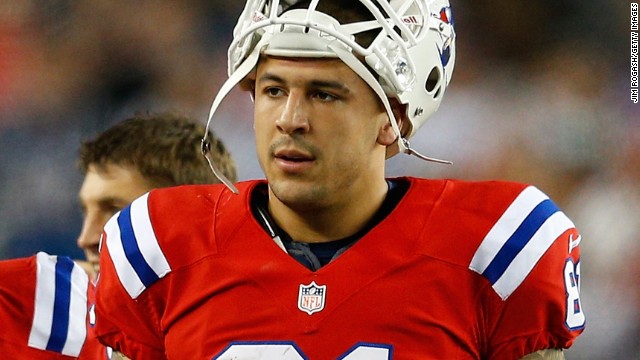 Photos: Athletes charged with murder
In search warrant affidavits obtained by CNN in August, authorities alleged that Jenkins and Singleton "have all made overt attempts to hide evidence, render assistance for suspect to elude law enforcement, and to hinder and mislead this investigation."
News of the indictments came after a bail reduction hearing Thursday for another co-defendant, Ernest Wallace, in Fall River, Massachusetts, revealed new details in the murder case against Hernandez.
Bristol County prosecutors, according to spokesman Gregg Miliote, told a judge that Hernandez was the only one who got out of a car with Lloyd in a deserted industrial park before Lloyd was allegedly shot multiple times, execution-style, by Hernandez. Lloyd's body was found about a mile from Hernandez's home in North Attleboro.
That's different from an earlier scenario laid out by investigators.
At first, Ortiz allegedly told investigators that Wallace and Hernandez got out of the car with Lloyd before shots were fired.
Since then, prosecutors say, Ortiz changed his story.
"Initially, Mr. Ortiz's statement was Mr. Wallace got out of the car and now his statement is that Mr. Wallace stayed in the car," Sutter said outside of court Thursday.
Asked by a reporter whether he was concerned about the fact that Ortiz had changed his story, he replied: "Not at all."
Ortiz's lawyer, John Connors, declined comment on why Ortiz may have changed his account.
"Almost every case I've ever been involved in, the story changes during interrogation," Connors said. "When a professional interrogation takes place, at the end of it sometimes you have trouble remembering your own name."
Connors stopped short of using the word credible to describe his client.
"He's a young guy who got caught up in a situation, and when all this came about, he was frightened and confused, as you can imagine anyone would be," he said. "I believe he's an honest guy."
"My client will enter a not guilty plea" at an upcoming arraignment, Connors told CNN on Friday. The attorney said he will ask for a low bail because Ortiz has "limited means" to post it.
Sources tell CNN that Ortiz is cooperating with authorities.
Man suing Hernandez says there's no reason to delay the suit
At the Thursday hearing, a judge refused to reduce Wallace's $500,000 bail, despite attorney David Meier's insistence that his client has "every intention" and "every incentive to appear at every court hearing."
In court, the district attorney's office also disclosed that Hernandez allegedly made several phone calls to Wallace after Lloyd's body was discovered.
"Mr. Hernandez ... immediately makes cell phone telephone calls to Mr. Wallace upon police arriving at his house," Assistant District Attorney Patrick Bomberg told the judge.
Hernandez was not arrested until 10 days after the slaying.
Wallace turned himself in to police in Miramar, Florida, at his family's home more than a week later after taking a bus to Florida from Georgia. Wallace also has pleaded not guilty to being an accessory after the fact to murder.
During Thursday's bail hearing, prosecutors told a judge that Singleton drove Wallace to Georgia and, when her car broke down, bought him a bus ticket to go the rest of the way.
Aaron Hernandez pal pleads not guilty to accessory charge in Odin Lloyd killing
CNNs Lawrence Crook III contributed to this report.