Fodor's 100 Hotel Award winners
updated 9:02 AM EDT, Fri September 27, 2013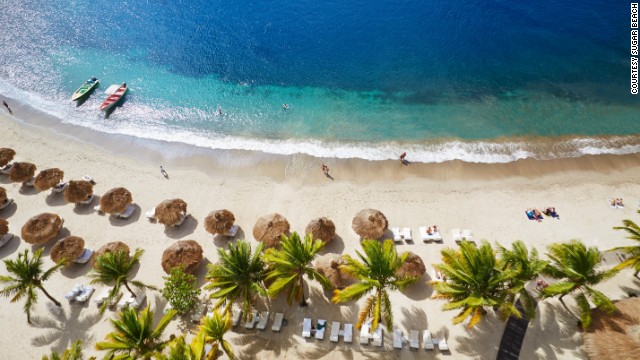 These eight hotels represent a handful of the Fodor's 100 Hotel Award winners. Sugar Beach in St. Lucia is one of the list's "blissful beach retreats" for 2013. "It's on one of St. Lucia's best beaches, has amazing views and a bit of history with 18th-century sugar plantation remains," says Fodor's executive editorial director Arabella Bowen.
The Wythe Hotel in Brooklyn is one of Fodor's "creative conversions" award winners. The former barrel factory in Brooklyn was converted into a hotel that opened last year. It's become "a destination its own right," last year, says Bowen. (If you need to see Manhattan, there are great views from the hotel bar.)
Hotel Metropole in Monaco is a Fodor's "culinary gem." That's probably because the hotel's main restaurant, Joël Robuchon, was created by the celebrity chef and is led by head chef Christophe Cussac. It doesn't hurt that Karl Lagerfeld was commissioned to design the hotel pool, gardens and other areas, the results of which were unveiled in July.
Ritz Carlton Montreal was named a Fodor's "enduring classic" hotel. "It's really the grand dame of Montreal, and it recently went through major renovations but kept its historic touches," says Bowen. "There's still the outdoor garden where you can have tea, and they added a Daniel Boulud restaurant."
Palais Namaskar in Morocco was named a Fodor's "exotic hideaway" award winner. "When you think just outside of Marrakesh proper, you get the sense of being in a desert oasis," says Bowen. "It's all lushness, the setting is romantic, and there's a fantastic spa."
J.K. Place in Florence was one of the Fodor's award winners in the "home suite homes" category. "It looks like you're entering someone's (really nice) living room, where you can have a glass of wine and plan your evening," says Bowen. "It's feels really private and intimate."
San Francisco's Hotel Triton, a Kimpton property, was named a "local character" award winner. "It's a very colorful place and fantastic location near Union Square," says Bowen. It's got "a refreshingly funky atmosphere, and it's a great value as well."
There's no doubt that the Park Hyatt Tokyo is a Fodor's "sleek city address" award winner. "This is the hotel from the movie 'Lost in Translation,' " says Bowen. This sky-high icon has "a view of Tokyo glittering below and a great restaurant. "
Sugar Beach, St. Lucia
Wythe Hotel, Brooklyn
Hotel Metropole, Monaco
Ritz Carlton Montreal
Palais Namaskar, Morocco
J.K. Place, Florence
Hotel Triton, San Francisco
Park Hyatt Tokyo, Japan
STORY HIGHLIGHTS
Award-winning hotels were chosen by Fodor's from 4,000 nominations
Winners came from 43 countries, including newcomers Colombia and Myanmar
Categories include blissful beach retreats and culinary gems
(CNN) -- Whether you're seeking a blissful beach retreat, a funky conversion or the perfect exotic hideaway, there's a hotel for nearly everyone on the third annual Fodor's 100 Hotel Awards, released Friday.
This year's winners came from 43 countries, with Europe dominating the list with 30 hotels and the United States coming in second with 28 hotels. The list also includes newcomers from Myanmar and Colombia.
Fodor's 500 global contributors nominated 4,000 hotels from the 17,000 properties they review annually, which include Fodor's Choice picks. Fourteen Fodor's editors chose the winners from the nominations.
Award winners fell into one the following eight categories: Blissful beach retreats, creative conversions, culinary gems, enduring classics, exotic hideaways, home suite homes, local characters and sleek city addresses.
"What's really nice about this list is there's something on this list for everyone. It's not just about out-of-reach options. There are interesting places for people to stay at any price point," says Arabella Bowen, Fodor's Travel executive editorial director.
CNN.com asked Fodor's to choose one hotel in each category to recommend to our readers. Click on the gallery to see if you agree with their choices.