Giant balloon to study Comet ISON
STORY HIGHLIGHTS
A giant NASA balloon is being used to get a good look at Comet ISON
The balloon will rise to 120,000 feet
Comet ISON could put on show this winter
(CNN) -- Exploring the heavens with spaceships and fancy orbiting telescopes like the Hubble is pretty routine stuff for NASA. But the space agency is going low-tech to get a good look at an eagerly anticipated comet.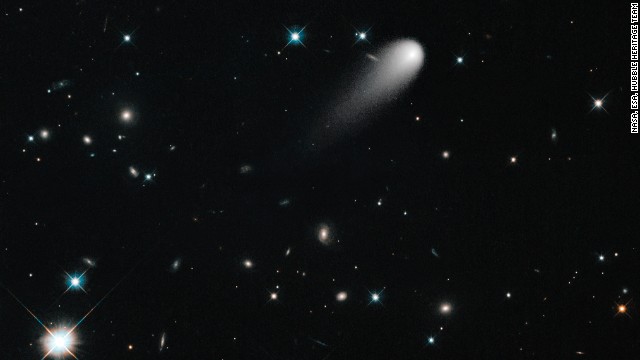 Color filters help create this vivid image of Comet ISON, captured by NASA's Hubble Space Telescope on April 30.
The Hubble Space Telescope took this picture of Comet ISON on April 10, 2013, when the comet was slightly closer than Jupiter's orbit, or about 386 million miles from our sun.
In November, Comet ISON is expected to dive into the sun's atmosphere. Rolando Ligustri used a telescope at the CAST Observatory in Italy to capture this image of it on February 28.
Comet PanSTARRS put on a show in both the Northern Hemisphere and Southern Hemispheres earlier this year. This image was taken by amateur astronomer Terry Lovejoy on February 12, 2013, from Brisbane, Australia. He used a QHY9 camera and an 8" telescope with 5 minutes exposure.
In 1986, the European spacecraft Giotto became one of the first spacecraft to encounter and photograph the nucleus of a comet. This photo shows Comet Halley's nucleus. The debris from the nucleus creates the trail of debris responsible for the Orionids meteor shower each October and the Eta Aquariids in May.
On July 3, 2005, NASA's Deep Impact fly-by spacecraft dropped its "impactor" probe into the path of Comet Tempel 1. There was a bright flash as the probe hit the comet. The images were beamed around the world in near real time on NASA TV and over the Internet. Orbiting telescopes watched from space and astronomers on the ground captured images, too.
NASA's Deep Impact mission's impactor probe snapped this picture 90 seconds before the probe was pummeled by Comet Tempel 1 on July 4, 2005.
Comet Wild 2's nucleus was photographed by NASA's Stardust spacecraft as it flew past in January 2004 and collected samples from the comet's coma. The spacecraft's return capsule ferried the samples back to Earth on January 15, 2006.
After returning the world's first particles from a comet, the Stardust capsule was packed up and shipped to the Smithsonian. The mission's principal investigator was surprised by the size and composition of the particles captured in the capsule's aerogel-lined collector.
This close-up view of Comet Hartley 2 was taken by NASA's EPOXI mission during a fly-by of the comet on November 4, 2010.
Comet Siding Spring looks like a red blaze in the sky in this infrared image taken on January 10, 2010, from NASA's Wide-field Infrared Survey Explorer (WISE).
This image of Comet NEAT was taken at Kitt Peak National Observatory near Tucson, Arizona, on May 7, 2004.
Comet Linear was photographed by a camera on the European Space Agency's Rosetta space probe on April 30, 2004. Rosetta is on its way to study Comet 67-P/Churyumov-Gerasimenko. On June 8, 2011, Rosetta was placed in hibernation. It will wake up when it reaches the comet in mid-2014, when it will drop a small lander onto the comet's surface.
One of the most famous comets is Hale-Bopp. It was discovered independently on July 23,1995, by Alan Hale in New Mexico and by Thomas Bopp in Arizona. It was one of the brightest comets in decades and was visible to the naked eye for several months.
Comet Lovejoy stunned scientists in December 2011 when it flew through the hot atmosphere of the sun and emerged intact. The comet was discovered by amateur astronomer Terry Lovejoy of Australia.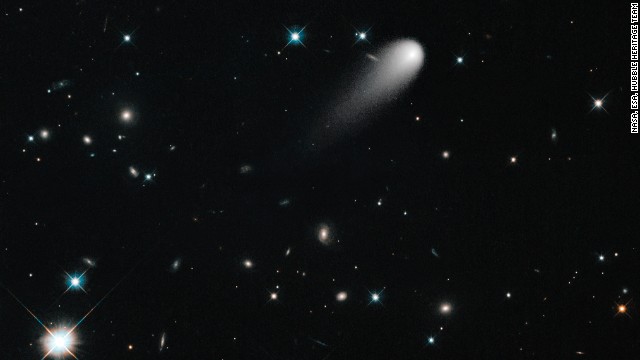 Up close with comets
The space agency plans to launch a balloon -- yes, a balloon -- to study Comet ISON, the much-hyped comet that many hope will put on a big sky show in coming months.
Astronomers are scrambling to figure out ways to learn more about the comet, and that's where the balloon comes in. This isn't the kind of balloon you buy for kids at a party store, but they do have some things in common.
NASA says its scientific balloons are made of polyethylene film like the material in plastic bags, and it will be filled with helium, just like a party balloon. But the NASA balloons can carry a payload weighing 8,000 pounds (3,600 kilograms), or about the weight of three small cars. It has a gondola to carry the instruments. Some similar balloons can fly up to 26 miles high and stay for up to two weeks.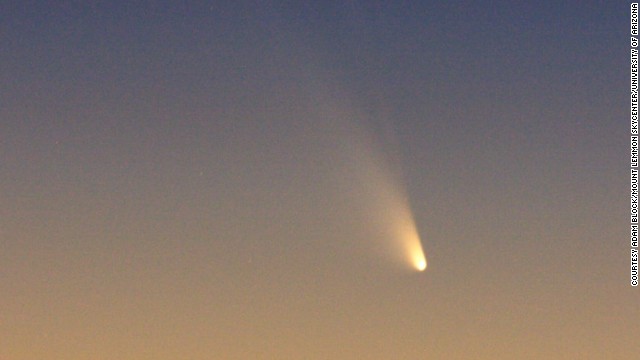 Watch time-lapse of comet Pann-STARRS
The 671-foot-tall balloon that will monitor ISON is called BRRISON, or Balloon Rapid Response for ISON. According to NASA, it will float about 120,000 feet above Earth to observe the comet -- and other science targets -- using a telescope and other instruments. It is expected to stay up from nine to 11 hours.
"By ascending above 99.5% of the Earth's atmosphere, BRRISON will be able to study the materials within the comet," Andy Cheng, principal investigator, said on BRISSON's website. "It's possible that water and organic chemicals on comets may have played an important role in the evolution of life on Earth."
The launch, from NASA's Columbia Scientific Balloon Facility in Fort Sumner, New Mexico, is targeted for 8 p.m. ET on Saturday, weather permitting.
Comet ISON is nearing Mars on its way toward the sun and will fly about 730,000 miles above the sun's surface on November 8. If it survives, it could brighten and put on a big show as it passes Earth's orbit on its way back to the outer reaches of the solar system. Comet enthusiasts hope they will be able to see it without binoculars or telescopes.
Its closest approach to Earth would be December 26, and it could be visible from the Northern Hemisphere for weeks in early 2014.
Things to know about Comet ISON
The comet was discovered by Russian astronomers Vitali Nevski and Artyom Novichonok in September 2012. It is named after their night-sky survey program, the International Scientific Optical Network, a group of observatories in 10 countries organized to track objects in space.
Amateur astronomers already are posting pictures and making calculations about the comet's future. For those who want to try to track Comet ISON themselves, NASA has some tips on its Comet ISON website.