'Michael J Fox Show': What's the verdict?
updated 12:03 PM EDT, Fri September 27, 2013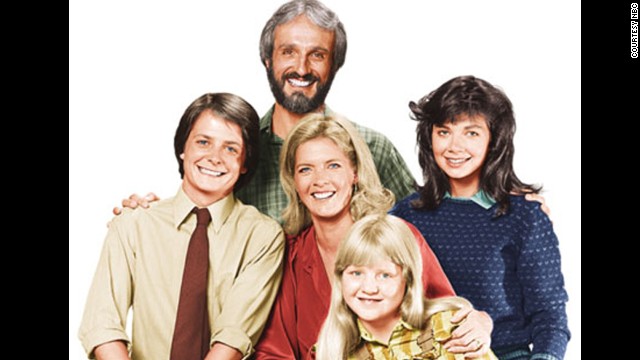 "Family Ties" was as '80s as leg warmers and Rubik's Cubes. The NBC sitcom about the Keaton family won Emmy Awards and brought recognition to its creator Gary David Goldberg,
who died June 22 of a brain tumor.
The cast of the show became major stars.
recently returned to NBC as the star of "The Michael J. Fox Show,"
which is loosely based on his life and struggle with Parkinson's disease.
Michael J. Fox stole the show as conservative teen Alex P. Keaton, who often clashed with his more liberal parents. Fox went on to star in another Goldberg production, "Spin City." He
Meredith Baxter (she had the Birney at the time) played mom Elyse Keaton and has worked fairly steadily since the show ended in 1989, including appearances on "Spin City," too. Her 2011 memoir "Untied" documented her life, including her cancer battle and coming out as a lesbian in 2009. In 2013, she and actress Patty Duke were cast as a lesbian couple on "Glee."
enrolled as a student at UCLA.
When she's
not busy tweeting
, the mother of two has continued acting. She appeared on "Arrested Development" with her brother Jason, and she recently popped up on an episode of ABC's "Modern Family."
Justine Bateman's Mallory Keaton wasn't the brightest bulb, but the actress is actually
Michael Gross was the quintessential hippie dad Steven Keaton on "Family Ties." He has appeared in the "Tremors" movie franchise and in guest appearances on TV shows including "Law & Order: SVU."
Tina Yothers was pretty spunky as youngest sister Jennifer Keaton, and the married mother of two showed she still had that spirit in 2006 as a cast member on VH1's "Celebrity Fit Club." In 2012, she appeared on an episode of ABC's "Celebrity Wife Swap."
According to Yahoo
, he oversees an online Web series he co-created, "Budd Friedman's iJoke.com."
Marc Price was adorably goofy as Irwin "Skippy" Handelman. He stuck with comedy and in 2006 was a contestant on "Last Comic Standing."
Catching up with 'Family Ties' cast
Catching up with 'Family Ties' cast
Catching up with 'Family Ties' cast
Catching up with 'Family Ties' cast
Catching up with 'Family Ties' cast
Catching up with 'Family Ties' cast
Catching up with 'Family Ties' cast
STORY HIGHLIGHTS
Michael J. Fox returned to TV on Thursday night
He stars in the new NBC comedy "The Michael J. Fox Show"
Critics had mixed feelings about the first few episodes
Fox is still great, but the series itself needs some work
(CNN) -- Michael J. Fox's return to TV with NBC's "The Michael J. Fox Show" is an exciting and inspiring move -- there's no argument there.
But will his decision help boost NBC's comedy slate to its once-untouchable highs? That's a question with a less straightforward answer.
After leaving TV over a decade ago to manage his escalating Parkinson's disease, the 52-year-old industry icon has signed up for his first weekly starring role since "Spin City."
Instead of trying to work around Parkinson's, he's chosen to work with it: The premise of NBC's new "Fox Show" has the actor portraying a New York news personality named Mike Henry, who also left TV due to Parkinson's, but has made a recent return, much to his family's relief.
Michael J. Fox's triumphant return to TV
Executive produced by Fox, Will Gluck, Sam Laybourne and Richard Schwartz, "The Michael J. Fox" show was easily one of the most anticipated debuts of the 2013 fall TV season. And yet, says The New York Times, "it doesn't take long to realize that something is off in 'The Michael J. Fox Show.' "
The critic, Mike Hale, found "very little" in the show's pilot episode that "will force you to laugh. ... The show is more concerned with making (Fox's character) a saint than it is with making him funny."
The Hollywood Reporter said the show yields "mixed results," and not only because the humor -- which includes jokes about Parkinson's -- is uneven.
"The pilot is asking you to, in a sense, laugh at Parkinson's jokes and the man suffering from its effects. The unspoken agreement is that if it's fine with Fox, then it should be fine with you. But that doesn't make it any less uncomfortable," THR said. "It's clear that tone and direction on 'The Michael J. Fox Show' haven't been completely worked out yet. What isn't clear is what the audience reaction will be -- especially when patience needs to be the primary one."
If you disagree with that assessment of the pilot's comedy, Time magazine's James Poniewozik is right there with you.
The "ways in which the comedy uses his experience, irreverently but not snarkily, is by far the most remarkable part of the show," Poniewozik said. "The problem with 'The Michael J. Fox Show' is how unremarkable everything else in it is."
Given how strong Fox is as an actor, fans shouldn't lose hope with the series as it finds its voice.
"The Michael J. Fox Show" does use the same documentary-style approach that shows like "The Office" have used to success, which means many critics felt it was trying too hard to be like ABC's critically acclaimed "Modern Family." With patience, though, "The Michael J. Fox Show" may be able to stand out in its own right.
"The best part about 'The Michael J. Fox Show' is Michael J. Fox, who is still as sharp, sarcastic and on-point as ever," critiques E!. "That's what makes this show so likable, even though the jokes about his Parkinson's might make some viewers uneasy. ... (I)f the show can figure out where that fits in, it's golden. It's striving to be 'Modern Family,' when it should be working on highlighting its strengths."