Review: 'Don Jon' a dirty-minded romantic comedy
updated 2:24 PM EDT, Fri September 27, 2013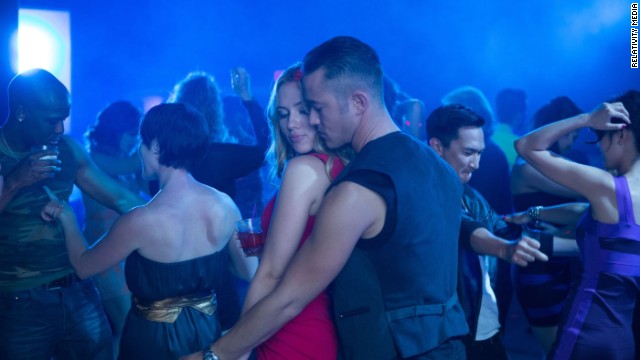 For his directorial debut, Joseph Gordon-Levitt decided to make a movie on a very adult topic: porn. The filmmaker stars in "Don Jon" as a guy who finds the girl of his dreams, but is having a hard time letting go of the ladies he's come across on his computer screen. We'll see how well this movie performs on Friday, September 27 -- for now, see some of Hollywood's other hits and misses with porn.
One would think a movie about the adult film industry would have folks flocking to the theater. But the recent release of "Lovelace,"
Nicolas Cage stars as a private investigator who has to delve into the world of porn to solve a case in "8mm.'" The 1999 film co-stars Joaquin Phoenix.
Before she was the subject of a biopic, Linda Lovelace appeared in the classic 1972 porn film "Deep Throat" which broke box office records. A 2005 documentary about the groundbreaking film fared well with critics and audiences.
most famous porn stars
ever. He was featured in the 2001 documentary "Porn Star: The Legend of Ron Jeremy."
Ron Jeremy may be one of the
Woody Harrelson and Courtney Love star in the 1996 film "The People vs. Larry Flynt" about the founder of Hustler magazine.
In "Boogie Nights," Mark Wahlberg portrays porn actor Dirk Diggler. The 1997 movie also starred Burt Reynolds, Heather Graham, Don Cheadle and Julianne Moore.
You are forgiven if you don't even remember "Bucky Larson: Born to Be a Star," released in 2011. The movie portrays a guy who discovers his reserved parents were former porn stars and tries to carry on the family business. It was widely panned and nominated for six Razzies. Star Nick Swardson co-wrote it with Adam Sandler and Allen Covert.
Elisha Cuthbert makes a guy's dreams come true as a former porn star turned neighbor in 2004's "The Girl Next Door."
Luke Wilson and Giovanni Ribisi star in "Middle Men," a 2009 movie about the rise of porn on the Internet.
In the 2000 movie, "Rated X," Emilio Estevez and Charlie Sheen play real life brothers Jim and Artie Mitchell who made the profitable porn film "Behind the Green Door."
The title of the 2008 film "Zack and Miri Make a Porno" sort of says it all. Seth Rogen and Elizabeth Banks star as a pair of roomies who decide to make a porn film to pay their bills.
Wonderland murders
that occurred in 1981.
Val Kilmer plays porn star John Holmes in the 2003 movie "Wonderland," based on the case of the
Photos: Hollywood takes on porn
Hollywood takes on porn
Hollywood takes on porn
Hollywood takes on porn
Hollywood takes on porn
Hollywood takes on porn
Hollywood takes on porn
Hollywood takes on porn
Hollywood takes on porn
Hollywood takes on porn
Hollywood takes on porn
Hollywood takes on porn
Hollywood takes on porn
STORY HIGHLIGHTS
Joseph Gordon-Levitt is the writer, director, and star of "Don Jon"
He plays a New Jersey bartender who loves porn
EW gives it a B+ grade
(EW.com) -- How do you make a movie that tackles pornography not just as an ''issue'' or a product but in terms of its psychological effects?
Joseph Gordon-Levitt, the writer, director, and star of "Don Jon," has done it. And he's pulled it off in a light, fun, unlaborious way: by crafting a high-spirited yet dirty-minded romantic comedy about a New Jersey bartender, Jon Martello (Gordon-Levitt), who goes out to clubs and gets laid every weekend, usually with the curvaceous babe of his choice. She can never be the woman of his dreams, though, because those dreams have already been lost to the hardcore photographs and videos that he masturbates to every day. It's not really the faces and bodies he's coveting, it's the behavior — the moaning, screaming, make me your nasty toy insatiability, which he thinks is what sex was meant to be. He doesn't realize that he's watching a bill of goods made flesh.
As Jon, Gordon-Levitt sports a buffed-up chest and hair greased into a stylish oil slick, and he speaks in low, flat tones, giving a witty turn as a studly ''Guido'' who digs his life of anonymous sex and control; he's like The Situation without the fame or preening smarm. One night out at the club with his wingmen Bobby (Rob Brown) and Danny (Jeremy Luke), Jon spies Barbara (Scarlett Johansson), as gorgeous a woman as he's ever seen.
He wants to get with her, and before long they're an item. But then the disappointment sets in. In his mind, his heart, she can't compete with the extreme libidos of the porn world. It doesn't help that she's an ''addict'' too, hooked on rom-coms and their fantasy of a man who'll cater to her every whim.
Gordon-Levitt proves a natural filmmaker, nimbly staging Jon's highly amusing Catholic confessions, along with porn montages that mimic the dopamine-charged editing of "Requiem for a Dream." He also gets a terrific performance out of Tony Danza as Jon's hilariously blinkered brute of a dad. The bond between Jon and Esther (Julianne Moore), the troubled older woman he meets in an adult-ed class, isn't as deftly drawn. She's there to teach Jon lessons, and does. But Gordon-Levitt's intuitive performance makes even this part of the film work. Jon is a guy who needs to quit his porn addiction, but to do that, he must understand that what he's really been having is a dysfunctional relationship with porn. It's the mistress he's devoted to and has to break up with if he wants to start living. Grade: B+
See the original story at EW.com.
CLICK HERE to Try 2 RISK FREE issues of Entertainment Weekly
© 2011 Entertainment Weekly and Time Inc. All rights reserved.