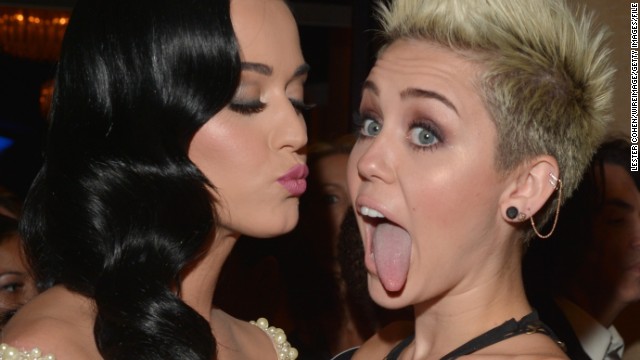 Katy Perry got a tongue-lashing from Miley Cyrus after she
dissed the younger singer's hygiene
on an Australian morning show March 4. The two have appeared to reconcile -- on Twitter, of course -- but that's not the only celebrity feud that has heated up:
Perez alleges in a new memoir
, Lopez "went off (like) some ghetto biatch, screaming and pounding her chest" while they were working together on the show. Perez claims Lopez made "disparaging comments" about her even after leaving the show.
An argument on the set of "In Living Color" has apparently put Rosie Perez and Jennifer Lopez at odds for the past 20 years. As
of a glowing profile in a February issue of Rolling Stone
, but one quote had the Canadian rapper seeing red. The magazine claimed Drake was critical of Kanye West's album "Yeezus," which Drake said never happened. To add insult to injury, Rolling Stone took the cover from Drake at "the last minute," the rapper tweeted. "I'm disgusted with that. RIP to Phillip Seymour Hoffman. All respect due. But the press is evil," he said on February 12. In the end, Drake wound up deleting his comments and apologizing.
Drake was the subject
told CNN
on October 10 that there is "a deep rift within the band. There was a big a disagreement over their music direction."
The Jonas Brothers may still be family, but the trio could no longer take being bandmates. A rep for the group
an open letter Gaga wrote
,
accusing Kelly of being a bully
. When Kelly O. saw that Gaga had offered her a birthday cake on October 27,
she tweeted
, "Not to be ungrateful but why would you send me a birthday cake via my MOTHER in a country half the (world) away? ... #EatMyS***."
The beef between Lady Gaga and Kelly Osbourne dates back to
Kimmel poked fun at West's interview
with the BBC -- in which the entertainer called himself the No. 1 rock star on the planet --
West went to Twitter to air his profane grievances
(in all caps, of course). The two later made amends with a televised sitdown.
Kanye West has given Jimmy Kimmel the rap feud he's always wanted. After
heart attack
in 2012, Rosie O'Donnell
received support
from an unlikely source: Donald Trump. The two engaged in a pretty high-profile feud in the past with her
calling him a "snake-oil salesman"
and Trump retorting that she was a "loser."
After her
Onetime friends Denise Richards and Heather Locklear hit a major impasse after the former started dating the latter's ex, Bon Jovi's Richie Sambora. In interviews, Richards denied that she and Locklear were still friends at the time she began seeing Sambora.
As a teen star, Hilary Duff reportedly dated heartthrob Aaron Carter before he broke up with her to get with Lohan -- and then tossed Lohan aside to win back Duff. The actress told People magazine in 2007 that she and Lohan had made peace.
Yah, we couldn't believe it either. MC Hammer reportedly took offense to Jay-Z guest-rapping in a Kanye West song ("So Appalled") that "Hammer went broke so you know I'm more focused/I lost 30 mill so I spent another 30/Cuz unlike Hammer 30 mill can't hurt me." Hammer took it to where all celebs take their beefs now, Twitter, and released a diss track, "Better Run Run."
Kanye West and Taylor Swift had one of the greatest celeb feuds of all time. The rapper famously grabbed the singer's mic at the 2009 MTV Video Music Awards. He later apologized, and she seemed to accept his apology via her song "Innocent."
It appears that rapper Lil' Kim has not taken too kindly to what she views as newercomer Nicki Minaj's lack of respect and similar style with the colored wigs and sexually explicit lyrics. The pair have traded insults all over the media.
It's a case of he said/she said/he said. Eminem set it off after he claimed to have had a torrid dating relationship with singer Mariah Carey, who denied it. Her husband, Nick Cannon, even offered to defend her honor by meeting the rapper in the ring.
This pair of wild-child socialites helped to coin the term "frenemies" after their very public bust-up in 2004. The former "Simple Life" co-stars went on to make up two years later.
Oprah Winfrey was reportedly annoyed by David Letterman's constant joking references to her name when he hosted the Academy Awards in 1995. The late-night talk-show host told "The Daily Show's" Jon Stewart he had also once played a practical joke on Wnfrey, convincing a waiter that she had agreed to pick up his tab. They have since made peace.
The gossip blogger claimed Will.i.am and his security guards attacked him at an awards show over some unkind words he had written about the musician's Black Eyed Peas bandmate Fergie. Will.i.am denied he had anything to do with it.
Superstar Tom Cruise got on Brooke Shields' bad side by decrying her use of medication to treat postpartum depression. Shields responded with an op-ed in The New York Times, and Cruise later apologized for his remarks.
Biggest celebrity feuds
Biggest celebrity feuds
Biggest celebrity feuds
Biggest celebrity feuds
Biggest celebrity feuds
Biggest celebrity feuds
Biggest celebrity feuds
Biggest celebrity feuds
Biggest celebrity feuds
Biggest celebrity feuds
Biggest celebrity feuds
Biggest celebrity feuds
Biggest celebrity feuds
Biggest celebrity feuds
Biggest celebrity feuds
Biggest celebrity feuds
Biggest celebrity feuds
Biggest celebrity feuds