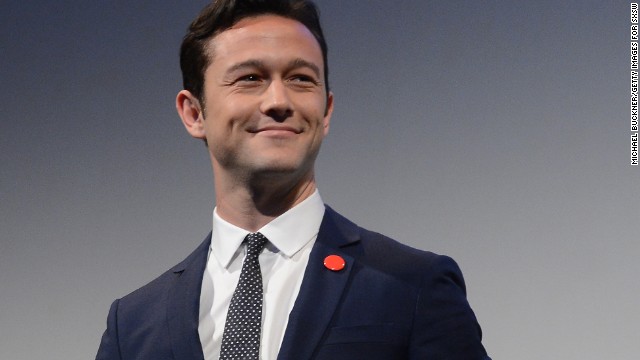 Some actors crash and tumble into
adult celebrity
, but Joseph Gordon-Levitt took the quiet route. Gordon-Levitt's been acting since he was about six, but it wasn't until his mid-20s that his incredible work ethic grew into bona fide "star" status. He's also turned into quite the heartthrob, if we do say so ourselves. As he makes his directorial debut with this weekend's "Don Jon," we retrace the steps Gordon-Levitt took to arrive here.
Can you say "awwww"? At the tender age of 7, JGL picked up a role on the classic NBC sitcom, "Family Ties," as Dougie.
In 1991, Gordon-Levitt moved over to NBC's reinvented "Dark Shadows," where he played both David and Daniel Collins during the short-lived series.
Gordon-Levitt made the leap to the big screen in 1992, when he had a bit part in "Beethoven" and a more substantial role in "A River Runs Through It." Directed by Robert Redford, the actor played a younger version of Craig Sheffer's Norman.
Even as a kid, Gordon-Levitt was industrious. While he was building his film career, Gordon-Levitt was also pulling in laughs as D.J.'s well-meaning but incredibly boring friend George on "Roseanne" from 1993 to 1995.
In 1994, Gordon-Levitt appeared in one of the most memorable roles of his young career. He starred with Danny Glover and Tony Danza in Disney's baseball movie, "Angels in the Outfield."
James Gandolfini wasn't the only one building his film resume with 1996's "The Juror." A then 15-year-old Gordon-Levitt also starred in the suspense drama as the son of Demi Moore's character, Annie.
If you know nothing else about him, you know that Gordon-Levitt once played alien Tommy Solomon on the long-running sitcom "3rd Rock from the Sun." On the NBC comedy, a teenage Levitt played one of four extraterrestrial explorers masquerading as humans on Earth. Although it's the role that helped establish him with TV audiences, Levitt opted to leave the show ahead of its final season in 2001.
In the 1999 teen romantic comedy classic "10 Things I Hate About You," Gordon-Levitt joined Heath Ledger and Julia Stiles in a WB-esque re-telling of "Taming of the Shrew." He starred as the sweet, swooning new kid, Cameron.
Gordon-Levitt was known mostly for his comedic roles, but 2001's "Manic" was a clear departure. This bleak drama about troubled adolescents in a juvenile detention facility let the then 20-year-old display more of his range.
After taking time off from acting to pursue higher education at Columbia, Gordon-Levitt made a grand return to the craft in 2004 and 2005. He starred in two independent projects -- "Mysterious Skin" and "Brick" -- that caused critics to take note of how much he'd grown up from playing an alien in a teenager's body.
While "Mysterious Skin" saw Levitt playing a young hustler and prostitute with a devastating past, "Brick," placed him in the scene-stealing role of a high-schooler-turned-detective after his girlfriend goes missing. Said Rolling Stone's movie critic Peter Travers, "'Sensational' is the word for Joseph Gordon-Levitt (equally striking in 'Mysterious Skin')" in "Brick."
By the time Gordon-Levitt appeared in 2007's "The Lookout" as a disabled janitor, his transition from kid star to Hollywood heavy was virtually complete. Critics were in love with the young star's performance, as The Wall Street Journal's Joe Morgenstern said in a review: "We saw what (he) could do in such diverse films as 'Mysterious Skin' and 'Brick,' and in the TV sitcom '3rd Rock From the Sun.' But this performance is something else. It's unforgettable."
After starring in a series of dramas, Gordon-Levitt turned to (comparatively) lighter fare with "(500) Days of Summer." Part comedy, part love story, part musical, part drama, the 2009 film was twee and at times over-the-top, but also irresistible. In the role of hopeless romantic Tom, Gordon-Levitt was, too.
The same year he wooed moviegoers with "(500) Days," Gordon-Levitt also starred in the action movie "G.I. Joe: Revenge of the Cobra." For an actor who had spent his post-collegiate career gravitating toward smaller productions and complex characters, the fact he could lighten up and have fun as the Cobra Commander helped prove his versatility.
As a prolific performer, Gordon-Levitt will often offer his fans a buffet of films to choose from, all within a single year. That was the case in 2010, when those drawn to the darker side of Gordon-Levitt could watch him as the foul-mouthed, tattooed lead in "Hesher."
For those who wanted more sci-fi action at the theater in 2010, Gordon-Levitt delivered with Christopher Nolan's "Inception." He fully impressed -- and opened himself up to an even wider audience -- with his gravity-defying stunts, standing out as one of the film's top draws.
In 2011, Gordon-Levitt tried to find a balance between his comedic roots and dramatic present with a poignant examination of cancer's impact. The movie "50/50" was inspired by a true story, and with the popular Seth Rogen backing him up, Levitt again received raves. "Every performance in this film is flawless," proclaimed USA Today's Claudia Puig.
There was also Gordon-Levitt's turn as a fast-pedaling bike messenger in "Premium Rush." The consensus was that it wasn't bad -- nothing more, nothing less -- but considering how busy JGL must have been during his production, we'll give him a pass.
Gordon-Levitt also transformed into a Bruce Willis lookalike for his reunion with "Brick" director Rian Johnson and his futuristic thriller, "Looper." Critics salivated over its gripping plot, and while Gordon-Levitt had prosthetics to help him get into character, he was also recognized for carrying a strong performance.
We imagine Gordon-Levitt's math to fit in Steven Spielberg's 2012 release "Lincoln" went something like this: "historical drama + Spielberg as director + Daniel Day-Lewis as president + Sally Field as my mom = sold." Although his part was small by comparison, the experience -- and the
After a whirlwind 2012, Gordon-Levitt ever-so-slightly eased up on the gas. Instead of starring in four films in 2013, he chose to star in one -- which he also happened to write and direct. The romantic comedy "Don Jon," about a New Jersey playboy's porn addiction, puts the 32-year-old back in the role of a romantic interest, but in a Casanova way that he never quite broached before. And we like it. "Don Jon," co-starring Scarlett Johansson, is also Gordon-Levitt's feature directorial debut.
Joseph Gordon-Levitt: The making of a movie star
Joseph Gordon-Levitt: The making of a movie star
Joseph Gordon-Levitt: The making of a movie star
Joseph Gordon-Levitt: The making of a movie star
Joseph Gordon-Levitt: The making of a movie star
Joseph Gordon-Levitt: The making of a movie star
Joseph Gordon-Levitt: The making of a movie star
Joseph Gordon-Levitt: The making of a movie star
Joseph Gordon-Levitt: The making of a movie star
Joseph Gordon-Levitt: The making of a movie star
Joseph Gordon-Levitt: The making of a movie star
Joseph Gordon-Levitt: The making of a movie star
Joseph Gordon-Levitt: The making of a movie star
Joseph Gordon-Levitt: The making of a movie star
Joseph Gordon-Levitt: The making of a movie star
Joseph Gordon-Levitt: The making of a movie star
Joseph Gordon-Levitt: The making of a movie star
Joseph Gordon-Levitt: The making of a movie star
Joseph Gordon-Levitt: The making of a movie star
Joseph Gordon-Levitt: The making of a movie star
Joseph Gordon-Levitt: The making of a movie star
Joseph Gordon-Levitt: The making of a movie star