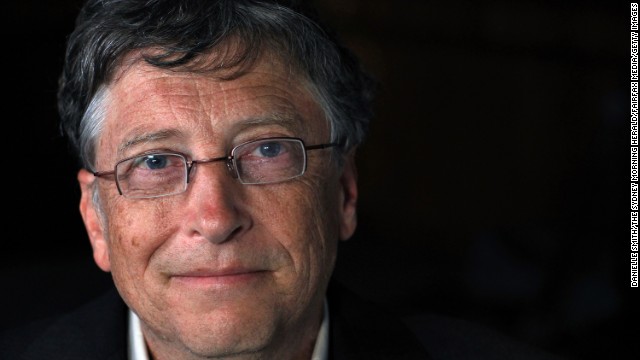 Bill Gates, founder of Microsoft, is stepping down as chairman of the board of the company, the world's largest software company. Gates was named on the Forbes World's Billionaires List for 12 consecutive years from 1995 to 2007. This photo was taken in Sydney in 2011. Take a look at a gallery showing Gates through the years.
Gates poses outdoors with Microsoft's first laptop in 1986 at the new 40-acre corporate campus in Redmond, Washington. In March 1986, Microsoft held an initial public offering of 2.5 million shares. By the end of the year, Gates became a billionaire at the age of 31. Microsoft was the first company to dominate the personal computer market with its MS-DOS system and subsequently the Windows platform.
Gates holds up Bookshelf, a new compact disc for computers which holds all the information contained in the books pictured.
Gates appears with Apple co-founder Steve Jobs in New York in 1985.
Gates, seen in Redmond, Washington, in 1986, created Microsoft, which is currently the worldwide leader in software, services and Internet technologies for personal and business computing, with over 39,000 employees in 60 countries.
Gates demonstrates Microsoft's Windows 95 program from his automobile before a press conference in Paris in September 1994.
Gates sits on stage during a video portion of the Windows 95 launch event on August 24, 1995, on the company's campus in Redmond, Washington. A Harvard University dropout, Gates co-founded Microsoft with Paul Allen in 1975.
Gates and former U.S. President Bill Clinton attend a White House conference on "the New Economy" in April 2000.
Britain's Queen Elizabeth II presents Gates with an honorary knighthood, as his wife, Melinda Gates, watches. Despite the 2005 honor, Gates can't use the title "Sir" because he's not a British citizen.
Gates holds a new Palm Treo 700w smartphone during a keynote address at the 2006 Consumer Electronics Show in Las Vegas.
Rockin'! Gates plays the Guitar Hero video game as legendary Guns 'N' Roses guitarist Slash plays a real guitar at the 2008 Consumer Electronics Show.
Gates looks on as his wife, Melinda, holds a baby during their visit to a village in India's Bihar state on March 23, 2011. The mission of the Bill & Melinda Gates Foundation is to "unlock the possibility inside every individual," according to its website.
Gates, left, and Warren Buffett, chairman of Berkshire Hathaway, play table tennis during an event at the Berkshire Hathaway shareholders meeting in Omaha, Nebraska, on May 6, 2012.
Gates, one of the world's richest men and highest-profile aid donors, gives a child a vaccination in Ghana on March 26, 2013. The Gates Foundation donates at least 5% of its assets each year to fight polio, HIV/AIDS, tuberculosis, malaria and other infectious diseases across the globe.
Gates speaks during an interview with The Associated Press on January 21, 2014, in New York. Gates and his wife, Melinda, pitched an optimistic future for the world's poor and sick in their annual letter the same day.
Bill Gates' Microsoft moments
Bill Gates' Microsoft moments
Bill Gates' Microsoft moments
Bill Gates' Microsoft moments
Bill Gates' Microsoft moments
Bill Gates' Microsoft moments
Bill Gates' Microsoft moments
Bill Gates' Microsoft moments
Bill Gates' Microsoft moments
Bill Gates' Microsoft moments
Bill Gates' Microsoft moments
Bill Gates' Microsoft moments
Bill Gates' Microsoft moments
Bill Gates' Microsoft moments
Bill Gates' Microsoft moments