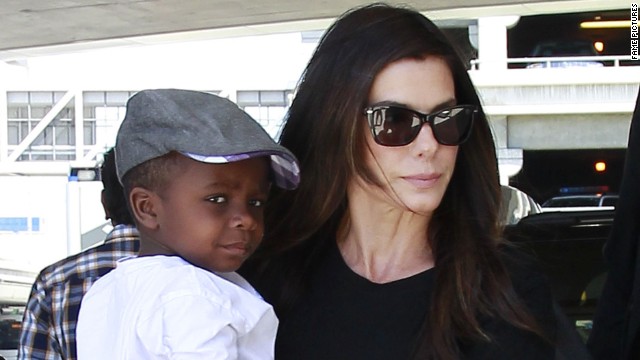 At age 45,
Sandra Bullock revealed in April 2010
that she'd adopted a baby boy, Louis Bardo, from New Orleans.
Halle Berry gave birth to her daughter, Nahla, in March 2008. Nahla's father is Gabriel Aubry. The actress, 46, is pregnant with her second child -- her first with husband Olivier Martinez.
Kelly Preston was 47 when she and husband John Travolta welcomed Benjamin.
Julianne Moore's daughter, Liv Helen, was born in April 2002. Moore was 41 at the time. Her son, Caleb, was born in 1997.
Luna
for short.) Thurman also has two children with Ethan Hawke. She is pictured here with son Levon Hawke.
At 42, Uma Thurman welcomed her first child with Arpad Busson, Rosalind Arusha Arkadina Altalune Florence Thurman-Busson, in 2012. (But you can call her
Nicole Kidman, 41 at the time, and Keith Urban welcomed daughter Sunday Rose into the world in 2008.
Celine Dion and her husband, René Angelil, welcomed twin boys in 2010. Dion was 42 at the time.
Tina Fey gave birth to her second daughter, Penelope, in 2011, when she was 41. Her daughter Alice was born in 2005.
Salma Hayek was 41 when she gave birth to Valentina Paloma Pinault in 2007. Her husband is Francois-Henri Pinault.
Meryl Streep gave birth to her fourth child, daughter Louisa, just before her 42nd birthday. Streep's husband is sculptor Donald Gummer.
At 41, Nia Long welcomed her second child in November 2011. Long is shown here with her first child, Massai Dorsey II.
Celeb moms older than 40
Celeb moms older than 40
Celeb moms older than 40
Celeb moms older than 40
Celeb moms older than 40
Celeb moms older than 40
Celeb moms older than 40
Celeb moms older than 40
Celeb moms older than 40
Celeb moms over 40
Celeb moms older than 40
STORY HIGHLIGHTS
Sandra Bullock loves to talk about her son, Louis
The actress said the 3-year-old helped motivate her on long days
He had his own playground built on the set of her new movie, "Gravity"
As of now, Louis doesn't know how famous his mom is
(CNN) -- When talking to Sandra Bullock, it won't be long before she mentions that special guy in her life: her 3-year-old son, Louis.
The 49-year-old single parent has been frank about putting her role as a mom ahead of her role as America's Sweetheart, recently telling Vogue magazine that she wouldn't hesitate to "move to Alaska" should her career begin to negatively impact Louis.
But for now, Bullock is still ensconced in Hollywood. The actress has been selective with taking new work after her Oscar-winning turn in 2009's "The Blind Side," but her decision to star in Alfonso Cuarón's October space thriller "Gravity" just might lead Bullock into another busy awards season.
Sandra Bullock squashes George Clooney romance rumors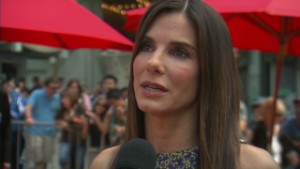 Sandra Bullock: I'm simply a mom
In the film, she plays a medical engineer by the name of Dr. Ryan Stone, who, accompanied by George Clooney's skilled astronaut Matt Kowalsky, embarks on her first shuttle mission. As you've probably seen in the heart-stopping trailers, all goes well until the shuttle is destroyed, leaving Stone and Kowalsky stranded in space.
Bullock was challenged with simulating the concept in a believable way and consulted an astronaut to make sure she nailed the role physically as well as emotionally. Yet even with that preparation, shooting "Gravity" was still "hard on a daily level, for many reasons," Bullock told CNN.
Toronto: 'Gravity' wows, propelling Bullock toward an Oscar nomination
"The nice thing was that no matter what was going on, I got to go home to the same little guy, or have him there," she continued, speaking of her son. "They made it so that he could be there with me 24/7. They created 'Louis-land' on a sound stage in damp, cold weather; they created Disneyland. So I knew that he was OK, (and) he was happy. And so it was worth going in and struggling for those 12 hours, because there was someone not struggling, right over there."
Working with Cuarón did fuel Bullock's natural fascination with what else is out there in the universe, but as far as turning her on to the idea of space travel, that's still a no-go.
"Actually going into space ... that's not me. I'm very happy right here," she said, relenting that perhaps a payment -- in the neighborhood of $1 billion, let's say -- could convince her to change her mind.
Sandra Bullock hails law limiting paparazzi: 'Children should not be sold'
"If I was 80 years old and they said 'here's a billion dollars to go,' I would do it, or if I was 80 and my son was a thrill-seeker or an astronaut and asked me to go with him, then I'd do it," Bullock said. "And I'm assuming that I'd perish. That's why I'm picking that 80. I'm grown; he's good; any resentments that we need to work out, then let's go to space."
At this age, though, Louis is completely unaware that his mom is famous and probably wealthy enough to pull that off.
"He has no idea (that I'm famous)," Bullock said. "I'm simply the mom who makes the lunch, drives to school, finds where the toys are, washes the clothes, and I'm here to play. And that's all I should be. He should have no idea what I do. It should have no importance. ... He's supposed to be a little person for as long as possible. And I hope I don't impede that with by what I do."
CNN's Marc Istook and Topher Gauk-Roger contributed to this report.