Death toll climbs as army, militants fight on in the Philippines
updated 12:12 AM EDT, Thu September 26, 2013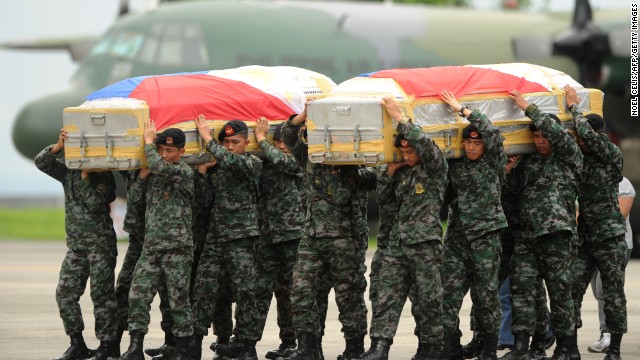 Soldiers carry the flag-draped coffin of policemen who died at the Zamboanga rebel attack in Mindanao. The coffins arrive at Villamor airbase in Manila on September 25. Fighting between rebels and soldiers in the city has entered its third week.
The wife of a soldier killed in the rebel attack in Zamboanga cries as the coffin carrying her husband arrives at Villamor airbase in Manila on September 25.
A two-year-old boy is carried by his father after a rescue mission by state security forces from Muslim rebels following an assault on September 17.
Government soldiers take cover from rebel sniper fire during heavy fighting in Zamboanga City on September 12.
An armored personnel carrier passes by a group of soldiers. The Philippine military launched a helicopter assault on September 16 on Muslim rebels occupying parts of a major southern city.
Two men watch as smoke billows from burning houses as firefight between government troops and Muslim rebels rages in Zamboanga City, on September 16. Sporadic clashes continued as soldiers moved to clear Moro National Liberation Front (MNLF) gunmen from coastal neighbourhoods after a ceasefire plan collapsed.
Residents try to put out fire that gutted several homes while government troopers continue their assault at Muslim rebels on September 12 in Zamboanga City.
A combat police force sniper gets into position to confront Moro National Liberation Front (MNLF) rebels in downtown Zamboanga City on September 9.
A soldier is helped by comrades after being injured during skirmishes with rebels in Zamboanga City on September 9.
Deadly fighting in the Philippines
STORY HIGHLIGHTS
Fighting has raged between Muslim rebels and soldiers in Zamboanga City
At least 158 people have been killed, including 13 civilians
United Nations: The unrest has displaced more than 100,000 people
Authorities believe about five hostages are still being held by rebels
(CNN) -- At least 158 people have been killed since fighting broke out earlier this month between separatist rebels and soldiers in the Philippines, state news reported Wednesday.
The majority of those killed, 125, were militants from the Moro National Liberation Front (MNLF), the government-run Philippines News Agency (PNA) said. Also among the reported dead were 15 members of the military, five from police, and 13 civilians.
The lengthy crisis in Zamboanga City began when large numbers of rebels from the Muslim militant group came ashore more than two weeks ago.
They took roughly 180 people hostage in coastal areas of the city. After attempts to negotiate the hostages' release failed, security forces moved in, resulting in intense bursts of fighting.
The vast majority of the captives have now been freed, but authorities believe the rebels are still holding around five people, Lt. Col. Ramon Zagala, a military spokesman, said Wednesday.
The unrest has fueled fears of increased instability in a region where the central government is pursuing a new peace plan after decades of violence.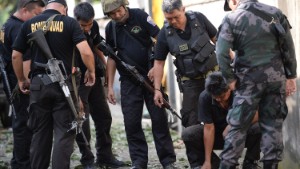 Reporter: Not sure if my home is standing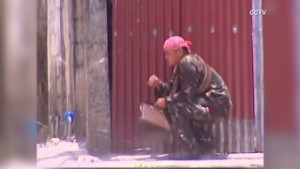 Philippine forces, rebels resume clash
More than 109,000 people have been displaced in Zamboanga City and close to 19,000 are displaced in Basilan province, according to the United Nations, which described the situation Wednesday as a humanitarian crisis.
Zamboanga City, on the southwestern tip of Mindanao, is a mainly Christian city.
"We are increasingly alarmed by the situation and the growing needs of people caught up with violence," said Luiza Carvalho, U.N. resident and humanitarian coordinator in the Philippines. "We are particularly concerned for the most vulnerable, especially the well-being of women and children."
Hundreds of houses have caught fire during the fighting. Authorities have accused the rebels of deliberately starting the fires.
The rebels are a faction of the MNLF, a separatist movement founded in 1971 by Nur Misuari with the aim of establishing an autonomous region for Muslims in the mainly Catholic Philippines. The MNLF signed a peace deal with the central government in Manila in 1996, but some of its members have broken away to continue a violent campaign.
Last month, Misuari issued a "declaration of independence" for the Moro nation -- referring to Mindanao's indigenous Muslim population -- after complaining that the MNLF had been left out of a recent wealth-sharing agreement with another insurgent group, the Moro Islamic Liberation Front, which has fought for decades to set up an independent Islamic state on resource-rich Mindanao.
CNN's Tim Schwarz, Kathy Quiano and Jethro Mullen contributed to this report.