STORY HIGHLIGHTS
Many Indians feel the disturbing obsession with fairness is compounded by Westernization
Interest reignites after Nina Davaluri, of Indian descent, is crowned Miss America
Author recalls family members telling her to stay out of the sun lest she turn darker
New Delhi, India (CNN) -- Tanupriya Khurana watches intently as her sister Bhavna gets a makeover at a designer cosmetics kiosk in the middle of one of Delhi's most popular malls, Select Citywalk.
Shades of velvety pink blush roll over Bhavna's olive cheeks. She holds up a mirror and inspects the results.
Behind the kiosk, a clothing and lingerie store displays trendy fashions on mannequins with blond hair, blue eyes and milky white complexions. They look nothing like Tanupriya and her sister or the hundreds of other Indians milling about this upscale shopping complex on a Sunday afternoon.
Even the advertisements and store posters that use Indian faces promote a look that is unattainable for most Indians: long, silky straight hair; a tall, thin body; and, most importantly, a fair complexion. The most popular Bollywood stars such as Aishwarya Rai -- a former Miss World -- look more white than Indian.
"Being white is the preference," says Tanupriya, 23, an insurance brokerage firm employee. "There's a different psychology here. I think Indian women have problems with acceptance."
"Gori hai sundar," she says. White is beautiful.
Khurana says this tongue in cheek. She knows it's racist -- and disagrees with this collective thinking. But she's right. As far back as I can remember, a woman's complexion has been a very big deal in my native land.
When I was a child, my aunt forbade me to play outside lest I turn several shades darker in the sun. The same aunt lamented after one of my trips to Iraq that the strong sun had made me "black."
"You used to be so pretty," she said. In other words: "You used to be so light-skinned."
Many Indians feel their country's disturbing obsession with fairness has been compounded in recent years with the invasion of European and American retail outlets and widespread access to information via the Internet.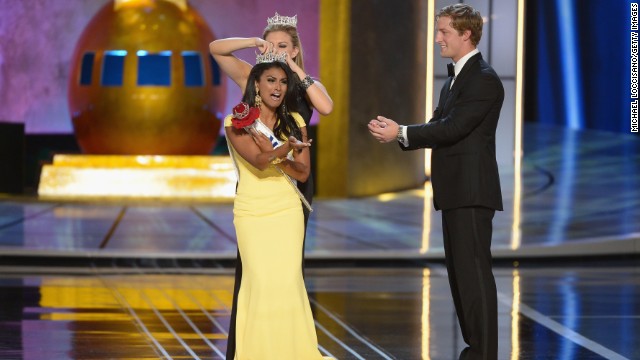 Miss America 2014 winner, Nina Davuluri, is crowned at Boardwalk Hall Arena on September 15, in Atlantic City. Davuluri, from New York, is the first woman of Indian descent to be crowned Miss America.
Vanessa Williams, left, is shown after being crowned Miss America 1984 in Atlantic City. Williams resigned after nude photographs of her were revealed to the public, and Suzette Charles, right, who had been the first runner-up, took the title of Miss America 1984.
1985 winner, Sharlene Wells, was from Utah.
Miss America 1986, Susan Akin, was from Mississippi.
Kellye Cash, from Tennessee, was the winner in 1987.
In 1988, Kaye Lani Rae Rafko, won the crown.
Winner Gretchen Carlson waves to the crowd during the Miss America pageant in 1988 in Atlantic City, New Jersey.
Debbye Turner, from Missouri, was 1990's Miss America.
Marjorie Judith Vincent, formerly Miss Illinois, was crowned in 1991.
1992 Miss America was Carolyn Suzanne Sapp, from Hawaii.
Miss America 1993, Leanza Cornett, tries on a hat in New York in 1992. Cornett announced that she would wear only U.S. fashions in support of U.S. textile and apparel workers.
Miss America 1994, Kimberly Clarice Aiken, waves to the crowd as she walks down the runway. Aiken said she planned to spend her year-long reign aiding homeless people.
Miss America 1995, Heather Whitestone, who is deaf, signs, "I Love You" to reporters at a press conference.
Miss Oklahoma, Shawntel Smith, right, reacts after she wins Miss America 1996 title, during the 75th Anniversary of the Miss America Pageant.
Tara Dawn Holland, right, from Kansas, is crowned Miss America 1997, by Shawntel Smith.
Miss Ilinois, Katherine Shindle, left, reacts as she's crowned the 1998 Miss America by Tara Holland at the Miss America Pageant in Atlantic City.
Miss Virginia, Nicole Johnson, right, is crowned Miss America 1999.
Heather Renee French, Miss America 2000, is showered with confetti as she walks down the runway after being crowned at the conclusion of the Miss America Pageant.
Miss Hawaii Angela Perez Baraquio, front, smiles as she is crowned Miss America 2001.
Miss America 2002, Katie Harman, clasps her hands together, overjoyed as she assumes the title of Miss America 2002.
Miss America 2003, Erika Harold, right, is congratulated by Miss Alabama, Scarlotte Deupree, in Atlantic City. Erika's platform for her reign was Empowering Youth Against Violence: "Respect Yourself: Protect Yourself."
Miss Florida, Ericka Dunlap of Orlando, Florida, center, is crowned Miss America 2004, at Boardwalk Hall in Atlantic City.
Deidra Downs, from Alabama, and newly crowned Miss America 2005, walks down the runway after being crowned at the finals of the 2004 Miss America Pageant.
Jennifer Berry, from Oklahoma, waves after winning the 2006 Miss America Pageant at the Aladdin Theatre for the Performing Arts in Las Vegas, Nevada. It was the first time the annual pageant has been held outside of Atlantic City, in its 85-year history.
Lauren Nelson, from Oklahoma, is named Miss America 2007 at the Aladdin Theatre for the Performing Arts in Las Vegas, Nevada.
Kirsten Haglund, from Michigan, walks on stage after being crowned Miss America during the 2008 Miss America Pageant at the Planet Hollywood Resort & Casino in Las Vegas.
Katie R. Stam, from Indiana, reacts after being crowned Miss America 2009.
Host Mario Lopez, left, looks on as Miss America 2009 Katie Stam, right, crowns Caressa Cameron, formerly Miss Virginia, the new Miss America 2010.
Teresa Scanlan, from Nebraska, is crowned Miss America 2011 as Miss America 1971, Phyllis George, right, gives Scanlan flowers.
Laura Kaeppeler, Miss Wisconsin, reacts after being crowned Miss America during the 2012 Miss America Pageant at the Planet Hollywood Resort & Casino January 14, 2012, in Las Vegas.
Miss America 2012 Laura Kaeppeler, right, wraps the sash around Mallory Hytes Hagan of New York, the new Miss America during the 2013 Miss America Pageant at PH Live at Planet Hollywood Resort & Casino on January 12, 2013 in Las Vegas.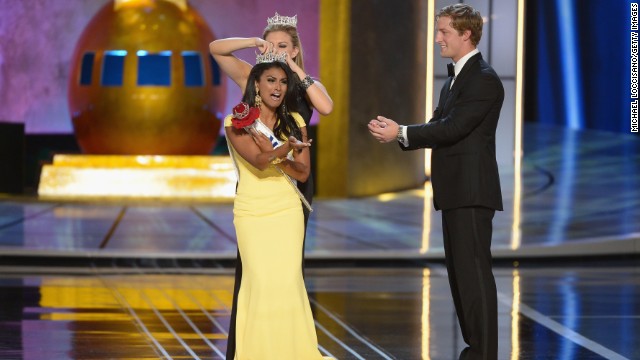 Photos: Many faces of Miss America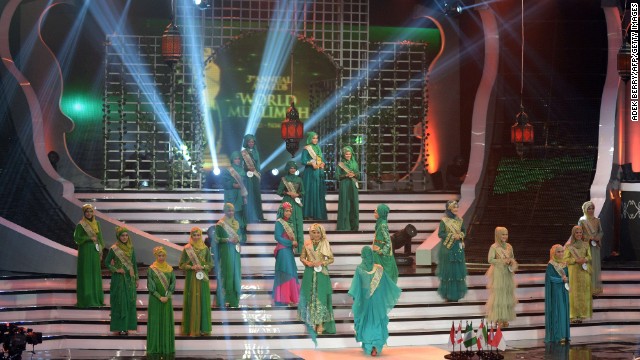 Contestants in the World Muslimah 2013 competition perform onstage in Jakarta, Indonesia, on Wednesday, September 18. As an answer to the Miss World competition, the annual award was created to crown the woman who applies "Islamic values in everyday life" as Miss World Muslimah, according to the World Muslimah website.
Obabiyi Aishah Ajibola of Nigeria checks her makeup in a mirror during the competition.
Contestants eat dinner together before the competition.
A contestant holds a copy of the Quran backstage.
A contestant holds a pair of shoes backstage.
A woman applies make-up to a contestant.
An audience member checks her phone.
Contestants perform on stage during the competition.
An Indonesian woman participates in the competition.
Women speak on stage during the competition.
Sufi Muslim dancers watch a monitor offstage during the competition.
Obabiyi Aishah Aijbola from Nigeria falls to her knees after being named World Muslimah 2013.
Ajibola is crowned by Nina Septiani, World Muslimah 2012 winner.
Ajibola is congratulated by contestants after being crowned World Muslimah 2013.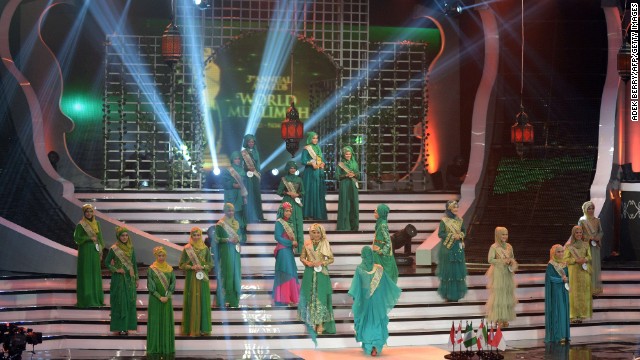 Photos: World Muslimah 2013
The discussion was reignited after Nina Davaluri, a woman of Indian descent, was crowned Miss America. Many here wondered: Could someone as dark complexioned as Davaluri win a pageant in the country of her heritage?
Opinion: Miss America, Julie Chen and the beauty of choice
Pratima Singh, the kiosk employee doing the makeover on Tanupriya's sister, says she often has clients who choose foundation or powder that is too light for them.
"They say they want to look like her," Singh says pointing to a giant clothing ad featuring a white woman. "But you can't camouflage what you are."
Khurana agrees. "That's the saddest thing in our country," she says as her sister's face is transformed into Bollywood glamor. "Looks, color of skin -- we should ignore such things."
Should, yes. But even those here who do not dispute the new Miss America's beauty said this: A pageant or a Bollywood role is one thing, but when it comes down to finding a bride for a beloved son, Davaluri, despite her stunning looks, would be too dark to make the cut.
Sure enough, matrimonial ads in India -- arranged marriages are still the way many young people choose to wed -- often read like this:
"Seeking match for beautiful, tall, fair girl ..."
And those women who are the norm in India -- that is, not light-skinned -- are targeted by a $400 million skin-whitening-cream industry. It began years ago with a product called Fair & Lovely.
Former Miss California: How do we teach kids diversity is beautiful?
I was first introduced to it through a letter from India 35 years ago. It was from one of my childhood friends in Kolkata. She was getting married and wanted to look her best on her wedding day. Her parents thought they were lucky to have secured her a good husband in an arranged marriage. She was, after all, dark complexioned.
She said she had been using Fair & Lovely but wasn't satisfied with the results. She wanted me to bring her something better from America.
I've noticed on my visit here that Fair & Lovely is still on the shelves. But women who can afford it have a wide selection of products from which to choose. There is even a vaginal wash that promises freshness, protection and, of course, skin lightening.
Some people blame the industry for making the problem worse. But Shivangi Gupta of MidasCare Pharmaceutical, the manufacturer of the vaginal wash, said the company is simply ceding to customer demands.
"We had a very proactive consumer coming in and asking us for this product, and I think it would be very irresponsible of us to not to provide that as a solution," Gupta says.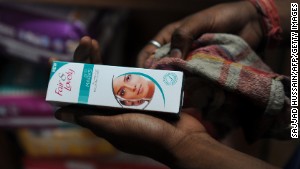 A sales assistant holds Fair and Lovely skin fairness cream at a shop in New Delhi.
In Kolkata, I ventured into a beauty products store that carried a dizzying array of skin creams. Employee Jayasree Sarkar told me the skin-lightening creams were the store's most popular products. It doesn't matter that they don't really make you two shades lighter in a matter of a week. Women keep buying the stuff, believing there might be a chance.
Their hope is fueled by Bollywood megastars such as Shah Rukh Khan, a darker-complexioned actor who had been peddling a cream made by Emami called Fair and Handsome. Khan tells Indians that he gained success after using the cream.
Pria Warrick, a former Miss India who now runs a finishing school for women in Delhi, says India is still struggling to get over its colonial past.
"We, of course, in India are very obsessed with being very fair. I think it's something the British left us with," Warrick says.
Warrick tells me she is convinced that India needs someone like Oprah Winfrey to do for Indian women what the star did for black women in America -- to make Indians proud of their culture, their heritage, their looks.
She also blames the infiltration of U.S. culture for making Indian society so focused on physical beauty.
"American culture places a lot of importance on looks," she says.
Indians stand at a crossroads, Warrick says. "How much do we pick up from the West?"
Documentary brings light to 'Dark Girls'
Some Indians are trying to reverse the movement to be fair. Actor Nandita Das has lent her face to the "Dark is Beautiful" campaign, trying to foment change.
"The point is do we want to capitalize this prejudice and lack of self worth and further perpetuate it," Das says in the campaign, "or do we want to address it in a way and empower more women and make them feel good in the way they are?"
Back at the Delhi mall, Jai Shukla, 31, says it's a shame Indians are so obsessed with skin tones. "I think mentally, we are not free," he says, admitting that he once tried lightening creams on his own chocolate skin.
He says he used to teach Hindi to Westerners at the posh Imperial Hotel in Delhi. Sometimes, the guards assumed he was a laborer. He says he was a victim of profiling because of his dark complexion. He tried skin-lightening creams but gave it all up once he began to gain more confidence in himself.
Rajat Tyagi, 28, rattles off a list of actresses he says personify his ideal of beauty: Kate Winslett, Angelina Jolie and Indian actor Katrina Kaif, who is light-skinned. But Tygai goes against the grain. When it comes to marrying someone, he says, he won't care if she is white, brown or black.
It's what inside that matters, he says.
"Really?" I ask him.
"Really," he says.
I didn't know whether to believe him, especially in the midst of the retail madness of this Delhi mall. His answer is cliche. But I am glad he said it.
CNN's Mallika Kapur contributed to this report.