STORY HIGHLIGHTS
Two previous shutdowns -- in late 1995 and early 1996 -- cost the country $1.4 billion
You'd have to keep paying taxes
Furloughed workers would eventually get paid; Troops would be paid
You'd see delays in passport and gun permit processing
Are you affected by the shutdown? Got a message for Washington? Send it to iReport and be part of CNN's coverage.
(CNN) -- Democrats and Republicans were unable to resolve their differences over Obamacare and now the government is shut down.
And at a time when the economy's finally showing signs of life, that could be troubling.
Shutdowns don't come cheap. Federal agencies have to use up time, energy and resources to plan for one. Shutting down and then reopening the government also costs money.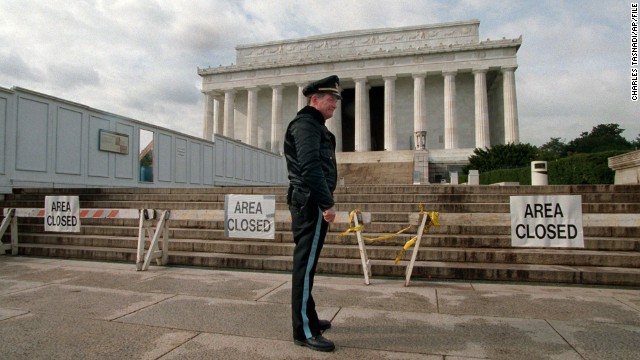 A Park Service police officer stands guard in front of the Lincoln Memorial during a partial shutdown of the federal government in November 1995. Many government services and agencies were closed at the end of 1995 and beginning of 1996 as President Bill Clinton battled a Republican-led Congress over spending levels.
An employee hangs a sign on the door of the Smithsonian's National Air and Space Museum in Washington on November 14, 1995, marking the start of the government shutdown.
A tourist peers out a ferry window at the Statue of Liberty on November 14, 1995, as a small group of visitors wait on the dock to board the vessel. No passengers were allowed off the boat as both the Statue of Liberty and Ellis Island were closed after federal workers were sent home.
Sen. Pete Domenici, R-New Mexico, chairman of the Senate Budget Committee holds up a chart showing the differences between Republican and Democratic budgets as Speaker of the House Newt Gingrich, left, and Senate Majority Leader Bob Dole stand by during a press conference on Capitol Hill.
A police officer walks through the empty Statuary Hall in the Capitol on November 15, 1995.
The national debt clock in New York is stopped during the government shutdown in November.
President Clinton speaks about the federal budget impasse from the Oval Office on November 16, 1995. The first part of the budget shutdown ended on November 19 when a temporary spending bill was enacted. But Congress failed to come to an agreement on the federal budget, leading to a second shutdown starting December 16.
UPS workers deliver letters to members of Congress on November 28, 1995. The letters were written and sent by members of the Coalition For Change, a nonpartisan organization devoted to balancing the budget.
A speaks to demonstrators at the Capitol Rotunda on December 7, 1995. Evangelical leaders from around the country held a prayer session to call on legislators to treat the poor justly during welfare reform and budget negotiations.
House Appropriations Committee Chairman Rep. Bob Livingston, right, holds a "closed" sign outside the National Gallery of Art in Washington on December 18, 1995.
A security guard informs people that the passport office is closed at the Federal Building in Los Angeles on December 18, 1995.
Rep. John Boehner dumps out coal, which he called a Christmas gift to President Clinton, during a news conference about the federal budget on December 21, 1995.
Karen Bishop chains herself to colleagues during a rally at the Federal Building in San Francisco on January 3, 1996. The workers claimed they were in servitude to the government as hundreds of thousands of federal employees were either furloughed or had to work without pay.
Food service employees at the Veterans Hospital in Miami line up to receive food rations on January 3, 1996. Many federal employees faced financial hardships during the shutdown.
Tourists line up outside the National Gallery of Art in Washington on January 5, 1996. It was one of the few government buildings open during the shutdown thanks to the assistance of private funds.
People trying to apply for visas at the U.S. consulate in Paris on January 5, 1996, are told that the building is closed because of the U.S. budget crisis.
Rep. Thomas Davis III, R-Virginia, attends a rally in Washington on January 5, 1996, urging the end of the government shutdown.
Tourists view Yosemite National Park in California after it re-opened on January 6, 1996. Early that morning, President Clinton signed Republican-crafted legislation to restore jobs and provide retroactive pay to government workers while he and Congress continued negotiating how to balance the federal budget.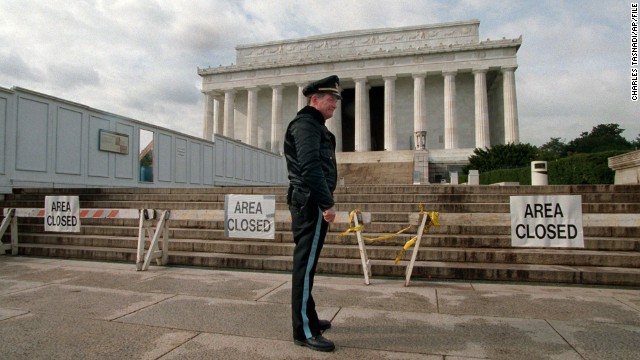 Photos: The last government shutdown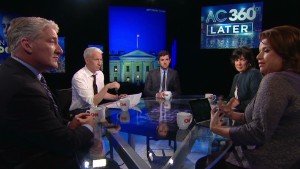 Government's latest shutdown showdown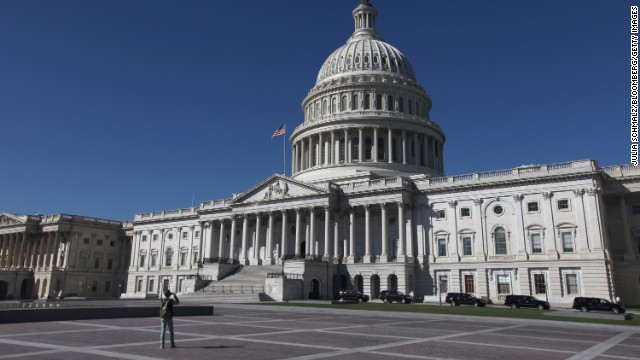 The game is the same, but many of the players have changed. Congress and the president are facing off in another supreme spending showdown. This last happened in 2011, when Congress avoided a shutdown by passing a spending measure shortly after the midnight deadline hit. Who controls what happens this time? Take a look at the key players who will determine how this fight ends. -- From CNN Capitol Hill Reporter Lisa Desjardins. CNN's Deirdre Walsh and Ted Barrett contributed to this report.
Rep. Mark Meadows, R-North Carolina -- The architect. During Congress' August recess, the tea party-backed freshman wrote to Republican leaders suggesting that they tie dismantling Obamacare to the funding bill. Though initially rejected by GOP leadership, 79 of Meadows' House colleagues signed on to the letter, which quoted James Madison writing in the Federalist Papers, "the power over the purse may, in fact, be regarded as the most complete and effectual weapon ... for obtaining a redress of every grievance."
Speaker John Boehner, R-Ohio -- The coach. He'll make the key play call. The top Republican leader in the land may be the most important player in the days immediately before a possible shutdown. Boehner could decide whether to push through the Senate's version of a spending bill and keep government running, or he could float a third version with some other Republican wish list items in it. If he takes the second option, Boehner could risk a shutdown but could also force the Senate into a tough position: give House Republicans something or send federal workers home. Timing on all this will be critical.
Sen. Ted Cruz, R-Texas -- The revolutionary or rabble rouser, depending on your viewpoint. The tea party firebrand could lead a long filibuster on the Senate floor, delaying passage of a spending bill until just one day before the deadline on Monday, September 30. Cruz has stoked the anti-Obamacare flames all summer, but recently angered fellow Republicans by openly saying that the Senate does not have the votes to repeal the health care law.
Sen. Marco Rubio, R-Florida -- Senator to watch. The potential presidential candidate has been one of three senators (Cruz and Mike Lee, R-Utah, being the others) pushing to use the government shutdown debate as a way to repeal or defund Obamacare. But watch his actions and language as a shutdown nears to see if he digs in or if downshifts at all.
Sen. Harry Reid, D-Nevada -- The man steering the ship in the Senate. Master at using Senate procedure to his advantage, Reid is the main force in controlling the voting process in the chamber and ensuring that an attempted filibuster by tea party-types fails. The majority leader will be a primary negotiator if we reach phase three, if the House does not accept the Senate spending bill.
Sen. Mitch McConnell, R-Kentucky -- If Reid steers the ship, McConnell controls the headwinds. Which is good news for Reid, at least initially. The Republican leader and several of his members say they will vote against Cruz's filibuster and in favor of a spending bill with no limits on Obamacare. Meaning, in favor of a bill that just funds government. McConnell generally has been leery of running into a shutdown or default. In fact, one legislative method for avoiding default is named after him.
Sen. Patty Murray, D-Washington -- The consigliore. Murray, center, does not seek the outside limelight, but the Senate Budget Committee chairwoman is a major fiscal force behind the scenes on Capitol Hill. Known by fellow Democrats as a straight shooter, she is also an experienced negotiator, having co-chaired the laborious, somewhat torturous and unsuccessful Super Committee.
Rep. Tom Graves, R-Georgia -- The new militia leader. The freshman congressman from Georgia, second from right, is one reason the debate has reached this point. Graves led the charge that blocked the original proposal by House Republican leaders. That would have kept government funded and had a detachable portion on Obamacare. Instead Graves and other conservatives forced their leaders to pass a spending bill with a mandatory defunding of Obamacare.
Rep. Peter King, R-New York -- The blunt statesman. King is outspoken against many tea party tactics, calling the move to tie Obamacare to the must-pass spending bill essentially a suicide mission and Cruz "a fraud." He is pushing for Republicans to accept a more "clean" spending bill that can pass the Senate and avoid a shutdown.
Thomas Donohue, president and CEO of the U.S. Chamber of Commerce -- The heavy. Donohue is known for his deep connections and his aggressive lobbying on behalf of business. He and the Chamber are urging Republican lawmakers to avoid a shutdown. The Chamber is an important political backer for conservatives, but has had mixed success with the current Congress, locking in firm anti-tax positions but unable to push through immigration reform so far.
Michael Needham, president of Heritage Action -- The driving force. Needham runs the political offshoot of the conservative Heritage Foundation and has been unrelenting in urging lawmakers to repeal Obamacare. He has told Republicans not to fear a potential shutdown, saying they would suffer more politically from allowing Obamacare to continue.
President Barack Obama -- The campaigner and CEO. Expect the president to use his podium more as a shutdown nears, aiming at public opinion as Democrats in Congress position themselves. If House Republicans send back a new proposal close to the September 30 deadline, the president and Democrats will have to decide what move to make next.
Rep. Eric Cantor, R-Virginia -- The powerful lieutenant. Cantor, the House Republican No. 2, is much more closely allied with conservatives and tea party members in the House than is Speaker Boehner. The two have not always agreed on every strategy during potential shutdown debates, but have been in public lockstep during the current go-around.
Rep. Nancy Pelosi, D-California, and Steny Hoyer, D-Maryland -- Players on deck. The top two House Democrats are mostly watching and waiting. But they will play a critical role once Boehner decides his next move. They could either bring Democratic votes on board a deal or be the loudest voices against a new Republican alternative. Hoyer will be interesting to watch; he has strongly opposed both the House and Senate plans as cutting too much in spending.
Rep. Kevin McCarthy, R-California -- The numbers guy. McCarthy, the House whip, has the tricky job of assessing exactly where Republican members stand and getting the 217 votes it takes to pass a bill in the chamber. He is known for his outreach to and connection with many of the freshmen House members who align with the tea party.
Rep. Paul Ryan, R-Wisconsin -- Member to watch. The vote of the House budget chairman and former vice presidential nominee is an important signal both within Republican ranks and to the public at large. Ryan has voted against some funding measures in the past, including the emergency aid for Superstorm Sandy recovery. But he was a "yes" on the last extension of the debt ceiling.
Rep. Ileana Ros-Lehtinen, R-Florida -- Another member to watch. A former committee chairwoman (Republican rules have term limits for committee chairs), Ros-Lehtinen knows House politics and procedure inside out. Depending on the issue, she has been described as a conservative or moderate, and occasionally as a libertarian.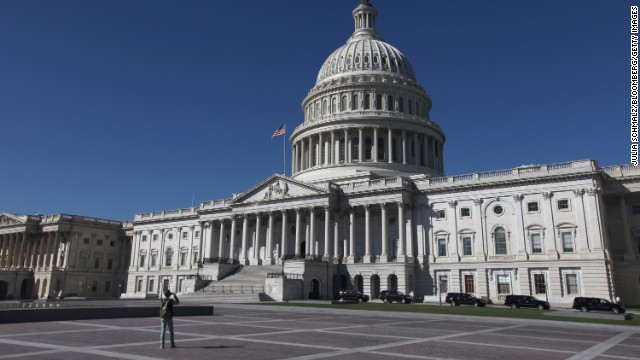 Photos: Key players in the shutdown debate
According to the Congressional Research Service, the two previous shutdowns -- in late 1995 and early 1996 -- cost the country $1.4 billion.
But what will the shutdown mean for you? Will your daily life be affected?
(The answer's yes, so keep reading.)
Here are 10 ways the government shutdown will affect you.
10. Vacation all I ever wanted: Need to get away? Well, you can't. At least not to national parks. Or to national zoos. Or to national museums. They'll be closed. That's 368 National Park Service sites closed, millions of visitors turned away.
Were you thinking more along the lines of a trip to France? If you don't already have a passport, you might have to bid that adieu -- you might not get your blue book in time. The last time the government threw a hissy fit, 200,000 applications for passports went unprocessed. Tourism and airline revenues reeled.
But according to the State Department's current shutdown plan, offices will remain open because they generate enough in fees to support their operation. Any offices located in a federal building affected by the shutdown, however, may not be able to open.
9. Holiday. Celebrate: Don't go to work if you're a federal employee. You're on furlough. (Offer not valid for workers in "critical services," such as air traffic controllers, hazardous waste handlers and food inspectors.)
Do take some time to celebrate. In previous shutdowns, everyone who stayed home was paid retroactively after peace returned to Washington.
8. I won't back down: The men and women in uniform will stay on the job and be paid, according to legislation approved by Congress in the run-up to the shutdown.
Scenarios of the shutdown
7. If you drive a car, I'll tax the street: You may be thinking, "No functioning government, no need to pay taxes." Think again. The Man would continue to collect taxes. U.S. bonds would still be issued. And other essential banking functions will go on.
6. Wait a minute, Mr. Postman: You know that whole "Neither snow, nor rain, nor heat, nor gloom of night" thing? Apparently, the U.S. Postal Service works through shutdowns as well. Sorry, you won't catch a break from the junk mail. But hey, you may already be a winner!
5. I want a new drug: Oh, the irony. The Republicans still want to defund, delay or otherwise chip away at Obamacare in exchange for funding the government. But the health care act at the center of this storm would continue its implementation process during a shutdown. That's because its funds aren't dependent on the congressional budget process.
4. Pass the ammunition: Not so fast. A shutdown would affect the Bureau of Alcohol, Tobacco, Firearms and Explosives. Translation: That gun permit you wanted processed won't happen anytime soon if this goes on for a while.
3. Money (that's what I want): Well, if you own a small business and needed a loan from the government, you'll have to wait, depending on how long this lasts. If you were planning to buy a house and needed a federal loan, you'll have to wait. If you're a veteran, you might have to make a few trips to the mailbox before that check arrives.
If you're on Social Security, however, don't worry -- probably. Social Security payments were sent during the last shutdown. President Barack Obama's expected to keep workers on the payroll to process checks. But would there be enough employees to process new benefits for the newly retired?
2. Anything dirty or dingy or dusty: Oscar the Grouch is a company of one. No one loves trash. But if you live in Washington, expect it to pile up if there's a shutdown. There wouldn't be anyone to collect your garbage. Washington's budget has to be approved by Congress. No budget for the city = no trash collection. And, according to The Washington Post, D.C. produces about 500 tons of garbage each week.
1. I'm proud to be an American: Perhaps the biggest hit would be to the collective psyche. America is the largest economy in the world and a beacon for how democracy ought to work. To watch elected lawmakers engage in a high-stakes staring contest with no one willing to blink is no way to do business. A recent CNN/Opinion Research Corp. poll found that 51% would blame Republicans for the shutdown. The United States has operated without a budget since 2009 and has avoided a government shutdown with last-minute deals. It's been one stomach-turning sequel after another.
Not only did the government run out of money on Tuesday, the nation is set to hit its borrowing limit and potentially default on its debt in mid-October. Together, they serve -- in the words of CNN senior White House correspondent Jim Acosta -- as a dysfunction double whammy.