STORY HIGHLIGHTS
Ben Mulwa saw four gunmen wearing checked head scarves open fire
He says the faces of the gunmen were not covered
Mulwa says he heard the gunmen, but could not understand them
Bendita Malakia says she could hear gunmen going store to store
Editor's note: Are you in Nairobi, Kenya? Share your pictures and videos but please, stay safe.
(CNN) -- The carnage began early in the afternoon on Saturday at Nairobi's Westgate Shopping Mall, with gunshots shattering the calm of a popular weekend meeting spot where Kenyans and expatriates shop for groceries, grab a coffee or catch a movie.
The ensuing hostage standoff left dozens of people dead and hundreds more wounded.
Two days later, the Kenyan authorities claim to have regained control of the complex, but the stories of those who escaped paint a terrifying picture of how the attack unfolded:
Ben Mulwa: Caught in parking lot
It was about 12:50 p.m. when Ben Mulwa, a Nairobi County politician, and a friend pulled into the multilevel parking garage attached to the five-story mall.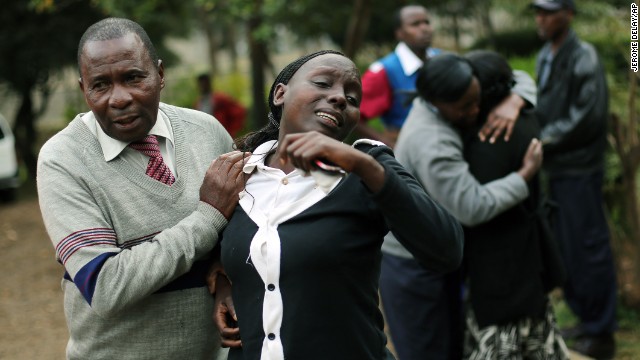 Relatives of Johnny Mutinda Musango, 48, weep after identifying his body at the city morgue in Nairobi, Kenya, on Tuesday, September 24. Musango was one of the victims of the Westgate Mall hostage siege. Kenyan security forces were still combing the mall on the fourth day of the siege by al Qaeda-linked terrorists.
Ann Gakii reacts at the Nairobi City Mortuary after identifying the body of her father, who was killed in the mall attack on Saturday.
A Kenyan soldier runs through a corridor on an upper floor at the Westgate Shopping Mall in Nairobi, Kenya, on September 24, shortly before an explosion was heard. Sounds of heavy gunfire erupted from the mall Tuesday, even as authorities said they had the building under their control. But four days after Al-Shabaab terrorists stormed the swanky mall, several gunmen -- including snipers -- were still inside, two senior officials said.
Kenyan Defense Forces walk near the mall on Monday, September 23.
Kenyan Defense Forces leave the mall on September 23.
Stephen, center, is comforted by relatives as he waits for the post mortem exam of his father, who was killed in Saturday's attack at the mall.
A Kenyan police officer guards the entrance of a building near the mall on September 23.
A Kenyan security officer takes cover as gunfire and explosions are heard from the mall on September 23.
Heavy smoke rises from the Westgate Shopping Mall on September 23.
Medics take cover behind a tree as gunfire and explosions are heard from the Westgate Mall on September 23.
A Kenyan police security officer runs for cover as heavy smoke rises from the mall on September 23.
A paramedic runs for cover outside the mall on September 23.
People run for cover outside the mall after heavy shooting started on September 23.
Kenyan security forces crouch behind a wall outside the mall on September 23.
Soldiers take cover after gunfire near the mall on September 23.
Kenyan paramilitary police officers patrol the area near the mall on Sunday, September 22.
Soldiers from the Kenya Defense Forces arrive outside the Westgate Mall on September 22.
A woman shields a baby as a soldier stands guard inside the Westgate Mall on Saturday, September 21.
A rescue worker helps a child outside the mall.
People who had been hiding inside the mall during the gunfire flee the scene.
An armed official takes a shooting position inside the mall.
An armed official crouches on September 21.
Bodies lie on the ground inside the mall.
Men help a wounded woman outside the mall.
Officials carry an injured man in the mall.
Soldiers move up stairs inside the Westgate Mall.
Armed police leave after entering the mall. At least one suspect has been killed, a government official said. Police have said another suspected gunman has been detained at a Nairobi hospital.
Armed police take cover behind escalators as smoke fills the air. Witnesses say tear gas was thrown in the corridors.
A woman who had been hiding during the attack runs for cover after armed police enter the mall.
A body is seen on the floor inside the smoke-filled four-story mall.
An injured person is helped on arrival at the Aga Khan Hospital in Nairobi after the attack at the upscale mall.
A soldier directs people up a stairway inside the Westgate on September 21.
An injured man is wheeled into the Aga Khan Hospital in Nairobi.
People run from the Westgate Mall.
A Kenyan woman is helped to safety after the masked gunmen stormed the upscale mall and sprayed gunfire on shoppers and staff.
Crowds gather outside the upscale shopping mall. The interior ministry urges Kenyans to keep off the roads near the mall so police can ensure everyone inside has been evacuated to safety.
A policeman carries a baby to safety. Authorities said multiple shooters were at the scene.
Bodies lie outside the shopping mall.
A security officer helps a wounded woman outside.
Elaine Dang of San Diego is helped to safety after the attack. The military asked local media not to televise anything live because the gunmen are watching the screens in the mall.
Paramedics treat an injured man outside the mall.
Medical personnel carry a body away.
A body lies outside the mall. Gunmen shot people outside the mall as they entered it
A woman is pulled by a shopping cart to an ambulance.
A wounded man is escorted outside the mall.
A police officer carries a baby as people keep low and run to safety. Crowds dashed down the streets as soldiers in military fatigues, guns cocked, crawled under cars to get closer to the mall.
People run away from the scene.
Armed Kenyan forces take position to secure the area around the shopping mall as ambulances move in to carry the injured.
A woman reacts after she is rescued from the mall.
A couple flee the area. As night fell, authorities said they had cornered the gunmen in the mall.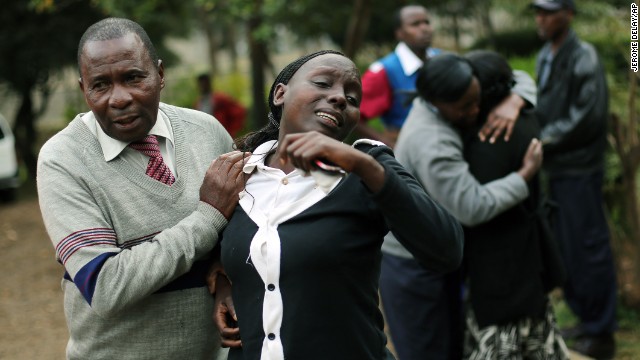 Photos: Kenya mall attack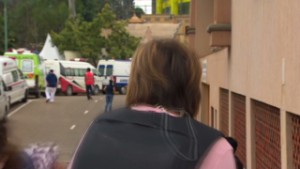 See CNN anchor react to Kenya gunfire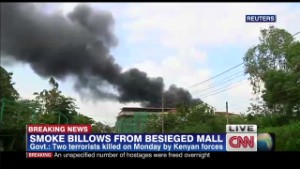 Kenya siege victim saw a gunman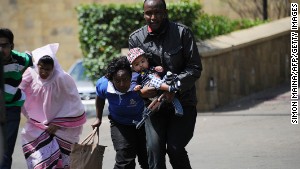 Shooting witness: We crawled under cars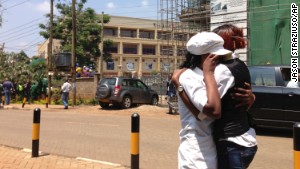 Witness: We saw lots of blood
Mulwa, who was at Westgate for a lunch meeting at the Java House, was parking the car when he heard a gunshot, he told the NTV television channel.
His first thought: It's a robbery. Then came the rapid gunfire.
He said he got out of the car and hid near the main entrance of the parking lot.
That's when he saw some of the attackers -- four men wearing checked head scarves and carrying "very long rifles." They didn't cover their faces, he said.
He could hear them but couldn't understand them. "It sounded like a variation of Swahili," he said.
Then they turned their guns in Mulwa's direction, taking aim at a security guard hiding near him.
"He was shot in the head, and he died instantly," he said.
Then they fired at him, aiming for his head. A bullet grazed him in the head, he said. He also suffered a gunshot wound to the leg.
The gunmen then calmly turned and walked into the mall, Mulwa said.
By all accounts, more gunmen were making their way into the mall through other entrances.
Not seeing the attackers was part of the terror
Bendita Malakia: Refuge in a store
It was shortly after noon when Bendita Malakia of Elizabeth City, North Carolina, made her way into the mall to have lunch with a friend when the attack began, she told CNN affiliate WAVY via Skype.
Malakia, who moved to Nairobi in July to work with a financial company, was in the middle of lunch on the mall's terrace when the gunmen stormed the area, throwing what she believes were hand grenades and firing assault rifles.
"We stood up and started to turn, and we heard machine guns. Then, we started to run and there was a second explosion, which knocked us on the ground," Malakia told WAVY.
Malakia and her friend got up and ran to a store where dozens of people had taken refuge. Once inside, the store manager pulled down a metal gate at the store's entrance to try to prevent the gunmen from coming in, she said.
But it didn't block out the sounds of the gunmen.
"While we were back there, you could hear them methodically going from store to store, talking to people and asking questions," Malakia said.
They were shooting, screaming. Then it would stop for a while and they would go to another store
Bendita Malakia, who escaped mall massacre
"They were shooting, screaming. Then it would stop for a while and they would go to another store."
Four hours later, Malakia and her friend were rescued by security forces.
Malakia believes she was "completely lucky" because she was on the ground floor when the assault began and where she was hiding was easily accessible to her rescuers.
Al-Shabaab breaks new ground with complex Kenya attack
Andrew McLaren: About to leave Kenya
Andrew McLaren and his wife, Kathy, were at a coffee shop near the mall entrance of the Nakumatt Supermarket, one of Kenya's biggest chain grocery stores, when the attack began, his mother told TVNZ.
The couple, who had been in Kenya for work, were enjoying one of their last weekends in Nairobi before returning to their native New Zealand.
The two dropped to the ground for cover, according to Elaine McLaren-Crawley, who recounted a conversation with her daughter-in-law.
But the gunmen sprayed the cafe with gunfire. "... Andrew was shot through the back as he and Kathy lay on the floor of the coffee house," McLaren-Crawley said.
It wasn't immediately clear from the report how the McLarens escaped the mall.
McLaren was listed in stable condition at the Aga Khan hospital, his mother said.
Safety: Can the mall attack happen again?
Uche Kaigwa-Okoye: 'We were really scared'
Uche Kaigwa-Okoye was sipping coffee when he heard what first sounded like a fallen table, then the continuing rat-a-tat of gunfire. As the gunshots became louder, screaming crowds headed for the exits.
He joined 20 people who took shelter for about five hours in a women's bathroom cubicle.
"We were really scared," he said. "Every sound sounded scary. We couldn't make out sounds, and they had grenades. It was really, really loud ... They must have passed our corridor several times. We heard gunshots down our corridor," he told CNN.
Some people ventured out but quickly returned, saying it was unsafe.
Kaigwa-Okoye heard firing but then realized police had arrived on the floor where he was hiding in the restroom. They were firing tear gas.
Officers told them to walk out single file and made them throw away their bags.
Zulobia Kassam: 'Random shots from everywhere'
Zulobia Kassam had just finished a cup of coffee at a cafe when she made here way toward the mall entrance to the Nakumatt Supermarket to pick up a few items.
"We entered and the lights went off," she said. She waited for the generator to kick in, but instead she heard gunshots and saw people running.
"We rushed to the back and hid ourselves," Kassam told CNN.
"We heard random shots from everywhere -- upstairs, downstairs ... we even heard shots 30 feet from us," she said.
"People were petrified, crying, praying," she said.
Kassam hid for more than two hours when a security person arrived and said it was safe to flee. She and others walked through a storage area.
"We saw lots of blood, sandals and shoes," she said.
She made it outside to the main road.
And even at what seemed a safe distance, she again heard shooting in the distance.
Al-Shabaab grew amid Somalia's lawlessness
Sara Head: 'I thought it was a car accident'
American Sara Head told CNN she had just parked after leaving a meeting a few blocks from the mall when she heard three shots.
"I thought actually, it was a car accident, I thought someone had been rear-ended. Then I saw people running and my colleague, who worked elsewhere, recognized the sound of gunshots and she yelled at me and we and other people in the parking garage began crawling underneath cars and behind cars and we heard more shots so we began running."
Head, her colleague and their driver followed several other people into the stairwell of the garage.
"We had gone down into the parking garage so I thought when I entered the stairwell that I would just go up one level and I would be able to exit -- and that was not the case," she said.
"There were two people in the stairwell with me who were superficially wounded from gunshots. When we initially entered the stairwell we kept going up and then we heard shots above us so we ended up staying there for about an hour and a half."
The door to the supermarket then reopened, the lights came on and people began exiting, she said.
"I was very, very hesitant because there was no information to tell me that it was safe to exit. It was just that the people in front of me were exiting, Head said.
"I was sort of a sheep following everyone else in front of me and I was very eager of course to get outside and as far away from the situation as possible."
CNN security analyst: How Al-Shabaab picks its targets