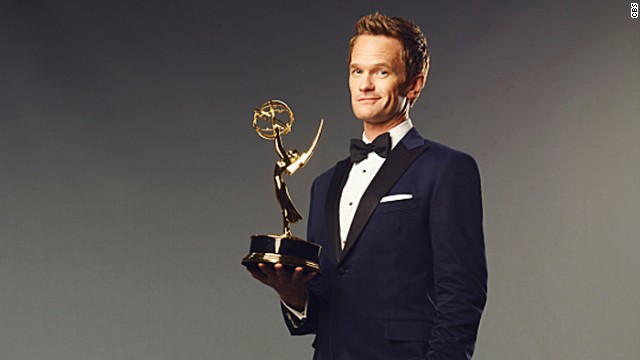 It's not Neil Patrick Harris' first time hosting the Primetime Emmy Awards, but where will he rank this year among the best and worst hosts? Remember when...
Bryant Gumbel, right, hosted the 49th annual Emmy Awards in 1997, and has overwhelmingly been panned as one of the worst. Seen here helping the late actor Christopher Reeve read the winner for outstanding supporting actor for a miniseries or special, this was about as exciting as Gumbel's hosting duties got.
It was speculated that Bryant Gumbel did such a poor job that the Emmys decided to just be without a host the next year. Instead it depended on star power like legendary comedians Milton Berle, left, Bob Hope, center, and Sid Caesar, right, for the 50th Annual Primetime Emmy Awards in 1998. Still, that show was less than stellar, too.
Do you remember when David Hyde Pierce and Jenna Elfman co-hosted the 51st Emmy Awards in 1999 and did that leotard dance? Best that it be forgotten.
Ellen DeGeneres was widely praised for her hosting of the 53rd Emmy Awards in November 2001. The awards were held after twice being rescheduled because of the September 11 terrorist attacks and the ongoing conflict in Afghanistan. Most agreed DeGeneres displayed grace under pressure.
Conan O'Brien was just plain old fun when he hosted the 58th Annual Primetime Emmy Awards at the Shrine Auditorium in Los Angeles in 2006.
Jimmy Kimmel joined hosts Tom Bergeron, Howie Mandel, Heidi Klum, Ryan Seacrest and Jeff Probst onstage during the 60th Primetime Emmy Awards in 2008. The audience did not love the group host dynamic and the show became one of the lowest rated telecasts ever.
Neil Patrick Harris sang, danced and goofed his way into viewers' hearts at the 61st Primetime Emmy Awards, held at the Nokia Theatre on September 20, 2009, in Los Angeles.
A year after his "Late Night" premiered, Jimmy Fallon was hailed for his hosting style during the 62nd Annual Primetime Emmy Awards held at the Nokia Theatre L.A. Live on August 29, 2010, in Los Angeles.
Is it possible to be the best AND the worst? When Jimmy Kimmel hosted the 64th Annual Primetime Emmy Awards in 2012, he either
The best and worst Emmy hosts
The best and worst Emmy hosts
The best and worst Emmy hosts
The best and worst Emmy hosts
The best and worst Emmy hosts
The best and worst Emmy hosts
The best and worst Emmy hosts
The best and worst Emmy hosts
The best and worst Emmy hosts
The best and worst Emmy hosts