STORY HIGHLIGHTS
A Colorado man and his roommate feel safe from flooding in their hillside home
But after Stephen Smith rescues a family, rising water threatens their home
A "4-foot wall of water" leaves thick mud and ruined furniture
A video of Mark Changaris playing piano after salvaging belongings has gone viral
Boulder, Colorado (CNN) -- Even though rising floodwaters were wreaking havoc along Colorado's Front Range communities on September 12, Mark Changaris and his roommate, Stephen Smith, felt safe in their upscale home high on a hillside adjacent to Flagstaff Mountain. A mile downhill, downtown Boulder's streets were underwater.
"We thought there might be some minor flooding in the house," said Mark. "We're so high up, we thought there would be nothing to worry about up here."
The drama was just beginning.
In the early morning, Smith heard reports that heavy rain was isolating the city of Lyons, where his sister Catherine lives. He decided to evacuate Catherine; her partner, Mandy; their 8-month old daughter, Tobin; and two family dogs.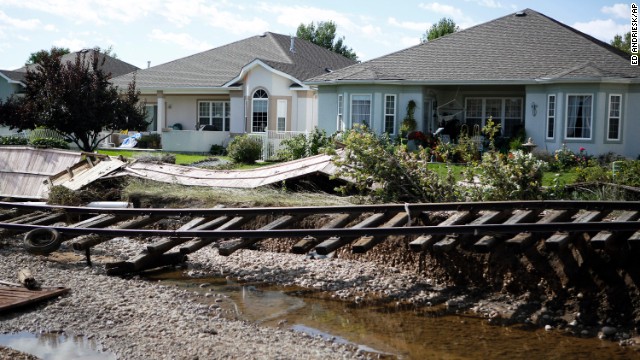 Railroad tracks washed from their path by floodwaters are seen in Longmont on Thursday, September 19, 2013. Massive flooding has left at least six people dead and damaged thousands of homes around the state.
Piles of items destroyed by flooding line both sides of a street in Longmont on September 19.
A woman disposes of ruined items from her home in Longmont on Wednesday, September 18.
David Soleta, right, and family friend John Rice remove destroyed and contaminated walls on September 18 from Soleta's father-in-law's home, which was heavily damaged by floodwaters that swept through Longmont.
From left, siblings Elizabeth, 13, Jonathan, 9, Aaron, 11, and Kitty Dipert, 6, wash mud from the clothing of family friends from church on September 18 in Longmont, Colorado.
An abandoned car sits on a destroyed road along the South Platte River near Greeley, Colorado, on Tuesday, September 17.
A Blackhawk helicopter flies over a canyon during a search around Boulder, Colorado, on September 17.
Two women are hoisted into a Blackhawk helicopter during a search and rescue mission near Jamestown, Colorado, on September 17.
Two women smile and laugh after being rescued by a helicopter crew on September 17 near Jamestown, Colorado.
Members of the FEMA Urban Search and Rescue Nebraska Task Force 1 use probes to test for water depth while crossing floodwaters looking for missing people near Longmont, Colorado, on September 17. Stranded flood victims are being rescued by military helicopters and vehicles.
A cow stands in floodwater near Kersey, Colorado, on September 17.
From left, Dale Reeves, Kathryn Reeves and Trent Mayes assist a family member by moving belongings from a flooded home in Evans, Colorado, on September 17.
A gas well is surrounded by floodwater near Kersey, Colorado, on September 17.
A woman steps over a puddle onto the foundation of a shed that was moved by floodwaters in Hygiene, Colorado, on Monday, September 16.
People wade through floodwater in Greeley, Colorado, on September 16.
Jerrie McBride checks in with authorities after being rescued by helicopter from the Big Elk Meadows area in Boulder, Colorado, on September 16.
Local residents, from left, Levi Wolfe, Miranda Woodard, Tyler Sadar, and Genevieve Marquez help salvage and clean property after days of flooding in Hygeine, Colorado, on September 16.
Floodwaters surround a home in Jamestown, Colorado, on Sunday, September 15.
Chickens take refuge on the roof of their coop to escape floodwater in the backyard of a home in Longmont, Colorado, on September 15.
Railroad tracks are washed out in Longmont, Colorado, on September 15.
Water pours out of a parking lot, overwhelming a culvert heading under the roadway, in Estes Park, Colorado, on September 15.
A road crew works on a stretch of highway washed away by flooding along the South Platte River near Greeley, Colorado, on Saturday, September 14.
Parked vehicles sit partially submerged near Greeley, Colorado, on September 14.
Eli and Noe Sura play in the mud around their Boulder, Colorado, home on September 14.
A National Guardsman stands at South Main and Missouri streets in Longmont, Colorado, on September 14.
Floodwaters swamp Longmont, Colorado, on September 14.
Dave Jackson closes a mailbox with his foot after delivering the mail to a home surrounded by water from the flooded Cheyenne Creek in Colorado Springs, Colorado, on Friday, September 13.
Rescue personnel search for flood victims near Fort Collins, Colorado, on September 13.
Chris Rodes helps Fred Rob salvage a friend's belongings after floods left homes and infrastructure in shambles in Lyons, Colorado, on September 13.
During a break in the rain, a woman walks over a footbridge past the raging Boulder Creek in Boulder on September 13. Boulder County is one of the hardest-hit areas.
Suzanne Sophocles hugs her dogs after they were rescued from her flooded home on September 13 in Boulder. Thousands of people stranded by the flood waters in Colorado were finally able to come down by trucks and helicopters, two days after seemingly endless rain turned normally scenic rivers and creeks into coffee-colored rapids that wrecked scores of roads and wiped out neighborhoods.
Residents look at the flood damage along Topaz Street in Boulder on September 13.
Will Pitner gets rescued by emergency workers and neighbor Jeff Writer on September 13 after he spent a night trapped outside above his home at the base of Boulder Canyon.
Water rushes where a bridge collapsed in a flash flood in Lyons, on September 13.
A man runs through the floodwaters in a yard in Boulder on September 13.
Topaz Street resident Jake Koplen stands at the edge of his driveway after the street in front of his home was washed away in Boulder on September 13.
Siblings Patrick Tinsley and Mary Kerns head to Boulder from the mountain community of Magnolia, Colorado, on September 13.
Samantha Kinzig of Longmont, Colorado, and her 5-year-old daughter, Isabel, take a closer look at the damaged bridge on Weld County Road 1 on September 13.
Highway 7 is completely blown out from the South St. Vrain River as a torrent of raging water rips through it about 12 miles west of Lyons on Thursday, September 12.
A woman looks at the flooded Boulder Creek on September 12.
Three vehicles crashed into a creek after the road washed out from beneath them in Broomfield, Colorado, on September 12. Three people were rescued.
Nicky Toor, 15, floats on the flooded lawn of North Boulder Park in Boulder on September 12.
Joey Schusler rides through flooded Canyon Boulevard in Boulder, on September 12.
Residents view a road washed out by a torrent of water after overnight flash flooding near Left Hand Canyon, Colorado, on September 12.
A city worker talks on his phone while surveying high water levels from Boulder Creek after flash flooding in downtown Boulder, Colorado, on September 12.
Flash flood waters rush over a walking path in downtown Boulder on September 12.
A police officer blocks off a road in Boulder on September 12.
A man walks past the swelled Boulder Creek in Boulder on September 12.
People stand at the edge of floodwaters in Boulder on September 12.
A dive rescue team moves toward floodwaters in Boulder on September 12.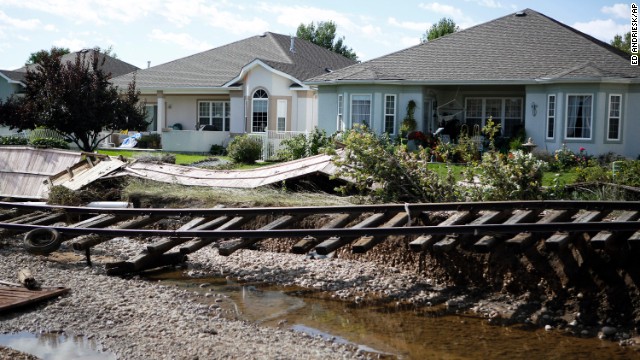 Deadly floods hit Colorado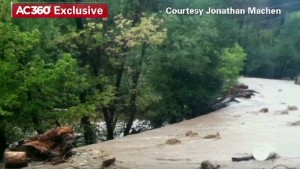 Assessing the damage in Colorado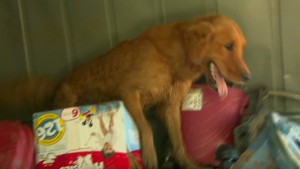 Rescue dogs help save flood victims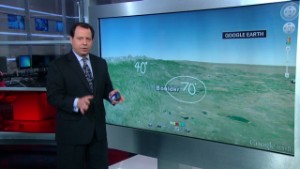 Colorado Flood Explainer
Using Google Earth maps and a familiarity that came from riding mountain bikes in the area, Stephen told Catherine, who was reachable only via e-mail, that if she could hike over a ridge behind her home, they could meet at a rock quarry.
Flood death toll rises to seven
"I zigzagged farm roads and dirt roads and found my way to the quarry, where I waited for them, quite anxiously of course." Smith said.
They eventually found one another, and the four, along with the dogs, crossed overflowing drainage channels and steep terrain to reach Stephen Smith's truck.
A soggy, cold but happy Smith drove his extended family back to Boulder.
But not all was well. After the rescue, Smith and Changaris worried that their own home was in danger.
Changaris had to strip down and dive into neck-deep water to unblock a drain filled with mud and debris. Stephen went outside to assess rising water. "The drainage is getting higher," he said.
Within minutes, their backyard filled with floodwater.
"There was a 4-foot wall of water with branches and debris in it," said Smith.
He ran inside and warned Catherine, Mandy, Changaris and his girlfriend, Kristen Huber, to get out.
"The latch on the door was creaking," Smith said. "Everything was about to give, and I knew we were going to get just hurt badly if we stayed any longer."
"It happened so quickly and suddenly," Changaris said. "It went from a very calm, warm and welcoming living room to a disaster in an instant. There was roaring and screaming and the sound of an immense amount of moving water and debris."
Both roommates tried to hold back the French doors.
"The force was overwhelming, and in the back of your head, you're thinking of another slide could be coming down -- something that could be larger," said Changaris.
"We just decided in that instant, just to get out," he said.
After the initial rush of water, Stephen and Mark went back to collect a few treasured items.
Huber used her phone to shoot video of the flood.
"I felt a little guilty," said Smith. "One minute I'm on the highest of highs, feeling like I helped take care of my family -- the people closest to me -- and brought them to what seemed like a safe, warm place where at least we could be together. And then, moments later, I'm walking around the hillside in the rain, with a towel on a baby, barefoot."
Two other roommates were out of town during the landslide. They all returned to thick mud and ruined furniture.
Last Saturday evening, after a grueling day salvaging belongings, an exhausted Changaris sat down to the home's Baldwin grand piano to play "Mad World," the '80s song by the British band Tears For Fears. Roommate Maren Keeley took out her phone and recorded Changaris' poignant rendition.
"It was a beautiful moment in the midst of destruction," Keeley said.
The video has gone viral.
"It's whimsical, it's beautiful, it's sad, and it touches you in a lot of ways," said Changaris. "I think it explains this whole event. This is nature, and nature is beautiful in a lot of ways. It's also incredibly destructive. It's sad, and people are suffering right now."
He has been playing on and off for about 10 to 15 years and says he's never been classically trained.
Changaris, an attorney, is modest in the limelight. He wants everyone to know that people are suffering in Colorado, his home state, and he wants them to volunteer their time or give money to a charity like the Red Cross.
"Our suffering is very small compared to others in the flood", he said. The music "put a personal face on the flood in a way that flood coverage doesn't, and I think that's why it's resonated."