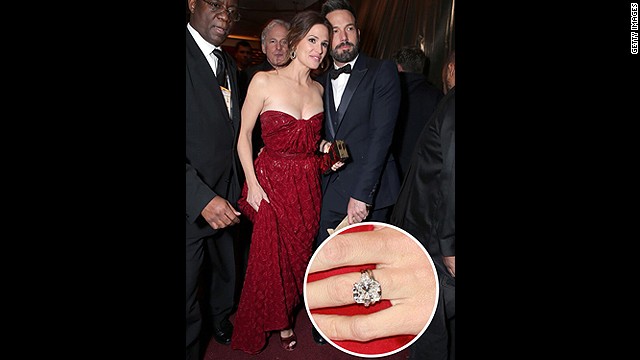 The actor-turned-award-winning-director declared his love for wife Jennifer Garner with this 4.5-carat gem.
Jay-Z didn't just put a ring on it -- he went above and beyond for wife Beyoncé with a huge 18-carat diamond ring.
After seven years of dating, Brad Pitt popped the question with this 16-carat custom-designed Robert Procop diamond ring.
Though they managed to keep their engagement and wedding private, there's no way Blake Lively's Lorraine Schwartz diamond can go under the radar.
One of Hollywood's longest standing marriages started when Matthew Broderick gave Sarah Jessica Parker this beautifully cut yellow gold diamond ring.
Despite this gorgeous yellow 10-carat engagement ring (given to Heidi Klum on top of a glacier!), Klum and Seal's marriage sadly ended in 2012.
Justin Timberlake proposed to longtime girlfriend Jessica Biel with this vintage-inspired six-carat diamond.
Soccer star David Beckham sealed the deal with wife Victoria Beckham with this massive diamond-encrusted engagement ring.
Katie Holmes's five-carat oval-shaped engagement ring from ex-husband Tom Cruise is definitely a stunner for the books.
Formerly belonging to the late Princess Diana, this 18-carat sapphire diamond may just be the most famous engagement ring in the world.
Justin Theroux popped the question to Jennifer Aniston on his 41st birthday with the help of this massive sparkler.
Ellen DeGeneres famously proposed to Portia de Rossi in 2008 with a three-carat Neil Lane diamond ring while they were both tending to a pet goldfish.
The recently engaged Kelly Clarkson said "yes" after she was presented with this huge yellow diamond ring.
Gavin Rossdale designed this unique diamond-studded gold ring before proposing to Gwen Stefani in 2002.
With this Neil Lane antique platinum and gold engagement ring, no wonder Brooke Shields has been happily married to Chris Henchy for over a decade.
With a square-cut diamond ring, the Coldplay frontman declared his love for Gwyneth Paltrow.
Jennifer Garner and Ben Affleck
Beyoncé and Jay-Z
Angelina Jolie and Brad Pitt
Blake Lively and Ryan Reynolds
Sarah Jessica Parker and Matthew Broderick
Heidi Klum and Seal
Jessica Biel and Justin Timberlake
Victoria Beckham and David Beckham
Katie Holmes and Tom Cruise
Prince William and Kate Middleton
Jennifer Aniston and Justin Theroux
Portia de Rossi and Ellen deGeneres
Kelly Clarkson and Brandon Blackstock
Gwen Stefani and Gavin Rossdale
Brooke Shields and Chris Henchy
Chris Martin and Gwyneth Paltrow
Reese Witherspoon and Jim Toth